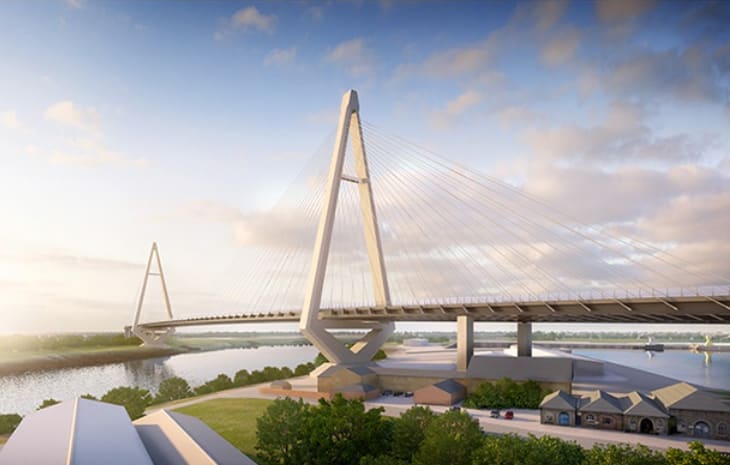 Analysis
Interview: Vinci's Jeff Stephens - Engaging the supply chain
16 April 2015 | By Stephen Cousins
Architects might be happy to take responsibility for coordination of the design team and supply chain at the level of a 2D drawing, but when you ask them to do the same in 3D BIM, they throw their hands up in horror and say 'no, we want more money'– Jeff Stephens, head of BIM at Vinci Construction UK
Jeff Stephens, head of BIM at Vinci Construction UK, on getting smaller suppliers engaged, holding architects' hands, and the likely impact of the new NBS BIM Toolkit.
What do you make of the government's Strategic Plan for Level 3 BIM?
It has the right aspirations, but how long it takes to implement and the funding available to support the development of the standards have not been made clear. Aspects that still need to be resolved include: how to run projects entirely without paper; how should contracts be set up based on only digital information; and how will that impact on insurance policies when delivering integrated projects?
If we can get integrated project delivery to work under Level 2, then perhaps it will provide the foundation for Level 3 BIM's success.
What do you see as the major challenges with Level 2 BIM?
A big issue is finding clients who have a proper understanding of what asset data is useful to them under the Employer's Information Requirements, and how to define those requirements. You also get clients with a surface BIM knowledge, who, might know, for example, to ask for COBie data, but don't even have the FM software capable of making use of it.
What do you make of the NBS BIM Toolkit, launched last week?
It should help us define in plain language, and from a data point of view, the level of detail needed at every stage of projects using BIM. Rather than relying on spreadsheets or Word documents ad hoc, this provides a clear method for capturing information. In future, this can be used in conjunction with the BIM checking toolkit, currently in Beta, to highlight when information is missing and whether the requirements have been met in BIM models.
Vinci is already using tools like 4Projects' 4BIM to give us early warnings highlighting which COBie data cells have not been filled out. Over the next year, software like this will include the same spec on what projects should be delivering, based on the NBS BIM Toolkit.
Does Vinci have enough "techie" people, well versed in BIM?
Some of our design managers need a lot of support from BIM coordinators/BIM integrators, and are not used to forensically looking into 3D BIM models to validate the quality of the information, and ensure the common data environment is being used properly. That's a challenge because we only have a handful of people qualified to provide that support.
What work needs to be done with the rest of the supply chain?
Architects, though normally considered BIM literate, often need their hands holding. We are planning to be more prescriptive in contracts around what we expect lead designers to do. At present, they might be happy to take responsibility for coordination of the design team and supply chain at the level of a 2D drawing, but when you ask them to do the same in 3D BIM, they throw their hands up in horror and say "no, we want more money". But BIM's supposed to be saving clients money, not costing them more. Again, they need hand holding from our BIM coordinators/BIM integrators.
How about the lower tier suppliers?
We've just started the Tier2Tier project, in collaboration with 4Projects, MEP subcontractor NG Bailey and its supply chain, to examine how the lower tiers can engage with BIM and provide asset information without having to prepare complicated 3D models, or significantly change the way they currently work.
The project will look at how to give them access to a common data environment, and ensure they only hand over necessary asset information, which might just be a couple of characteristics but not an entire 3D model (for example, an FM manager probably doesn't need a complicated model of a pump).
Has BIM saved any time or money on projects Vinci has completed?
It's a difficult thing to quantify. Even the BIM Task Group has not yet published metrics on early-adopter projects showing the actual margins achieved. The best approach is to work to traditional metrics, such as whether it was delivered on time, or to budget, or the number of snags, clashes or technical queries on site. It's wrong to focus just on BIM though, as this is about changing process and using the technology as a tool to be more efficient.
Typically at the detailed design stage we are seeing many thousands of issues in BIM models that traditionally might not have been revealed until construction work is underway, so clearly we are better coordinated on design.