Projects
Poultry Market, London - Scanning the market
11 April 2017 | By BIM+ reporters
Client: City of London Corporation, Lead Designer: Arup Surveyor: Plowman Craven
BIM Tools: UAV, Leica P40 and Faro laser scanners
Poultry Market is a Grade II-listed building, constructed in 1953, which forms part of Smithfield Market, the UK's largest wholesale meat market, located in Clerkenwell, east London.
A renovation programme was initiated by the building's owner, the City of London Corporation, to address the market's general state of disrepair, replace a number of services and refurbish MEP and structural elements.
The project was designed and scoped out by Arup and includes the refurbishment of an iconic roof, originally designed by Arup and thought to be the largest concrete shell structure ever built.
The roof is notable for its large 225ft span, in relation to the shallow dome.Plowman Craven was contracted to laser scan and model the entire building and its surroundings, as well as complete condition and MEP surveys.
The surveys of the roof were a significant challenge, a traditional laser survey would have required the erection of a seven metre-tall mast fitted with a scanner (there were no taller buildings in the vicinity to scan from) but it was not possible to fit the mast up a back staircase to the roof. Similarly, a condition survey would have meant working from a cherry picker, which wasn't feasible.
Scan created using drone data
The use of a UAV would overcome these issues, and provided technical advantages, says Marta Wren, technical specialist at Plowman Craven: "The drone could provide both survey grade geometrical data, in the form of point clouds for use in the project BIM model, and high definition visual photographic panoramas, that enabled our surveyors to assess the condition of the roof."
The UAV was flown about 40m above the building, on a combination of manual and pre-programmed flight paths, to capture the dome and a lower roof, located 11m below the top of the dome, featuring numerous canopies. Control points were positioned on the roof to assist withthe survey.
The drone was unable to access certain areas, between the canopies and at some "tight corners", so its data was stitched together with data from Leica P40 and Faro laser scanners used for the rest of the survey work.
Plowman Craven employed a team of four to run the drone operation – a pilot, a camera operator, and two ground support officers tasked with checking flight clearances and notifying the public on the street of any potential danger. Wren comments: "It is a very congested area of London and we had to have someone at street level to communicate with the team on the roof."
The UAV survey took less than a day and the entire scanning process, covering the interior and exterior of the building and everything from communal public areas to hard-to-access ventilation inverts, took almost three weeks.
"Before this project, the client didn't even have 2D information on the building, so our survey will provide them with a comprehensive 3D record that includes BIM and 360-degree photography," concludes Wren.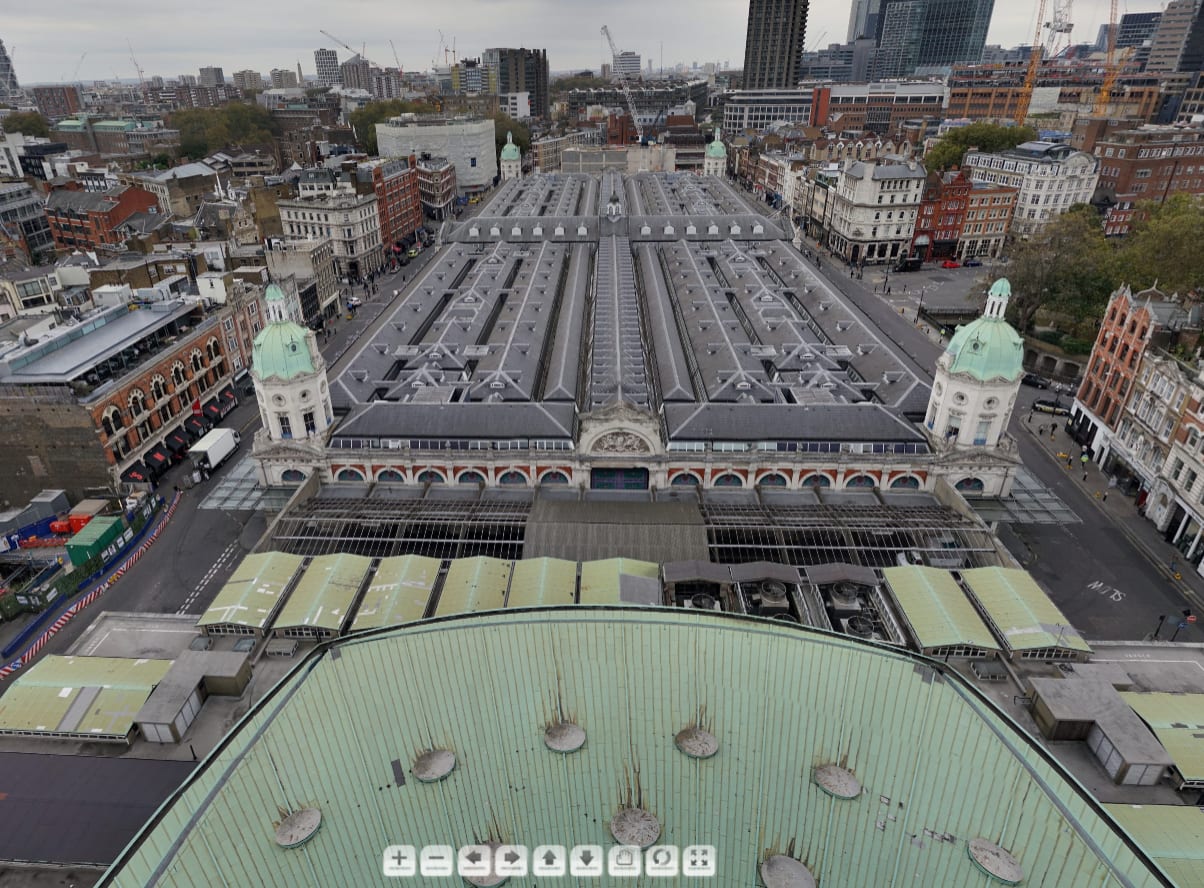 Before this project, the client didn't even have 2D information on the building, so our survey will provide them with a comprehensive 3D record that includes BIM and 360-degree photography.– Marta Wren, Plowman Craven