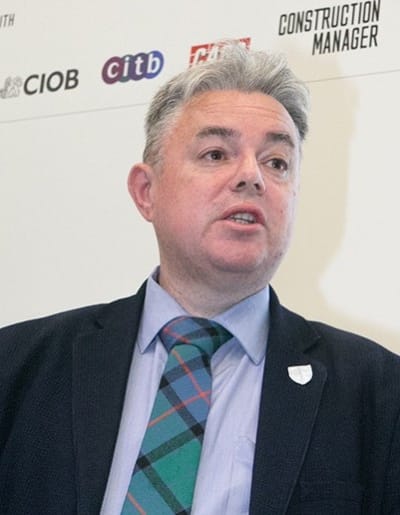 We need the industry to be engaged and motivated and to share our vision of a more innovative, productive and resilient sector. David Philp, Construction Innovation Hub
The industry has a prime opportunity to set a new course and increase the pace towards digitalisation. The Construction Innovation Hub's digital impact director David Philp explains
Whether we are working with industry or academic partners our aim is to maintain an open dialogue, share insight and knowledge of real-world experience and work collaboratively. The Construction Innovation Hub brings together world-class expertise from the Manufacturing Technology Centre (MTC), BRE and the Centre for Digital Built Britain (CDBB) to transform the UK construction industry and deliver a digital programme that is shaped and informed by industry need and insight to support a consistent approach and enable digital transformation at scale.
Digital transformation of the entire industry is not something we can achieve by trying to pull, or drag, everyone along with us. We need the industry to be engaged and motivated and to share our vision of a more innovative, productive and resilient sector. As the Construction Leadership Council's Roadmap to Recovery makes clear, in order to create a truly innovative culture we must embed digital technologies and processes.
The recent shift towards digitally enabled collaboration in the construction sector (and the economy at large) is a powerful a reminder of the transformative potential for digital technologies to enable more sustainable, and productive ways of delivering and operating our buildings and infrastructure.
We must ensure that the collective drive towards carbon neutrality and the environmental gains achieved during lockdown are not temporary. Digital and applied technologies can help us model and understand the parameters of sustainable operations and optimise whole life CO2 outcomes transforming how and what we build. With a drive towards high performing assets and computing, energy analysis and automated sensors we can better achieve the fundamental goal of net zero.
High-quality manufacturing
Over the next decade, traditional construction will increasingly give way to high-quality manufactured solutions. At the Hub, we will implement a Platform Design Programme, building on the government's ambition and Infrastructure Project Authority's (IPA) call for evidence for platform-based design for manufacture and assembly (P-DfMA). This will be co-developed with industrial partners to create new integrated, digitally-enabled manufactured components and sub-assemblies.
The whole asset lifecycle of the platform solutions will be hosted in a digital environment providing compliance assurance and optimised operation through roll out of digital twins. This market will be underpinned by new business models, an upskilled workforce, new methods for product introduction and testing of assemblies. In addition to accelerating the pace of sector transformation, we can also help to maintain the UK's reputation as a world-leader for the digital built environment, benefiting the sector and the wider economy. The first step will be to accelerate the uptake of digital tools and processes, particularly those developed in partnership with industry, such as the UK BIM Framework and its associated guidance.
With building owners increasingly needing to reorganise and prioritise their portfolios of built assets, the Hub is creating guidance and frameworks to demonstrate how digitisation of an existing estate together with a joined up data approach can lead to better decision making and a more co-ordinated asset management strategy based upon more complete and accurate asset information.
Despite the progress that's been made, we still have a long way to go to accelerate digital transformation and build future resilience as well as greater opportunities for all. If you'd like to keep up to date with developments from the Hub, you can sign up to our newsletter, or visit our website for more information and support on how to get involved with increasing the pace towards digitalisation.
David Philp is impact director at the Construction Innovation Hub, chair of the CIOB digital special interest group and global BIM/IM consultancy director at Aecom. He will be speaking at the Digital Construction Summit 2020 next week. Click here to register: https://us02web.zoom.us/webinar/register/WN_scKhwsjZSWqZom5lmIBCng