The rollout of QR code scanning across Graham Construction's project portfolio has simplified access to project information and improved the handover sequence of rooms and spaces, according to the contractor.
QR codes are quick links stuck to walls in rooms and spaces on projects, which when scanned by a mobile device provide direct access to related project information in the data capturing tool Autodesk BIM 360 Field.
Site managers and subcontractors on Graham Construction projects across a range of sectors, including residential and healthcare, use the system to gain quick access to information –including quality, snags, floor plans and progress photos – and update it using a tablet's keypad and camera.
The contractor's civils projects use the system to divide large projects into smaller, more manageable phases.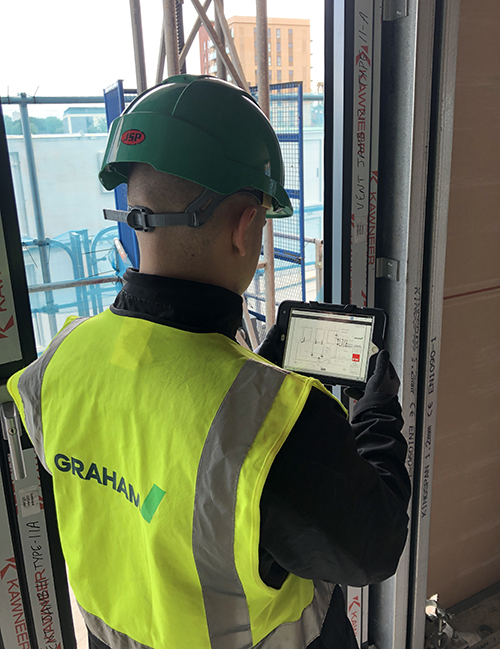 Information can be updated on site using a tablet
Shervin Yousefzadeh, digital construction manager at Graham Construction, told BIM+: "The QR code system is the most efficient way to navigate through locations/rooms on our digital tool to access the relevant information, it increases the efficiency of finding information, with everything for the site team and subcontractors held in one place. In addition, it enables the easier handover of rooms, or entire areas of the project and improves collaboration."
The BIM 360 Field app includes the QR code scanner feature, the process and workflow behind the function was developed by Graham's digital construction team.
According to Yousefzadeh, as with any new technology or system, the use of QR codes requires investment in training and continuous support for the project team. The plan now is to implement them on all new large projects for multiple uses, he said: "We intend to use the system on a broader scale and use the data captured for intelligent and accurate project reporting."
The QR Code system was among a range of technologies applied by Graham on the £28m Weavers Quay project (pictured top) completed earlier this year in New Islington, east Manchester.
The 10-storey private build-to-rent development, on Old Mill Street, stands at the heart of a regeneration scheme and features 201 apartments.
Autodesk BIM 360 Field was incorporated into construction programme daily workflows to manage quality on-site and QR codes were used to help close out snags.
The application of digital tools on the project, including BIM 360 Field, was found to be up to 10% more efficient than traditional ways of working, which equated to a saving of half a day of per week. The use of QR codes resulted in a more efficient handover of apartments, said the contractor.