Presenting how a building will look at different stages is vastly different from linking it fully to a construction programme in real-time.– Michael McCullen
Is it really only a few years ago that the UK started definitively on its path to BIM, after the government put the weight of its future public sector business behind it in 2011? It seems almost the blink of an eye – yet we have witnessed a vast change in understanding, acceptance and investment in BIM during that period.
Admittedly some thinking had begun earlier, but the past few years have seen an enormous degree of change in our sector, and the appetite for change and knowledge is accelerating as the 2016 deadline for Level 2 BIM approaches.
But although the adoption and evolution of CAD has changed the way we capture, communicate and visualise designs, the fact remains that much of the business of onsite construction remains very much unaltered. No matter the sophistication of the 3D visualisation of a building concept, the fundamentals of putting brick on brick remain.
Construction contractors don't deal in dreams or visions. They deal with the "down-and-dirty" practicality of taking an idea from a model and creating a building, to deadline and within budget. The tools with which they are most familiar are tables, timelines and quantities, so working with complex visual models may seem a significant transition for some.
Herein lies the crux of the challenge which still remains in making BIM a core element of the full construction lifecycle: the very different perspectives of different parties in the delivery chain. These differing perspectives between architect, engineer and builder drive appetites for, and attitudes to, BIM. They also sit behind the varying levels of resistance to change.
Transforming static models
In the introduction to a BIM guide for architects, Building Design stated that BIM "requires everybody to commit to adding to the model process to allow data to be used for many purposes". Although this isn't identical to some other definitions, it focuses perfectly on the underlying challenges of the transition: how to enable the 3D model to become an active, not a passive, contributor to the process of creating real buildings.
While the 3D model stays a beautiful and compelling vision which makes the client commit, it does not easily and immediately translate into the daily business of building, which is more concerned with whether plant and materials will be delivered on time, whether the right resources and trades are locked in and correctly timed, how the budget is looking and whether the health & safety checks have all been done.
One challenge may be that people think of 3D modelling, with its ability to show how a building will go up, as virtual construction. But presenting how a building will look at different stages is vastly different from linking it fully to a construction programme in real-time.
Today, many 3D systems can project along a theoretical timeline, but what is needed to make 3D a full part of the construction management process is to link it to the real timeline. From that comes the miraculous ability to generate a visualisation of the As Built status of the schedule.
Developing integration
At Asta Development, changing that has been our own focus for some years, since we began in the noughties to get more regular requests to integrate our own planning solution with third party 3D solutions.
This year we are delighted to be at the point where we can field our own Asta Powerproject BIM solution that can generate and link a construction schedule directly to a 3D model. It has been enthusiastically welcomed by our contractor customers – but the work is far from over.
This step delivers affordable and practical 4D planning, which enables the integration of time, but there is, of course, far more to construction than planning and managing the timeline alone. We are already at work on aligning our offerings with the 5th dimension by integrating cost estimation, working closely with sister companies within the ELECO group.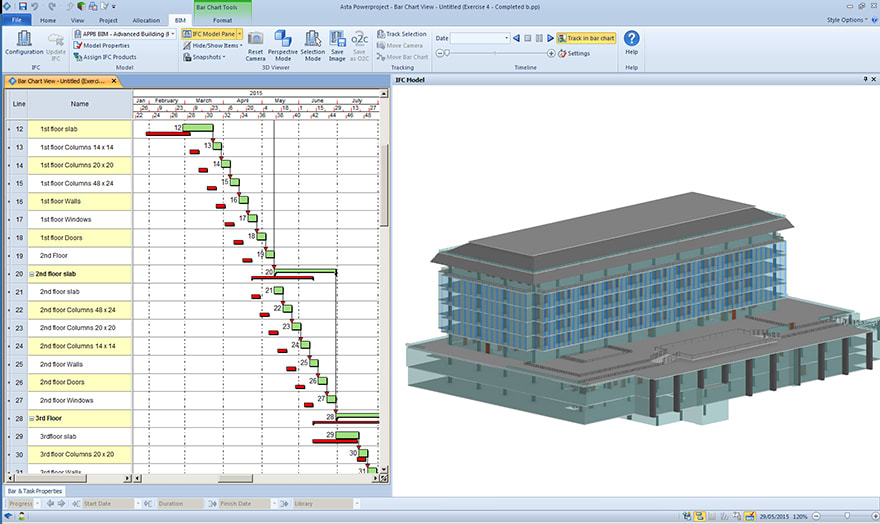 4D planning allows the integration of time in the model
The very nature of construction management is that it must be able to adapt and make decisions within a day-to-day timeframe. Today, 3D models often inform only the start of the process, not the daily decision-making. But linking them to the project programme changes that, and opens up the potential to include 3D visualisation as part of the "what if" analysis enabled by our project management solution. 
It makes it possible to see, in clearer terms, the impact of a change, a delay or a different choice, as well as identify potential problems with a site or the movement of plant and machinery. It holds the potential to transform construction progress reporting and customer communication – but only if it is brought into real time.
Driving the business
The implications, of course, are wider than just a construction project or programme. Once you accept that 4D or 5D planning can be a decision-support tool, you realise that it can also help with business planning and decision-making too.
It informs the construction planning team in a multi-dimensional way as to whether projects are on track and what the implications are for completion or hitting the budget. 3D illustration of the as built record can become a part of a powerful dashboard of information and insight.
Teams can collaborate in real time based on a shared vision which is comprehensible by all parties, and management teams gain new insights into the status of their business, cash-flow and risk, even helping them to understand their capability to take on new business.
We are at an exciting and formative stage of the future of construction, which puts 3D, 4D and 5D information into daily use for the benefit of every stakeholder and in which visualisation becomes a living part of the process rather than a preconstruction tool alone.
As the recent BIM 2050 report held up as a core tenet, the pursuit of more efficiency in process and ways of working is a fundamental for the future digital construction industry. Every part of the process must work at the highest level of efficiency, and the empowered, unfettered and integrated multi-D model should be at the forefront.
Michael McCullen is executive chairman of Asta and also sits on the main board of ELECO