Adam Ward, technology director at Space Group, which encompasses BIM.Technologies, bimstore, and Space Applied Technologies (SAT), discusses BIM uptake, challenges facing industry and the company's Warboard software platform – a tool that manages issues (or clash detection as it's sometimes referred to) on complex construction projects.
What do you see as the main challenges facing the industry today in embracing BIM and how do we address them?
I think there is fantastic support for digital construction in the industry and there are many advocates who are passionate about improving how we do things in our sector. This is unprecedented.
I believe we need to keep doing what we are doing and accept there are some who will never be convinced and keep moving forward. We need to demonstrate how this investment improves outcomes objectively.
While the run-up to Level 2 BIM was a relatively logical and simple process where the UK led the way, what is coming with the Digital Built Britain initiative takes this to the next level, with technologies such as Blockchain, IoT, machine learning, and digital twins etc.
All this is very closely aligned to the Industry 4.0 initiative, and we are already a couple of years behind other industries in this area. I believe a lot of the people and solutions that appear over the next 10 years may come from outside the industry, which is not necessarily a bad thing.
What do you think are the most exciting developments in the BIM world?
I don't think it can be referred to as exciting, but I believe BIM will be fundamental in addressing the issues which caused the Grenfell disaster.
Digital information allows a golden thread through a building lifecycle. This is not just about accurate information exchanges at one point in time (such as at handover), but being able to understand the decisions made and the reasoning behind these decisions at any point in a project's timeline. Understanding of data gathered during design, construction and operation will be fundamental going forward.
While there is a lot of overhype and misinformation around technologies such as Blockchain, I believe this is one area where the non-editable distributed ledger technology on which Blockchain is based could be beneficial in the future to ensure legitimacy and accuracy of this data.
Where did the original concept for Warboard come from?
Warboard was created as an in-house tool in 2012 as a quick way to generate user-friendly reports from Navisworks. Our BIM.Technologies team were spending a great deal of time in those early days manually creating these reports – or resorting to using out-of-the-box reports with limited information and tiny images – so they asked us to help.
What they wanted was a way to make attractive, simple reports for themselves and their clients at the click of a button.
As the digitisation of the construction industry progresses, so have the developments within Warboard. It's now a cloud-based collaborative platform with features to manage and assign the issues, and is far from a simple piece of software that creates excellent reports.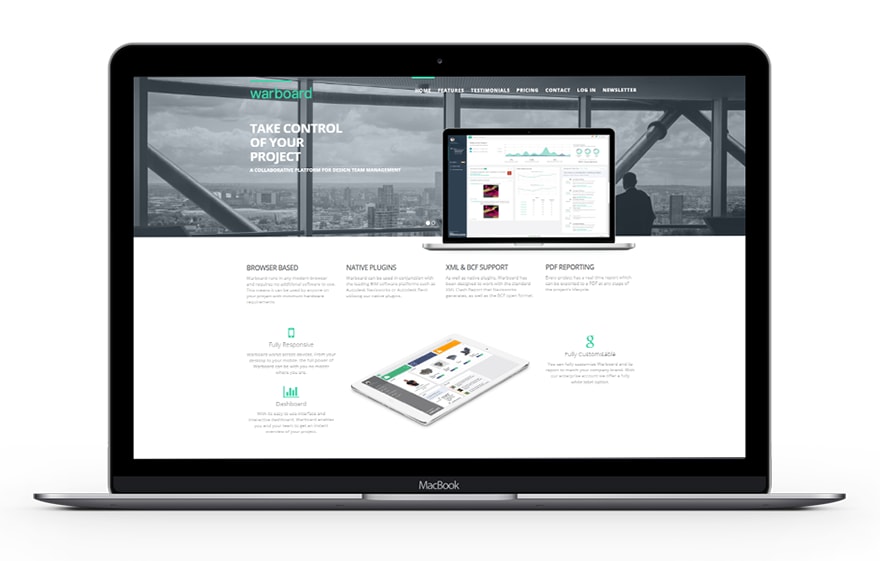 What was the very first project you used it on?
It was for Great Portland Estates' project, 240 Blackfriars.
BIM.Technologies was employed to convert the 2D information into a 3D design model and integrate it with the structural and MEP models. We were also the information manager for the client and we were carrying out regular coordination reports on the project.
At that time, Warboard was still an internal tool using the original features, but we immediately saw the benefits and potential to use it for future projects.
The new version's first proper use was on the Hammerson-led £165m Victoria Gate Shopping Centre project in Leeds which included a flagship John Lewis store, shopping arcade and multi-storey car park.
Warboard was used for issue management and issue detection, but also for daily coordination and communication of the progress of this incredibly complex project with all stakeholders.
Watch the video about how this project was delivered here: http://bimtechnologies.co.uk/watch-how-bim-enabled-the-vision-of-victoria-gate-shopping-centre-come-to-life/
Who is Warboard designed for?
Anyone who is responsible for issue management on a construction project would undoubtedly see the benefits. This includes, for instance, during the design stages of a build, where the lead designer or architect would use it to manage and monitor design information.
And, during the construction phase, where more trade packages are federated into the design, the responsibility for issues can be undertaken by the main contractor. On some projects, this role could be a separate consultant who is working on behalf of the contractor, or in many cases, the client (this is one of the roles BIM.Technologies also undertakes).
BIM coordinators, project managers or even subcontractors can also utilise Warboard, along with specialist subcontractors who can use it to manage risks themselves.
In fact, anyone who needs to ensure the coordination of a model is managed efficiently and is able to monitor and report on the model status over time would be suitably impressed with the functionalities of the platform.
How was the software developed?
Warboard began as a standalone tool using a simple SQL database to produce reports, with the web version being created over the course of an entire weekend to meet the urgent needs of the BIM.Technologies team. This original version was used successfully for over a year internally.
New features were added over the following 18 months to enable Warboard to become a truly collaborative tool. Not all these new features were part of an initial project plan however – it grew organically to suit ours and our team's needs and requests.
After using the platform successfully on many projects, we began to receive requests from consultants and contractors asking if they could use it on their own projects. They clearly liked the software, so we decided to make it into a commercial product for anyone to use.
We've added many security elements, which are especially important for an e-commerce solution. When the tool was an internal one we didn't have to worry about payment gateways, user encryption, or even web standards, so we spent over six months rebuilding core parts of the platform to meet these requirements.
Warboard has been built using the latest web technology. The front end uses an AngularJS framework (a technology developed by Google for its own products), and the back end incorporates NodeJS technology. Due to the significant amounts of data and transactions, we chose a NoSQL database (a modern database technology designed to handle and query large datasets).
The whole platform is hosted in the cloud, giving us significant advantages over traditional onsite-based server technology such as it being infinitely scalable (elastic), and allowing on-demand load balancing for CPU and memory – offering the end user a faster, more reliable experience regardless of the size of their dataset.
What software platforms is Warboard compatible with?
It's natively compatible with Navisworks, which we use internally, but we recognise that not everyone in the world does. Some use Solibri, ArchiCAD or Tekla etc, therefore, rather than employ a native plugin for each piece of software, where this is the case we use BCF which is an open source file format that supports any software platform.
Issues can then be exchanged through different platforms, one of which is Warboard.
An architect would use Revit, a contractor may use Navisworks, and the MEP may use Autodesk Fab, but all these are compatible with Warboard.
What makes it different from other issue management platforms?
The main difference is that it was designed to be easy to use and visual. Other similar platforms are a more complex/technical and need training, but Warboard was developed to be used by anyone, even someone who isn't technically minded!
Other platforms are heavily function-based and take time to learn how to use, but Warboard was built with cutting-edge tech meaning that all the complicated aspects take place behind the scenes. For instance, where other platforms ask the user to create a query, the Warboard dashboard is built so the answers are at hand.
And, as it was developed in-house, we know what BIM and information managers need, so we've taken this knowledge and incorporated it into the software. Other platforms are built by software developers and engineers, so the functionalities are not always relevant to what is needed.
What does the future hold for Warboard?
The development never stops, and we are currently working on Version 2, making it more interactive with 3D technology (making it possible to move an image around with a 3D engine built-in). This 3D capability could also take away the need for tools to find the clashes, saving even more time for the team!
We are also researching how machine learning can improve the sorting and classification of clashes and take some of the manual steps away that are currently required.