An 18-month-old technology company is rolling out a new cloud-based service that will bring the benefits of BIM and 3D scanning to social landlords, framework contractors and even SMEs operating in the domestic client retrofit sector.
VRM Technology has developed the Refurbify system to reflect the industry's needs after participating in a BRE and Carillion-backed research project in Northern Ireland, and is now involved in further research funded by Innovate UK and the EU's Horizon 2020 fund.
Refurbify allows contractors' staff to visit a home, scan and measure it using smartphones and affordable 3D scanning technology, then output a basic BIM model that could later be developed using industry-standard BIM software. 
As well as being fine-tuned via the research projects, it has been adopted by RetrofitWorks, a co-operative of SME contractors and installers backed by six London boroughs, and is at the early stages of implementation at contractor Lakehouse.
Chief executive Neill Ryan, an IT entrepreneur who set up VRM alongside an architect and a property developer, told BIM+ that the company's original mission was to develop scanning technology for domestic retrofits – "but BIM kept raising its head".
"We originally started to build a scanning product for external wall insulation installers, then we realised that market wasn't big enough so we started to explore internal scanning as well, for loft insulation and windows and doors, aimed at the social housing sector.
"BIM kept raising its head, especially with the government mandate coming in, but we realised no one could afford the standard approach to BIM. So could we develop a tool to produce a BIM model, that could then be developed by others?"
The Refurbify system is also geared to helping contractors sequence the retrofit work, and then checking that insulation, doors and windows have been installed to the original specification.
Meanwhile, on-going research with Leeds Beckett University is looking at adding thermal imaging scanning to Refurbify, which will then allow contractors and social housing landlords to assess performance in use.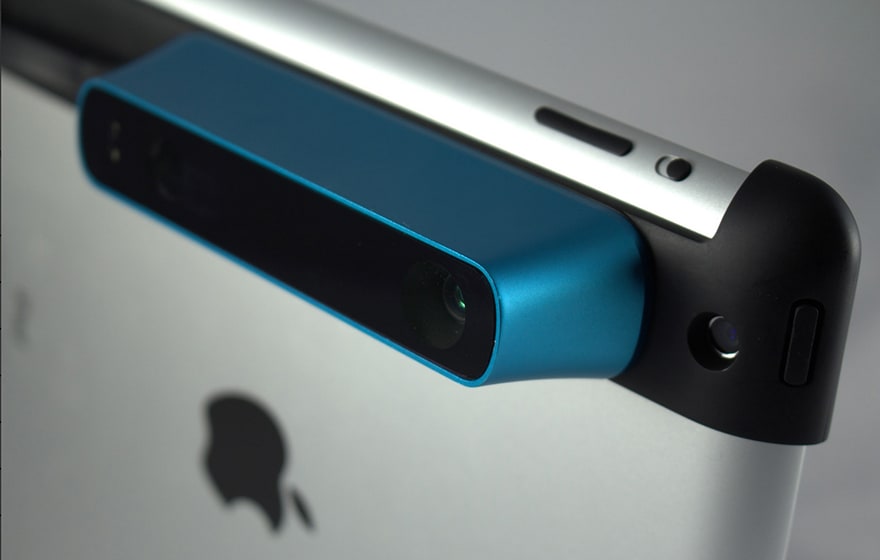 Refurbify's internal 3D scanning system, however, currently requires an Apple iPad and a device called a Structure Sensor
Ryan continued: "We're partnering with social housing organisations, who are working with framework contractors, to get a better quality solution. They don't want tenants who are complaining in a year's time that their homes are still draughty, or that their energy bills haven't gone down. So they're recommending it to their framework contractors."
Refurbify also has a presence in the general market, through RetrofitWorks, a co-op of 400 smaller contractors. RetrofitWorks was set up by Haringey Council and Parity Projects to deliver Green Deal and ECO improvements to landlords and homeowners in London.
Co-op members can sign up to use the cloud-based service, paying a fee based on the value of the work undertaken and the number of workers on site.
The co-op's contractors can download the Refurbify app and password to their smartphones to record photos, video and measurements inside a home. The internal 3D scanning system, however, currently requires an Apple iPad and a device called a Structure Sensor, an infra-red scanner which clips on to the iPad.
"Because it's infra-red rather than laser scanning, it doesn't really work outside – for that we're using a 2D Leica Bluetooth scanner which is more affordable than 3D laser scanning," Ryan said. 
Lakehouse, which is also involved in the Innovate UK and Horizon 2020 research project, is currently in the early stages of adopting the system, under an annual licence fee arrangement.
"They know they can save on labour costs – maybe we could be paid a percentage of their project's savings?" Ryan mused.