The first example of a hybrid 3D printed building, combining large-scale additive manufacture with traditional construction materials and techniques, will break ground in the US this spring.
Curve Appeal is a geometrically complex, flowing single storey home, designed by Chicago-based architect WATG, for a site in a wooded location close to the Tennessee River.
The practice won a competition to design the first ever building using the 'Freeform' printing process, developed by 3D printing specialist Branch Technology.
The home will be supported on a curved 3D printed lattice structure, comprising three interconnected domes printed by a six-axis industrial robot fitted with a custom-made extruder. 
The lattice will be in-filled with a wall assembly of traditional construction materials, such as external concrete, foam insulation and a gypsum interior surface, applied either by specialist trades or using robots.
The project aims to reinterpret a kit-of-parts approach to construction pioneered in Los Angeles between 1945 and 1966 during the Case Study Houses Program. The 36 highly experimental prototype residences built during the Program were early examples of mass-produced modern homes designed to be easily and cheaply constructed during the post-war building boom.
The project aims to reinterpret a kit-of-parts approach to construction pioneered in Los Angeles (watg.com)
Daniel Craven, lead designer for the project at WATG, told BIM+: "We are creating our own future housing prototype that shows how 3D printing and a kit of parts can be combined to deliver buildings quickly and cheaply.
"Instead of printing layers and contours to create a solid object, as with conventional 3D printing, we will print a lattice framework that forms the interior structure onto which conventional construction materials can be applied."
The project team worked with structural engineer Thornton Tomasetti to develop the 3D printed matrix, which is essentially a small-space frame and therefore highly efficient.
The arching form is based on sweeping Gaussian curves and uses various spring points across the floorplan to create a rigid structure to carry roof loads and enable large open-plan living spaces. In generic tests, a three-foot long printed beam, weighing 2.3kg, could carry a load of around 1,633kg.
"On this project we wanted to explore how complex curving surfaces can have a material and structural agency and their own behaviours. We will be programming surfaces that have material intelligence within," says Craven.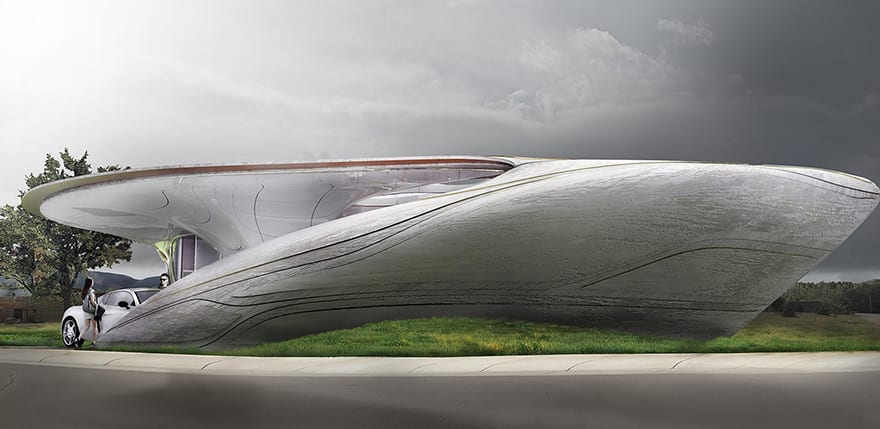 The arching form is based on sweeping Gaussian curves (watg.com)
Full details of the structural build up are still being finalised – WATG is producing detailed design drawings and working in collaboration with the City of Chattanooga in Tennessee to ensure the project meets the timeline.
A variety of gypsum material components, including gypsum spray foam and other innovative solutions may be applied to the printed structure as fire protection, structural reinforcement and to create a substrate for finished wall materials.
The house is designed to produce net zero energy – generating as much energy as it consumes – thanks in part to a passive mechanical system designed by MEP specialist Interface.
Construction is expected to be fast, says Craven: "The robot is essentially building the frame, so we can output relatively quick designs from the computer, then apply concrete from outside and mill down the surface to achieve the curved shapes. The aim is to build cheaper and faster and using new technology as the primary basis."
The entire building will be constructed at the Branch Technology manufacturing lab, to take advantage of the controlled conditions, then transported by lorry to the site.
"We're not quite ready to bring the robots to site, which might be three to four years down the road," concludes Craven.
Instead of printing layers and contours to create a solid object, as with conventional 3D printing, we will print a lattice framework that forms the interior structure onto which conventional construction materials can be applied.– Daniel Craven, WATG