The construction industry remains at the heart of the UK economy. But productivity in the sector has stagnated, particularly compared to other industries, according to research by CM and construction productivity solution PlanGrid. Rob Elvidge, head of sales, EMEA, PlanGrid, an Autodesk company, explains.
Technology can help to improve construction firms' efficiency, reduce rework and ultimately increase profitability. But these firms are balancing transformation with short-term uncertainty, and challenges like access to talent, falling client demand and supply chain disruption.
Digital technology is set to transform the construction industry on a worldwide scale in the next few years. So one year on from our last survey, have the productivity challenges facing UK firms changed – and how are they faring with technology adoption? In May and June we surveyed more than 250 construction professionals to understand how far they have come with their digital groundwork.
Talent troubles
Considering the biggest influences on their productivity (graph 1), construction professionals point to the same barriers as one year ago: people and processes. Talent shortages are continuing to have a significant impact on construction firms' productivity, with respondents highlighting a lack of skills among employees (40%) and talent shortages (39%) as barriers to their productivity.
Employee engagement also presents a challenge, as one in 10 firms say that staff absenteeism is an "ongoing management headache". This reflects the results in 2018, when a lack of resources – including labour – was the most popular response.
Poor processes
With talent scarce, it's more important than ever that firms can get the most from the people they have. But businesses admit being held back by poor processes, with teams struggling to get the information they need, when they need it (graph 2).
Professionals say that inefficient processes take up the most unnecessary time on projects (55%). Meanwhile, a quarter admit their productivity is most impacted by lacking the information to make confident decisions (28%), and correcting mistakes is a significant time drain for half of firms.
Poor information sharing is also causing challenges with collaboration – leading to time lost on conflict resolution (33%) and scheduling communications with other stakeholders (29%).
Slow progress on paperless
The use of technology to address these challenges is gradually growing. Three-quarters of firms (74%) now report using file-sharing tools to share and access drawings, compared to 52% in 2018.
But there are signs that using disparate technology platforms, that aren't well-connected, is actually wasting firms' time.
Problems transferring information between systems are a significant time drain in a quarter of businesses (23%).
Only 7% of respondents use technology to manage the whole process (graph 3).
When it comes to paperless technology – such as using tablets and smartphones to access documentation on the jobsite – businesses have made slow progress. Most firms still rely on paper for the majority of their projects.
In fact, a fifth say that all of their projects are entirely paper-based (19%) (graph 4) – a figure that has barely fallen since 2018, when it was 22%.
A digital divide?
There appears to be a growing digital divide between businesses focusing on making strategic technology investments and those simply purchasing new technology on the fly.
When it comes to purchasing new technology, a quarter admit to not having a strategy at all (26%), while most businesses simply buy it ad hoc to improve processes (36%).
By contrast, at other firms the leadership team might set a defined budget at the start of the year or quarter (20%) – or monitor software developments until they find a solution that meets their needs (20%).
Only half of construction firms say that improving digital skills will be a focus over the next three years (50%). Perhaps as a result, a third of businesses are concerned about their ability to keep up with new technologies (37%).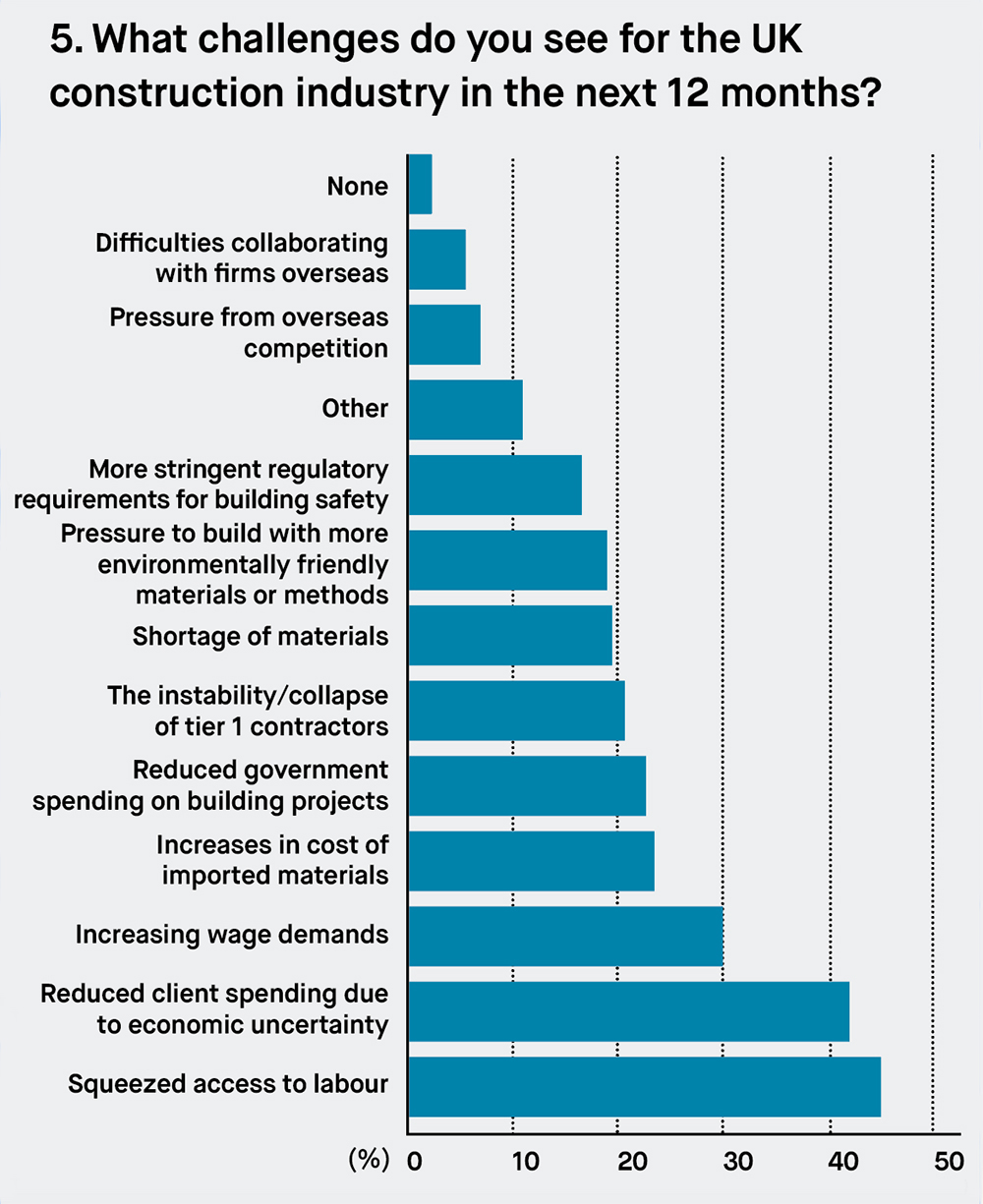 Looking ahead
Unsurprisingly, construction firms see challenges in the year ahead (graph 5) – with squeezed access to labour still weighing most on businesses' minds (45%). Although only 12% point directly to Brexit as a blocker on their productivity, firms are concerned about related factors such as reduced client spending (42%) and the cost of imports (24%).
In this context, it's no surprise that technology adoption is sometimes slow. But in challenging times, productivity improvements can be critical.
There are signs that the firms implementing new technology today – and benefiting from productivity improvements – could leave others behind, whether that's in the UK or internationally. It's vital then that UK businesses continue to lay the digital groundwork, to close the productivity gap and secure a strong future.
Image: MrFly/Dreamstime.com