Wipe the Baileys from your moustache and throw out the turkey leftovers, 2018 is here and there's a wealth of innovative digital tech, BIM reveals, conferences and expos to plan for. Stephen Cousins reports
If 2017 was the year that BIM Level 2 became well established on projects, and construction took its first steps into the nascent worlds of augmented reality, big data and artificial intelligence, then what new innovations and insights can we expect over the coming 12 months?
The ongoing drive to embed BIM into the supply chain to improve collaboration and design coordination will result in the launch of a new BIM standard.
PAS 1192-6, due to launch in February, is a standard for the collaborative sharing and use of structured health and safety information using BIM. It aims to set out how information models can be used to spot and communicate health and safety hazards throughout the project and asset lifecycle. 
A second standard, PAS 1192-7, was due to have been launched in the summer, but has now been stopped, for reasons not yet clear. If the standard comes to fruition, it will set out how to define and maintain structured digital product information in BIM, to provide a consistent approach for defining product data from manufacturer through to the installed product during construction and operation.
Expect further important announcements at BIM Show Live, the two-day conference in Newcastle upon Tyne, which runs from 28 February. Speakers will cover topics such as the impact of cyber security on BIM, how cloud computing can integrate drone mapping within the construction workflow, and the use of GIS data in a BIM-compliant building survey.
Other major events for the diary include the RICS BIM Conference 2018 and Autodesk University 2018, which both take place in London in June, and Digital Construction Week 2018, also in London, on 17 October. (Conference programmes for all of these are still to be announced).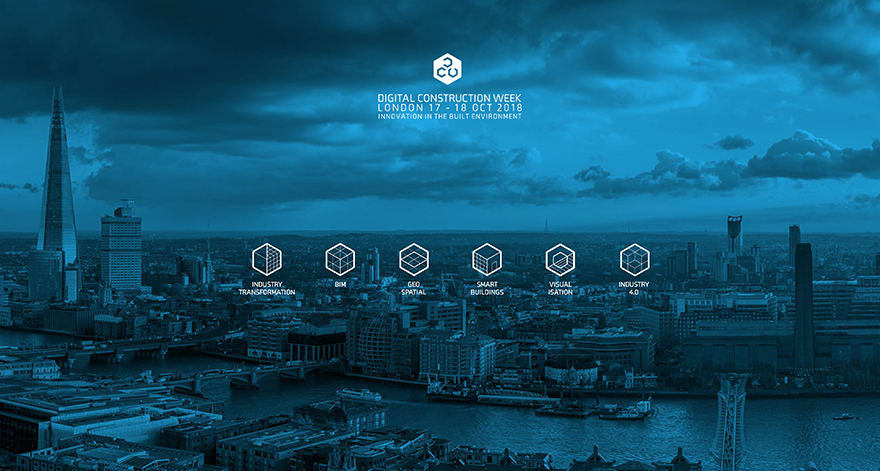 Digital Construction Week returns in October
The adoption of new technologies always offers potential to improve the way projects are designed and built and this year promises to be a bumper one for bleeding edge digital kit.
In the world of immersive reality, Facebook is planning to launch Oculus Go, a standalone VR headset designed to provide all the performance benefits of high-end VR headsets, such as the Oculus Rift or HTC Vive, without the need for a wired connection to a powerful PC.
The device is expected to have the same wide field of view as the Rift, but with significantly reduced glare and a "fast-switch" LCD display with a high resolution and an integrated spatial audio experience.
Oculus Go is being launched by Facebook
At the budget end of the VR market, Lenovo is planning to launch a standalone headset based on the Google Daydream VR platform for smartphones, introduced at the end of last year. Unlike other "small VR", it will include a remote control that can be used for navigation and interaction in the 3D environment.
The first headsets from the most talked-about augmented reality company of 2017, Magic Leap, are released this year for use by software developers and other "creatives". The Magic Leap One device comprises a pair of goggles resembling glasses, attached to a flat round computer that clips on to a belt.
Magic Leap launches its first headsets
The system is designed to accept multiple inputs, including voice, gesture, head pose and eye tracking, and map "persistent" virtual objects onto the environment. 
VR and AR enthusiasts might head to the official opening of Digital Catapult's new Immersive Lab in the Belfast Telegraph Building on 18 January, for an evening of talks and networking.
Supported by the Department for the Economy, Digital Catapult UK and Belfast City Council, the new lab forms part of a number of Immersive Labs across the UK designed to give organisations a hands-on experience with immersive technologies and test out ideas.
The landmark construction sector deal announced in the Industrial Strategy last year committed £5.4m to fund a new digital construction centre in Cambridge, due to open this year.
The Centre for Digital Built Britain is a partnership between the Department for Business, Energy & Industrial Strategy and the University of Cambridge to support the transformation of the construction sector using digital technologies to better plan, build, maintain and use infrastructure. The centre will focus on the ongoing transformation of the built environment through BIM.
Robots may not be about to entirely replace human workers on construction sites, but the technology is constantly advancing to defy expectations.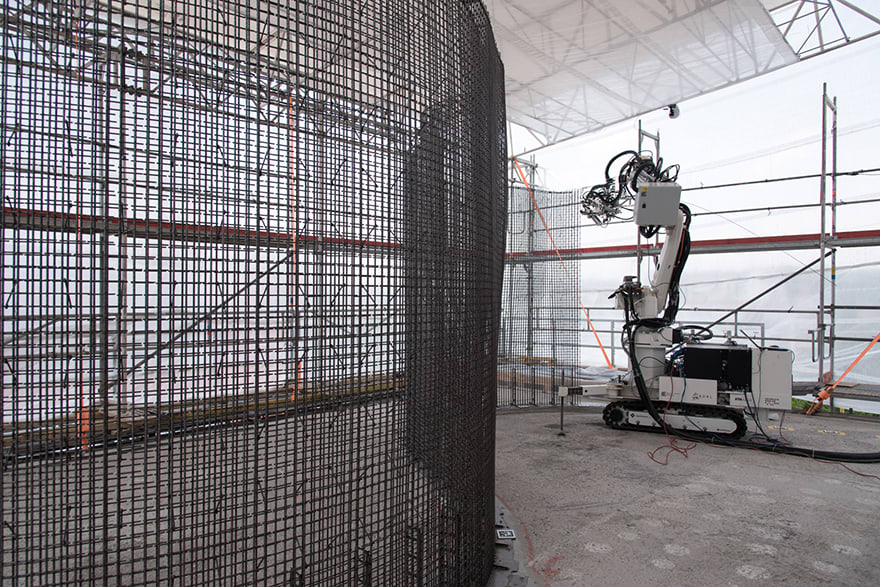 The DFAB House is being constructed by a robot (NCCR Digital Fabrication, 2017)
What's being billed as "the first house in the world to be designed, planned and built using predominantly digital processes" will be unveiled in Zurich later this year. 
The 200 sq ft DFAB House, on the campus of ETH Zurich University, is being constructed by a new robot known as the In Situ Fabicator I. The dust-proof and waterproof robot is mounted on caterpillar tracks and can fabricate dense mesh sections to act as framework and reinforcement for poured concrete walls.
The unit is internet-connected to enable architects and builders to make real-time changes to the construction process.
The launch of a new robotic vest in the UK in March will give construction workers augmented physical powers. The EksoVest, developed by California-based firm Ekso Bionics, is a form of exoskeleton able to give workers the power to lift heavy objects on site (up to 2.3kg-6.8kg of vertical lift per arm), reducing exposure to injury or muscle strain.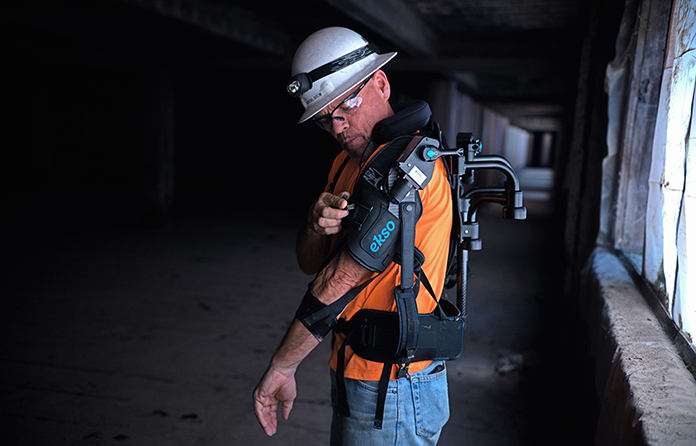 EksoVest is being launched in the UK in March
Arguably the most significant emerging technology in 2017 was AI, and investment in the development and integration of the technology, particularly around machine learning, is set to increase in scale during 2018.
At the tail end of December last year, graphics hardware giant Nvidia teamed up with construction heavy equipment supplier Komatsu to deploy AI at various worksites to improve safety and increase efficiency.
AI powered by Nvidia's Jetson graphics platform will be used to build 3D visualisations of entire construction sites, with real-time representation of people and machinery working on the ground. Jetson will carry out automatic image processing and recognition using cameras installed throughout various construction equipment. 
To discover more about how businesses are implementing and monetising AI, readers could head to the AI Congress, which takes place at the O2 in London on 30-31 January. The 100+ strong speakers list will include thought leaders from Innovate UK, Dyson, Amazon, EDF Energy, and the Met Office.