An EU BIM Task Group was established in 2016 to "bring together national efforts into a common aligned European approach to develop a world-class digital construction sector". But there is still a lack of knowledge of how BIM and its associated digital innovations and artefacts are applied across different European countries. Here Ammar Azzouz, Paul Hill and Eleni Papadonikolaki compare BIM's adoption in seven countries: Denmark, Germany, Ireland, Italy, the Netherlands, Poland and Spain.
There has been an increasing interest from companies, academics, professionals and governmental institutions to compare how BIM is implemented across geographies. Such comparisons are important for transferring lessons across national and regional boundaries and creating a more balanced understanding of digital transition across the construction sector in Europe.
These needs have led to the emergence of several targets, mandates and national strategies to encourage a common language of BIM and influence professionals in the built environment sector in their shift towards digitalisation.
For instance, Spain has a BIM Commission sponsored by the Ministry of Public Works for BIM to be applied in buildings in 2018 and in infrastructure in 2019. In Denmark, there will be a mandate for all projects in 2022. And in Germany, the government will require a mandate for public infrastructure projects by 2020.
However, despite an increasing interest in BIM comparisons among different geographies, very little research has been carried out to examine this in practice.
To address this gap, we applied Arup's BIM Maturity Measure to 146 projects in Europe: Denmark, Germany, Ireland, Italy, the Netherlands, Poland and Spain (respectively 2, 21, 70, 11, 13, 15, 14 projects). These projects were selected from Arup, an international firm with offices in these countries.
The BIM Maturity Measure (BIM-MM) is a tool that assesses BIM at the project level and provides an overall score built on 11 BIM functionalities and artefacts: BIM design data review (BDDR); BIM champions; common data environment (CDE); BIM Execution Plan (BEP); document/model referencing and version control; knowledge sharing; open standard deliverables (OSD); virtual design reviews (VDR); BIM contract; Employer's Information Requirements (EIRs); and project procurement route (PPR).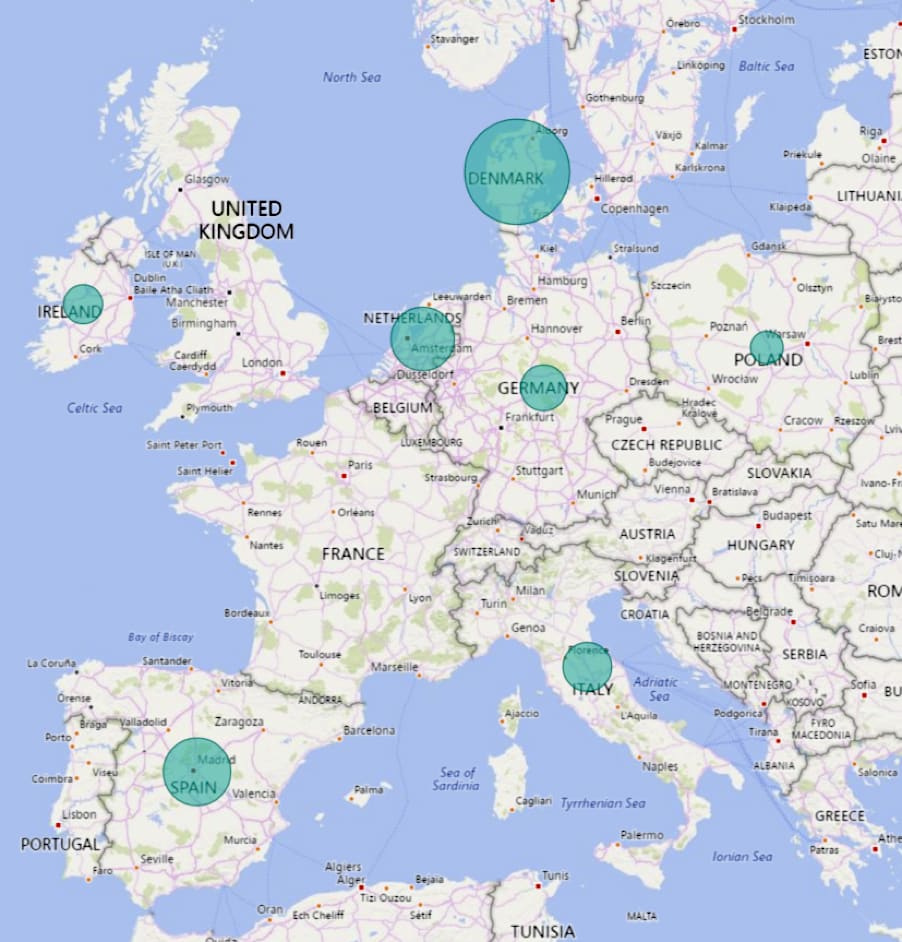 BIM maturity across seven countries in Europe
Analysing these criteria allows us a glimpse of how BIM is utilised on real projects. It is important to note that the BIM-MM also measures disciplines such as architecture, structure and mechanical engineering. However, the analyses in this article are only focused on the information management part of the tool.
The findings showed that highest BIM maturity score is in Spain then the Netherlands; followed by Italy and Germany where the BIM maturity scores are very similar. Scores are omitted in this article for confidentiality reasons.
Apart from looking only at the overall BIM scores, delving further into the 11 measured criteria of the BIM-MM, allows us to understand which BIM aspects are mostly used across the sample.
When looking at the 11 criteria, it has been seen that the highest maturity level is in "document/model referencing and version control" as 79% of projects in Europe use this BIM functionality.
This means that all these projects have good practice in project file naming and version control and status.
The levels of applying this criterion in Europe is also varied: Denmark 100%, Germany 71%, Ireland 79%, Italy 82%, the Netherlands 77%, Poland 73%, and Spain 93%.
Another highly mature criterion in Europe is the implementation of BIM Execution Plan (BEP), which is used to specify roles, identify how information is exchanged and formalise strategies for BIM processes, tools and technologies.
Across 146 projects in Europe, 45% have BEP implemented, it is the highest in Denmark (100% of projects – however, there are only two projects), followed by Spain (93% of projects).
These are only some of the analyses undertaken in this research, but full research article "Digital innovation in Europe: Regional differences across one international firm" will be published in September 2018 and presented at the Association of Researchers in Construction Management (ARCOM) Conference in Belfast, UK, at Queen's University.
There are several reasons for these variations of BIM maturity across regions. Some scholars suggest that these differences are associated and influenced by the institutional forces and national policies and mandates in different countries. However, it is important to acknowledge that differences are influenced by the socio-technical factors and the cultural and social contexts in each region as well as team experiences.
Differences can also be impacted by the type of project, its scale, income, the level of complexity and the requirements of clients. Understanding the underpinning influences, that include internal and external forces on projects, requires more detailed observations.
Professionals in the built environment and policy makers are keen to exchange insights and lessons from successful projects across regions, countries, firms and disciplines. The EU BIM Task Group published a Handbook for the Introduction of BIM by the European Public Sector and emphasised on the "opportunity for harmonising a European wide common strategic approach for the introduction of BIM".
However, this harmonisation in digital construction will not be possible without comparing the BIM implementation on the operational level – for example how are digital innovations and BIM artefacts applied in projects in the built environment domain? Which European country is more BIM mature than others? Why are the fundamental tools, processes, technologies applied in certain countries and not in others?
Only by answering these questions will it be possible to identify the strengths and weaknesses in each country, and enable knowledge transfer to address areas that require development. Arup's BIM Maturity Measure could become a key tool to assess BIM in Europe and better understand how it is applied across countries.
Dr Eleni Papadonikolaki is a lecturer in Building Information Modelling and management at The Bartlett School of Construction & Project Management/UCL
Ammar Azzouz is a Building Information Modelling maturity analyst and Paul Hill is a BIM specialist at Arup
Top image: Garrykillian/Dreamstime.com