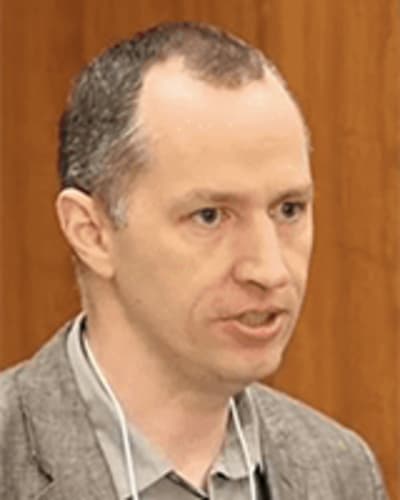 "The International Facility Management Association published a book in 2014, called BIM for Facility Managers, yet 90% of people don't know it exists. The UK is very compartmentalised." Igor Starkov, Ecodomus
Ecodomus co-founder Igor Starkov speaks to Andrew Pring about BIM's progress in the facilities management sector globally, and why take-up in the UK is comparatively slow.
Ask Igor Starkov why BIM's progress into British FM has been so slow and the co-founder of US construction software firm Ecodomus replies wryly: "It's not just slow in Britain, it's slow everywhere."
Starkov is well placed to judge, but he's perhaps being a little modest. Since he set up Ecodomus with Mieczyslaw Boryslawski in California in 2010, the firm is estimated to have done 80% of the global work to date on BIM/FM integration, and has implemented it for clients such as Harvard and Stanford, Disney, Warner Bros, Google and major healthcare organisations. Ecodomus also has a major feather in its cap for the work it's doing at the Sydney Opera House.
So it's clearly happening relatively quickly elsewhere in the world. Why not Britain?
"The UK is more bureaucratic than many places in the world, more cautious, less risk averse and more meticulous. 'Let's wait and see until others have tried it' is the attitude" says Starkov.
"The UK actually has the best generic BIM guidelines in the world – the PAS 1192 framework – but the implementation of new things is easier in America, for example, which is more entrepreneurial, and also in Australia and the Middle East and new emerging economies. They're prepared to take more risks. 'Let's just do it, they say.' And yes, this can create problems, but companies in these countries learn more quickly by making mistakes. Making mistakes is often how we make progress."
Starkov's solution to accelerating BIM/FM adoption in the UK is simple: case studies from other parts of the world.
Aren't these often just a bit self-serving, too much PR, too little independently verified?
"No one will make a decision until they're convinced; but if they see others succeeding, they will follow. Commercial developers are our worst market, but if one major commercial developer says they're adopting it, and achieving higher rents because BIM/FM is delivering lower running costs for tenants, then others will follow. People trust people they know."
Related articles
The public sector has provided Ecodomus with most of its work in the US, Australia and other territories. So should the UK government's mandate for all centrally funded construction contracts to comply with BIM Level 2 since April 2016 help BIM and FM become closer bedfellows?
"Certainly, the public sector is much more advanced – it's not so worried about the cost. It was Sydney Opera House which published the first 'BIM for FM' report in 2005. And we've helped the General Service Administration [an independent agency of the US government which manages and supports the basic functioning of federal agencies] with much of their BIM for FM project work."
And after its slow start in Britain, Starkov is at last seeing some positive developments with BIM/FM.
"Basically, owners that have a long-term vision are the most interested in BIM/FM. In the UK there are major players taking it up, for various case-specific reasons. Airports, including Gatwick and Heathrow, are looking closely at it because of the safety benefits; healthcare bodies are also keen – for example, tracking copper and plastic pipes in BIM may help in tackling legionella."
Ecodomus is also working with a large public sector organisation based in London – he prefers to withhold its name – where he says their BIM/FM CDE requirement is one of the most sophisticated in the world.
And yet ignorance about even BIM itself is still widespread in the UK, says Starkov. "The term BIM is used because it's easy to pronounce and there's so much hype around it. Most of the BIM tools are used as just 3D CAD tools even though their capabilities are much wider.
"The IFMA [International Facility Management Association] published a book in 2014, called BIM for Facility Managers, yet 90% of people don't know it exists. The UK is very compartmentalised."
Despite the demonstrable lifecycle time and money savings – in some cases 30%-plus – that BIM/FM can deliver, and the fact that many organisations have adopted BIM for FM as a standard practice (for example, the University of Southern California, Howard Hughes Medical Institute, US Federal Reserve Board, Qatar Foundation) Starkov accepts it will be years before everyone uses it.
"It's not going to happen overnight. Big tech developments in the past have sometimes taken two or three decades to integrate. Many people still use 2D drawings, and there's lots of inertia amongst people who don't want to change what's been working for them for 20 years. It's a generational thing – not everyone started using cell phones straight away. It will take time."
Starkov, who holds a Masters in Applied Mathematics and Computer Science from Moscow University, and an Executive MBA from Georgetown University, Washington DC, has a similarly long-term view of artificial intelligence's impact on the built environment. "AI is not yet at a sufficient level of maturity to have any major impact – but in 10-15 years, yes."
Meanwhile, Ecodomus will continue pushing BIM/FM's progress through its work with Aecom and Vinci Construction and other major partners. "They see our platform as valuable for deepening the relationships with their clients by showing them how their buildings work."
Starkov says the company is not pursuing growth via acquisition. "We're not planning to buy anyone – we're not Autodesk. Big companies can't do innovation. We want to keep developing our own software."
Image: YouTube/CanBIM