Mark Reid, vice president of product management at 3D mobile mapping technology expert GeoSLAM calls on the construction sector to recognise the Fourth Industrial Revolution, and what embracing digital engineering will mean for professionals in the industry.
Digital technology has had an almost unquantifiable impact on the way the world works. Over the past two decades in particular, how we design, construct and look after our infrastructure has been transformed.
Other sectors have already felt this shift, with retail, publishing, travel and financial services already benefiting from embracing the digital age, but for the construction sector, the progress is slower.
However, this is beginning to change. In an increasingly competitive market, those who adopt modern technology, particularly digital engineering, will not only survive, but thrive. Indeed, the construction sector is predicted to experience growth of over 70% by 2025, and big data analytics, drones, mobile connectivity, sensors and other digital technology will play a significant role in enabling this.
We are already seeing steps in the right direction. Today, firms can undertake site evaluations in such detail that would not have been possible even a decade ago. An example is a recent surveying project that utilised a GeoSLAM ZEB-REVO scanner. This particular renovation of Attucks School in Kansas City, USA, required detailed drawings for the planning application.
A complex, derelict and hazardous site, the personnel dangers associated with surveying the location were almost insurmountable, but using 3D mobile mapping technology with a handheld scanner enabled the creation of a digital 'twin' of the 100-year-old building, accurate to within 2cm, in just four-and-a-half hours. 
Understanding how digital engineering can support the sector is vital. I would define this as the transformation from analogue to digital for the engineering and construction sector, and this in part is facilitated through the evolution of BIM.
Without digital technology, BIM would not be possible, but it goes further than this. In fact, the success of building projects now depends on a harmonious blend of people, process and, crucially, technology working together.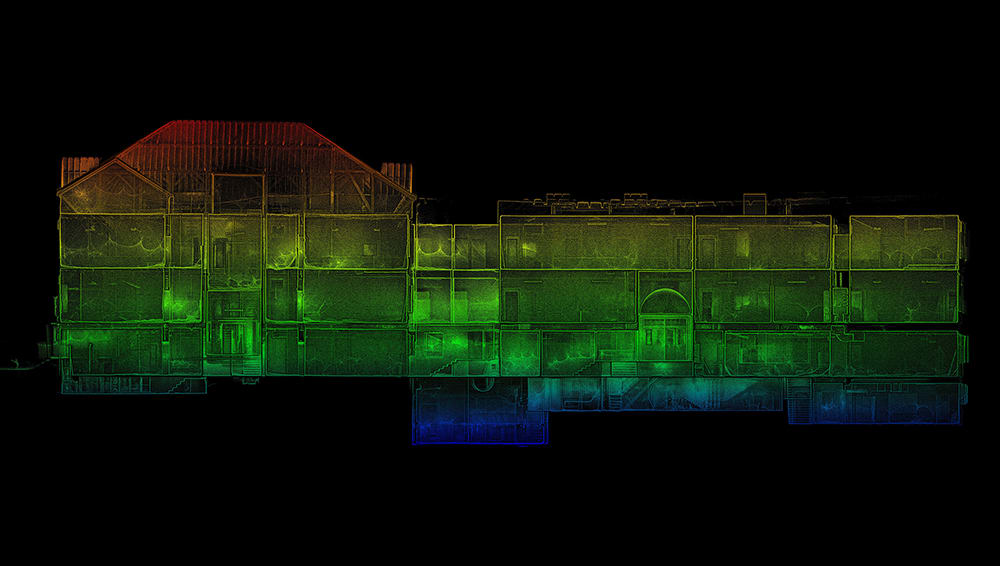 Digital scan of Attucks School in Kansas City
Digital engineering is going to radically overhaul the way buildings are designed, constructed and managed in the coming years. Saving money by identifying potential risks in projects, avoiding expensive delays and overruns, stress-testing complex architectural innovation through the use of virtual models, and improving communication between all stakeholders – digital engineering has enormous commercial advantages.
As part of this, 3D mobile mapping, and in particular simultaneous localisation and mapping (SLAM) technology, can go some way to bridging this gap between the uninitiated and those reaping the benefits of this "Fourth Industrial Revolution". 
Originally developed by the robotics industry, SLAM technology was created to allow unmanned vehicles to navigate unknown terrains whilst simultaneously mapping their environment, without the need for GPS. 
One product on the market, our ZEB-REVO solution, utilises a robust 3D SLAM algorithm to establish its position autonomously and collects more than 43,000 measurement points per second with an average accuracy of +/-15mm.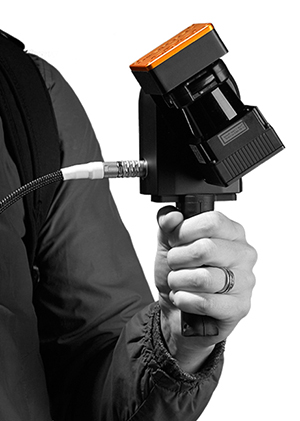 ZEB-REVO utilises 3D SLAM algorithms
This kind of handheld mobile mapping device is increasingly being used by professionals in construction, engineering and surveying, in a huge range of projects that would either pose a challenge to traditional survey methods, or would take too long.
Arguably the most pertinent plus point here for the industry is the ability for technology like this to survey locations up to 10 times faster than static traditional scanning tools.
For projects with budget restrictions and time pressures, not to mention hazardous environments, the use of a handheld mobile mapping device is a huge cost-saving exercise.
Looking ahead, the reliance on emerging technology is only set to continue. Whether it's artificial intelligence, autonomous robotics, the Internet of Things, digital twinning, 3D printing – the possibilities are endless, but harnessing them shouldn't be daunting.
Rather, it's a case of being prepared for a fusion of technologies, which will blur the lines between the physical, digital and human world. Talking to experts, trialling new solutions and keeping an open mind as to the possibilities out there is of paramount importance for professionals in construction, engineering and surveying – as their success will no doubt be defined by their ability to integrate innovative engineering approaches, digital technologies and rich data.
Ultimately, digital engineering will realise its full potential only if widely adopted and computerised construction is the industry norm. A fertile environment must be created in the sector, and this is the responsibility of all stakeholders: government, regulators, construction companies, technology firms. And for the early adopters, speed matters. 
To read further insight read GeoSLAM's white paper here.