A report produced by BIM 4 Manufacturers and Manufacturing has revealed widespread adoption of BIM by manufacturers. More than 40% of the 188 individuals who completed the survey have already invested in BIM and a further 50% intend to in 2015.
However, 10% of those that completed the survey reported that they have no plans to invest in BIM.
For the companies that have invested in BIM 58% consider it to have definitely been a worthwhile investment, with 25% saying that it is possibly worthwhile and a further 17% responding that it remains to be seen.
Terry Rowbury, member services director at the British Electrotechnical and Allied Manufacturers' Association (BEAMA), said: "BIM is here to stay and manufacturers who engage with BIM will be the winners in the long run. Collaboration and data sharing through BIM will result in more efficient design, construction and use of buildings and their internal engineered systems.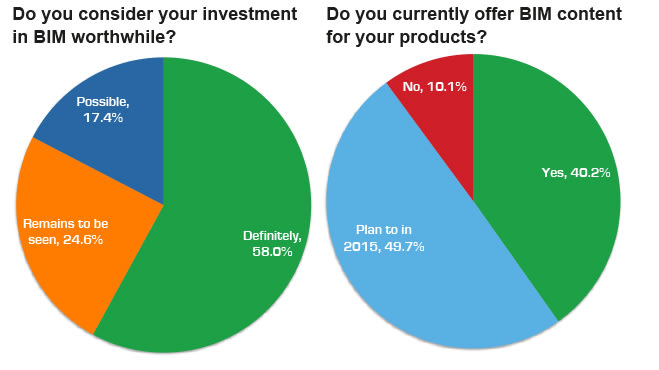 "Manufacturers are very well placed to help this process as they know the characteristics of their products in detail and can ensure their data is consistent in its richness and availability. All manufacturers need to get on board because BIM will be the main way to do business in the future."
The report reveals that motivations for manufacturers investing are varied, with 41% having done so to create commercial advantage, 27% making the move in response to customer demand and a further 12% to get specified. A further 7% invested in BIM as "it is the future".
For those who have not invested in BIM cost was seen as the major barrier with 77% stating this as the reason not to invest.
Manufacturers are most heavily promoting their products on their own websites (56%), with 34% only making the content available on request. A further 45% of respondents are making their content available through the libraries or clouds available, such as BIMstore, NBL and BimObjects.
The most widely used software was reported as Autodesk Revit (73.8%) with three quarters of respondents not planning to offer additional formats.
Neil Thompson, principal BIM integrator, Balfour Beatty, explained the need for manufacturers to adopt BIM: "We deal with many manufactures, and we expect to see the same level of graphical and non-graphical data from them as much as our clients want to have from us. If it helps Balfour Beatty deliver better projects, it will no doubt enable manufactures to deliver better products."
Read the full report here