Willmott Dixon has teamed up with US-based robotics firm, Ekso Bionics, to trial a high-tech exoskeleton vest to protect and support supply chain partners working on a new school development in Cardiff.
Willmott Dixon is the first company in the construction industry to trial "Eksovest" – an upper body exoskeleton vest that supports the arms during lifting.
Eksovest is worn like a backpack and can provide 2.3-6.8kg of vertical lift per arm when lifting tools or materials. The device, which weighs 4.3kg, is already being trialled by construction companies in the US and Canada.
Funded by Eureka, Willmott Dixon's central research and development fund, the vest, which costs approximately £5,650, will first be used on the Cardiff West Community High School site. The company will then demonstrate Eksovest at other sites across the country. A spokesman for the company said that if the trials were successful the vest would be rolled out as standard across the company
The Cardiff West Community High School, which holds the coveted "Ultra Site" status from the CCS (Considerate Constructors Scheme). The site was chosen to trial the newly developed technology due to the range of technical activities required to complete the build.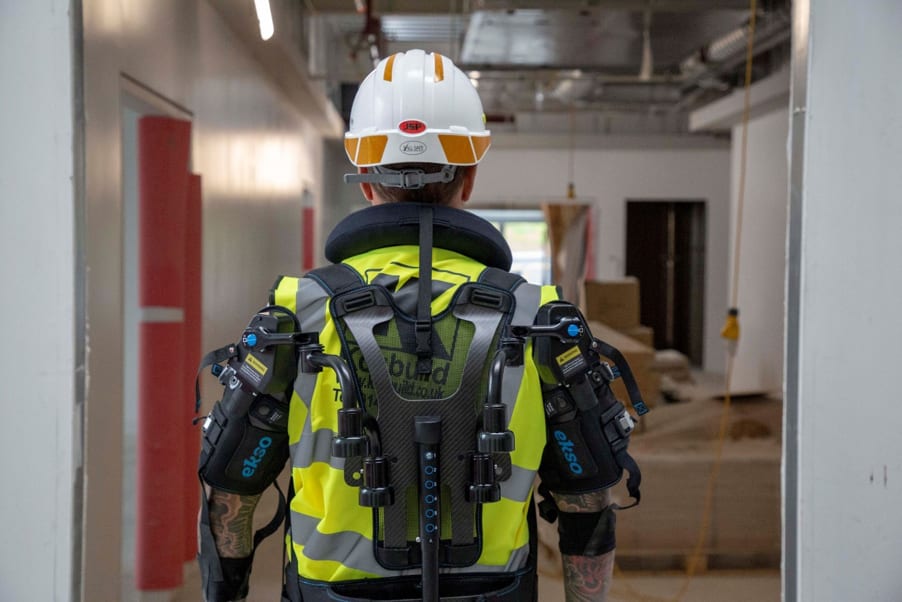 The vest can provide up to 6.8kg of vertical lift per arm
Neal Stephens, managing director for Willmott Dixon Wales and South West, said: "Innovation is in our DNA and this could revolutionise the ability to lift items and perform repetitive overhead tasks. The wellbeing of our people and supply chain is always our number one priority and the more we can use technology to support this, the better.
"The Eksovest technology should lead to teams on site feeling less exerted, meaning improved wellbeing and productivity. This investment also demonstrates the development of our new Eureka fund in supporting technology and innovation that will drive change in our construction industry into the 21st century."
The ability to augment upper body strength could open up construction careers to many more people, says Tom Mastaler, Ekso Bionics' senior vice-president of business development.
"Our device removes the brute force nature of the job, making smaller workers capable of doing what only larger workers were able to in the past," he said. "For many companies it will overcome the problem of workers' bodies being gradually broken down over a 20-25-year period, resulting in early retirement or the need to move into other jobs to avoid injuries or surgery."
The EksoVest is secured to the hips and incorporates two mechanical shoulders that follow the movement of the upper body as the worker carries out tasks. As the elbows rise to chest level or above, a gas spring engages to provide up to 6.8kg of vertical lift per arm.
Our device removes the brute force nature of the job. For many companies it will overcome the problem of workers' bodies being gradually broken down over a 20-25-year period– Tom Mastaler, Ekso Bionics