Winvic Construction's AI-enabled site safety alert system will soon be tested on a live construction site for the first time.
The Innovate UK-backed system combines real-time image and machine learning technologies to detect, recognise and track hazards on a construction site and then alert nearby operatives via GPS devices.
It will be tested on a site in Mercia Park, Leicestershire where Winvic will design, build and partially fit-out an office (image above), warehouse and cross-dock facility for logistics giant DSV. Work is due for completion in August 2021
Rob Bull, Winvic Construction Director, said: "External and – later into the programme – internal cameras will be installed on site, which will detect, recognise and track hazards. Myself and team members who will be working on the site are already excited to be part of the technological advancements and to start receiving risk alerts direct to their mobile or wearable devices." 
The safety project, dubbed Computer-Vision-SMART (Computer Vision and IoT for Personalised Site Monitoring Analytics in Real Time), will run for two years and has been developed by a consortium that includes Winvic, the Big Data Enterprise and Artificial Intelligence Lab at the University of the West of England, and industrial intelligent video specialists One Big Circle Consortium.
Winvic is due to test on the system on a second as yet unidentified site.
For more on how the system works, read our previous story: https://www.bimplus.co.uk/technology/winvic-construction-team-develops-ai-enabled-site-/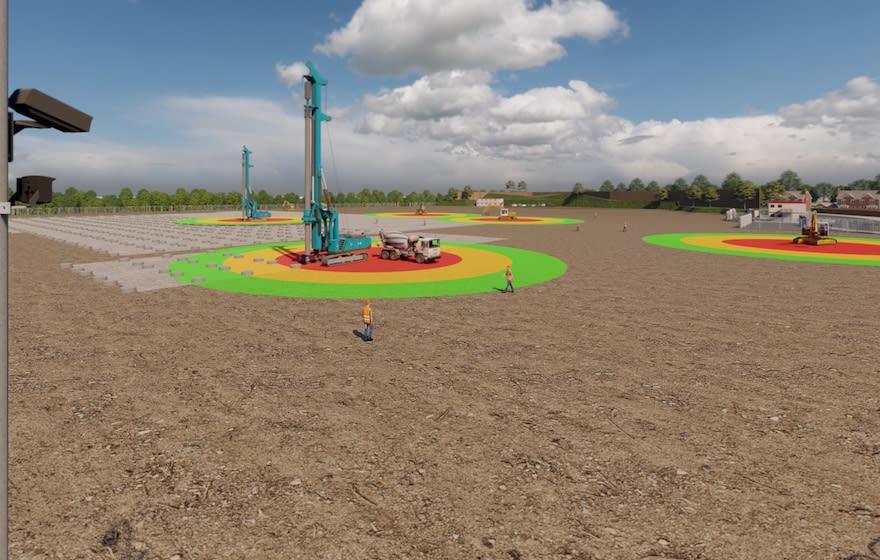 Rainbow warnings: the Computer-Vision-SMART applies safe space radii around potential hazards