Client: AXA Real Estate and Lipton Rogers Developments
Lead Contractor: Multiplex
BIM Tools: Revit, Rhino, Unity
The 62-storey commercial tower, located at the centre of a cluster of skyscrapers in the City of London, will become the tallest building in the financial district when completed.
The complexity of the project, with its deep triple basement, 57 lifts, complex interfaces with existing structure, and limited site access, placed an unusually strong emphasis on logistics and health & safety planning.
Advanced 4D modelling and virtual reality applications are being used by Multiplex and its supply chain to intuitively plan and interrogate sequences of work to ensure they are efficient and safe.
The process was developed by London-based 4D consultancy Freeform, by expanding on a federated BIM model produced by Multiplex and structural engineer WSP.
James Bowles, founder and director of Freeform, told BIM+: "Multiplex saw the success of the technology on the Battersea Phase 2 project and wanted to push the boundaries even further, with a particular focus on immersive VR."
Neill Stratton, construction manager at Multiplex, and Ryan Donoghue, the BIM coordinator, were a crucial driving force behind the implementation, challenging Freeform to develop the 4D VR process to improve safety planning and communication.
The federated BIM model was exported into Rhino then linked to Synchro project planning software to make it possible to scrub backwards or forwards in time through planned sequences of work to check for "clashes" and make adjustments.
This model includes site escape routes, signage, hoarding lines, access gates, pit lanes, tower cranes, temporary site staircases, edge protection details, and more.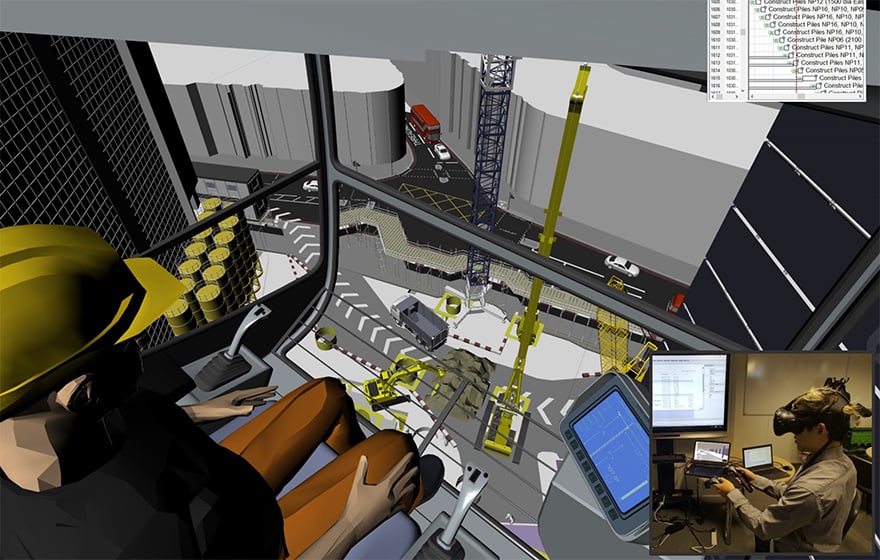 Immersive VR allows a level of spatial awareness and understanding not possible when working in a 2D or even in 3D on a screen
Immersive VR environments, of various work sequences, were produced in a Unity games engine and viewed in an HTC Vive headset, either from above, at 1:20 scale, or first person at 1:1 scale. Users navigate and interact with the model using a pair of handheld controllers.
Freeform modded the Unity software to improve the user interface and add new tools, such as the ability to drag and drop logistics objects from a library into a scene, including tower cranes, excavators, skips and scaffolding.
According to Bowles, the use of 4D and VR has so far resulted in a number of sequence adjustments to make the programme more secure. "Planning logistics between six and 12 months in advance of the work has resulted in a secure safety plan and it provides the kind of detail only previously possible at the workface," he says.
In addition, immersive VR has permitted a level of spatial awareness and understanding not possible when working in a 2D or even in 3D on a screen, he adds. "VR makes things very immediate and obvious, you put the headset on and suddenly you are there, standing on the slab looking around the site and able to make informed decisions without the need to sift through a combination of drawings, a Gantt chart and a logistics plan."
As work on the project progresses, Freeform continues to build the user interface and improve functionality. In "a few months" fully simulated plant will be added to enable users to climb into the cab of an excavator and drive and operate it as they would a real machine.
This could be used to train operators in tricky procedures specific to the physical circumstances of the project at any given time.
The forthcoming launch of HTC Vive 2 is expected to underpin a number of new functions, including a multi-user interface enabling five to 10 people to experience the model remotely at the same time.
"Multiplex really sees the value in VR and is now building it into all their project prelims as a standard set up, whilst challenging us to build new tools," Bowles concludes.

Planning logistics between six and 12 months in advance of the work has resulted in a secure safety plan and it provides the kind of detail only previously possible at the workface.– James Bowles, Freeform