Digital technology and an innovative riser zone product helped make M&E installation safer on the City of London's latest skyscraper. BIMplus reports.
Client: Mitsubishi Estate London
Main contractor: Lendlease
Specialist contractors: T. Clarke, MJL, Hall & Kay, Gardener & Co. Keltbray Structures, William Hare
Architect: Wilkindon Eyre

8 Bishopsgate is one of the newest skyscrapers in the City of London. Designed by architect Wilkinson Eyre, the 79.4m-tall tower provides 52,954 sq m of modern office space and retail facilities at its entrance. Located on the corner of Bishopsgate and Leadenhall Street, it is laid out as a 'stacked' three-block scheme.
One feature of the £300m project's construction was the clever use of digital technology to make the riser construction safer – commonly a risk area on high-rise schemes.
RiserSafe installation
RiserSafe is a riser zone product created by Ambar Kelly which protects service penetrations in the structure until the M&E is ready to be installed. Ambar Kelly worked with main contractor Lendlease and specialist contractors T. Clarke, MJL, Hall & Kay, Gardener & Co, concrete frame contractor Keltbray Structures and steel frame contractor William Hare to coordinate the supply and install of RiserSafe with the structural frame and M&E services.
Ambar Kelly co-ordinated all electrical, pipework, ductwork and sprinkler contractors' separate models using Tekla structures
Ambar Kelly's system uses BIM to create bespoke riser units by cutting apertures for each service in the factory before it goes on site and is fixed within the building. A lid is placed on each aperture, which is removed when the service is installed. Using these units means there are no voids for workers to fall through – and no need for scaffolding.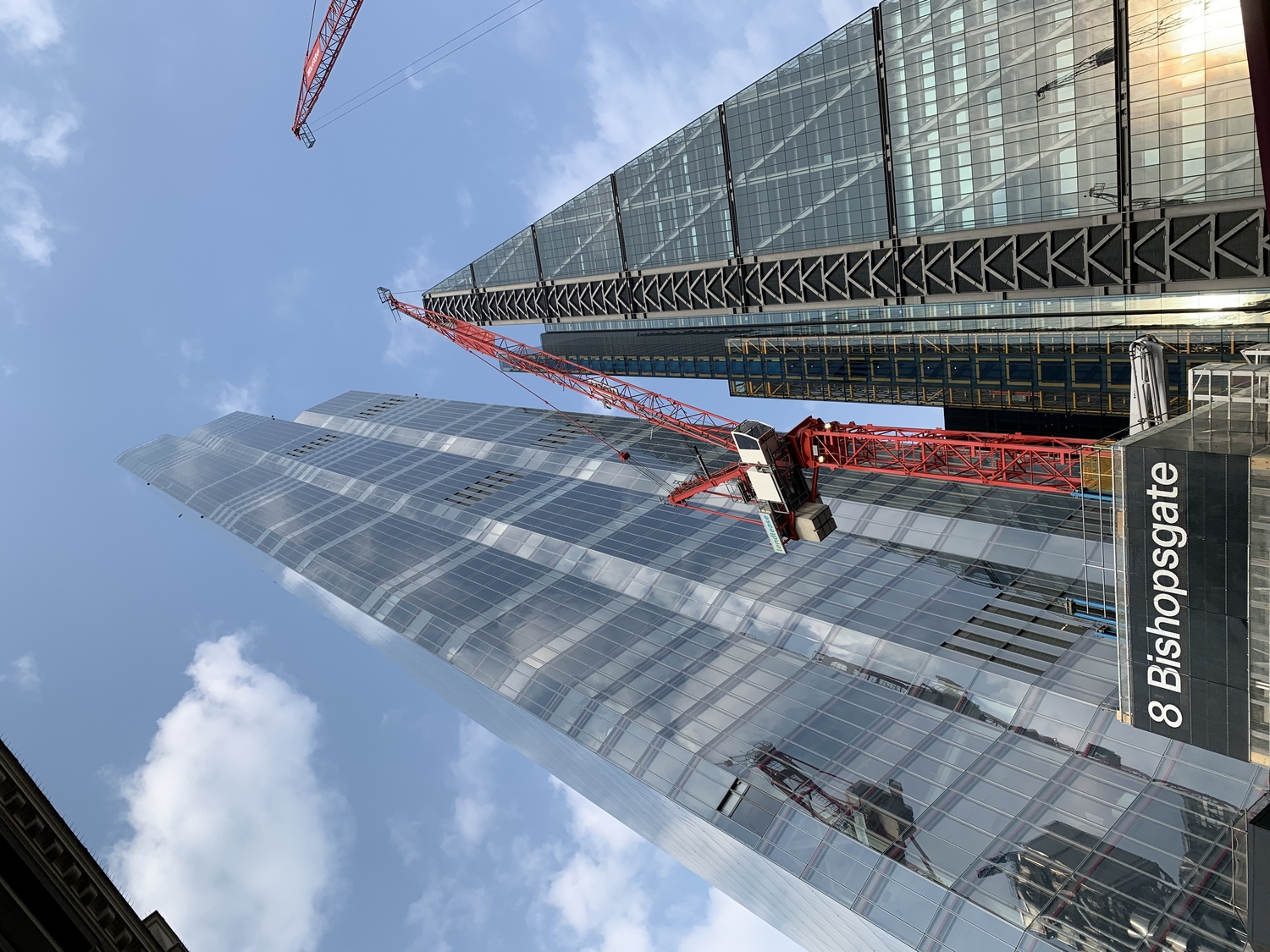 8 Bishopsgate (Image: Dreamstime/Raluca Tudor)
There are around 1,300 riser shaft units at 8 Bishopsgate, which could include up to 15,000 holes across the units for services. These are cut out off-site with the RiserSafe system.
Ambar Kelly director Nick Atkinson says: "Our system covers all eventualities in the virtual world before it gets to site by eliminating risk through design. The visible risk – of falls from height – is prevented because you can't fall through a hole that's not there."
Electrical riser, green colour indivates the plate is dropped for 100mm fire compound for 2 hour fire protection, blue is the position and supporting beam for a fire compartment
To assist with installation, Ambar Kelly is using the Trimble Connect for Hololens technology from software provider, Tekla, to create an augmented reality (AR) environment. Users put on a five-microphone array and bone-conductive headset to provide crystal clear two-way communication in noisy environments.
This allows the wearer to superimpose the 3D model on top of the unit to compare and check the plans match the physical reality. Any problems or clashes can be picked up much earlier in the process and corrected.
'Clear audit trail'
Contracts manager James Cousins says: "The Hololens plugin is a visual tool for the client and architect to see how the project is moving and is helpful when viewing how the project will unfold in an unbuilt environment. Without the technology this would be a longer process; thankfully, Hololens gives everyone the earlier engagement that they need.
"It will also serve as a clear audit trail of which changes have been made."
He adds: "As well as giving visibility of any changes, the AR technology is enabling collaboration. All approved drawings are uploaded into the helmet. You can then collaborate with other users using the same equipment to align, navigate and measure the model in a real-time, true-to-life space.
Risersafe unit cores – Section through showing RiserSafe units in the cores, red plates finished at SSL green plates 100mm below SSL for fire stopping compound
"We can also manipulate the model whilst onsite which is an added bonus. When it comes to onsite installation everything is there, everything is cut and manufactured to the detailing in the model. The efficiency of the modelling is second to none, and it is keeping project teams better connected."
Ambar Kelly says it has run cost analysis on RiserSafe compared with standard GRP riser grating and that while upfront costs may seem significantly more, it argues the product is cheaper if associated costs such as scaffolding, dry walling, fire doors, and extra support steel are included.
Top image: Risersafe support beams – Underside of a RiserSafe unit showing fire wall fixed beams and movable support beams