BIM processes will underpin robotic fabrication and 3D printing techniques used to construct a new Robot Science Museum in Seoul.
Seoul Metropolitan Government commissioned the spherical 22-metre high building to educate the public about robots and the construction phase will showcase various pioneering robotic and drone techniques.
Turkish practice Melike Altınışık Architects (MAA) created the competition-winning design, which proposes using six-axis manufacturing robots to install, and potentially shape and polish, the double curved white cladding.
Larger manufacturing robots will 3D print the concrete landscaping around the museum. In addition, drones will act as automated "project managers", scanning progress on site to check against the design, and potentially controlling robotic construction vehicles.
The concept design was produced in BIM and going forward the structural engineer, facade engineer, MEP contractor and other key stakeholders will collaborate in BIM to improve coordination as well as drive offsite prefabrication and robotic delivery on site.
"If you plan to use intelligent robots on site, BIM is vital to create a single source of data, there is really no other option," says Melike Altınışık, founder and principal at MAA and former lead architect at Zaha Hadid Architects. "BIM data is likely to guide the robots as they bend the metal cladding sheets and fabricate the panel build up as part of the robotic construction methodology for installation.
"Where traditionally, projects suffer from missing or inaccurate information, which causes delays and redesign work, BIM will provide a single source of knowledge. The idea is to build the project virtually in advance before we build it physically on site."
Drones will act as automated "project managers" (above) for the museum which will educate the public about robots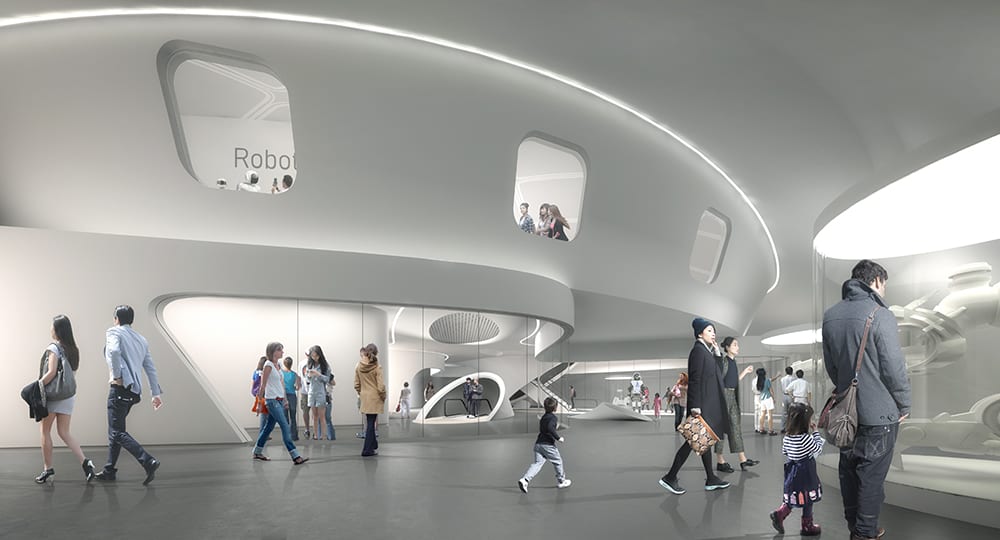 MAA has estimated that automating on-site processes could shave 30% off the construction programme. The robotic methodology will be honed during detailed design, at present it is uncertain about the size of machines required or if they will work alone or in teams. 
"Current robots on the market can reach up to six metres, but taller units may become available over the next few months. It is likely we will need platforms to enable the robots to reach the higher parts of the facade, but with a building height of around 22 metres using manufacturing robots is feasible," says Altınışık.
The Museum is MMA's first project to harness robotic construction, but it has completed academic research on the subject and helped devise the advanced techniques currently being employed during construction of the famous Istanbul Çamlıca TV and Radio Tower.
The 369 metre tall tower has 50 floors that are being constructed at record speed by building four- and five-storey sections on the ground then craning them into position to fix to the concrete core.
It is proposed that six-axis manufacturing robots install, and potentially shape and polish, the double curved white cladding.