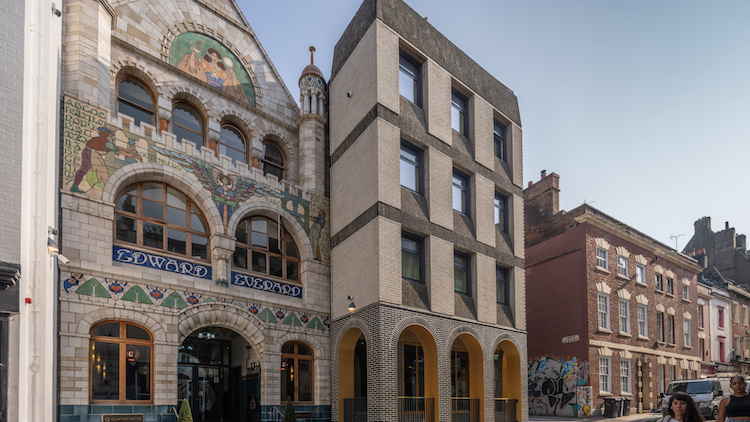 The £35m mixed-use redevelopment of the iconic Everard's Printing Works in the historic quarter of Bristol into a four-star, 255-bedroom hotel, alongside new apartments and commercial premises, came with many conditions and considerations. BIM was the only option for the scheme's architect, Edinburgh-based AMA Studio.
Located a short walk from Bristol city centre, the site comprised a mix of listed buildings and more modern structures, including the Everard's Printing Works building, with its art nouveau listed facade to be preserved and become the grand entrance of the new hotel.
Through careful and considered design, the majority of the building was redeveloped to create the four-star, 255-bed Clayton hotel, with single-storey extensions to five blocks providing additional hotel rooms and kitchen facilities. Meanwhile, an enclosure for the courtyard was redeveloped to create a glazed atrium as the main focal public space in the hotel.
Two further blocks were converted to create 24 residential apartments for sale while part of the basement car park was transformed into five commercial units for lease.
Everard's Printing Works – project team
Client: Artisan Real Estate UK
Architect: AMA Studio
Main contractor: McAleer & Rushe
AMA was engaged by McAleer & Rushe, on behalf of Artisan Real Estate UK, to develop the design for the scheme, based on a previous planning scheme prepared by Alec French Architects. AMA's brief was to retain the listed facade and the sizeable concrete frame that made up the existing office buildings. In this way, the practice could retain the elements of historical significance and design a scheme with significantly lower embodied carbon than a new-build.
Using Archicad, AMA had previous experience of working with McAleer & Rushe on a large BIM Level 2 office project. As such, the continued collaborative relationship between McAleer & Rushe's site team and the practice's use of BIM allowed AMA to produce the necessary detailed design information for such a complex site, responding to unexpected site conditions as they arose.
"At the start of the project, we were issued with limited previous design information and an IFC proposed model exported from another platform," explains Billy Duncan, associate director from AMA. "In addition, we were given an IFC base model created by the building surveyor from a detailed point cloud survey, and an interactive point cloud viewer for review.
"As part of the due diligence process, we had to decide which existing building elements should be replaced with new Archicad elements, especially where interventions were to take place. All proposed new building elements were gradually replaced with Archicad elements so that they could be scheduled and displayed correctly. This also had the additional benefit of reducing the number of unique IFC doors and windows that were held in the projects symbol library."
Coordination, communication and collaboration
"The ability to coordinate such a complicated project in Bristol with a few people working from home on the 3D model was only possible with the help of Archicad."
Billy Duncan, AMA
AMA used Archicad to export and import IFC files to and from other consultants and subcontractors to allow for coordination throughout the design and construction.
"Working with Archicad, we could work with a smaller team that was perfectly coordinated even remotely," explains Duncan. "Graphisoft helped with transitioning to a more flexible workplace during the pandemic, and now we are in the process of moving to BIMcloud as a Service, Graphisoft's cloud-based platform to enable smoother collaboration and allowing our staff more flexibility about where they chose to work.
"The ability to coordinate such a complicated project in Bristol with a few people working from home on the 3D model was only possible with the help of Archicad.
"We also used BIMx extensively both on site and at client meetings to help communicate the design. Using the BIMx model with its direct links to the plans and sections in Archicad was a great help, especially with onsite coordination for what was a very complex project."
Meeting planning conditions
Although the project had already been granted planning approval when AMA took it on, it was subject to a number of planning conditions.
One such condition was the appearance of the new mechanical ventilation scheme located on the building's roof. AMA redesigned the roof-scape to subtly locate the new air handling unit behind pitched roof barriers on the listed building roofs.
"During the planning discussions, we exported the Archicad model to Twinmotion to create video walk-throughs. The videos combined with the Archicad model were invaluable in helping to explain the impacts of the design changes on key external views," Duncan says.
"Through discussions with Bristol City Council, we developed the design through the introduction of vibrant colours to key elements to create a landmark statement which is visible from the Broadmeads shopping area to the north."
Working within constraints
Due to its shape, the constrained site in downtown Bristol allowed no access for tower cranes, so the structures for the new-build extensions were designed in lightweight steel framing systems of a size that could be hoisted into place.
All cladding and glazing elements were also sized so that construction was possible using hoists. AMA's detailed design also took into consideration the need to abseil to maintain and replace glass panels.
With the existing listed building containing areas of timber-framed construction, specific fire and acoustic details were developed and agreed with building control to take this into account. As the original 1970s building was constructed using a waffle slab frame, this also required very specific fire and acoustic separation.
Furthermore, the existing building walls had to be upgraded for air-tightness and thermal performance without introducing a condensation issue.
The project is expected to complete soon, resulting in a stunning regeneration of the Everard's Printing Works (now known as Everards Printworks) and surrounding area.
The three-dimensional complexity of the project was successfully managed through Archicad, which enabled all team members to work collaboratively and effectively to breathe new life into an historic building and revitalise the community.