Client: Land Rover BAR
Lead Contractor: Allied Developments
BIM Tools: Revit, ArchiCAD, BIMx Model Viewer, Tekla Structures
A fully collaborative approach to BIM was critical to constructing this fully offsite manufactured building in just one year, ready for Sir Ben Ainslie and his team to mount their British challenge for the 35th America's Cup in 2017.
Designed by HGP Architects to be BREEAM "excellent" the building, located on the Camber in Old Portsmouth, will function as a permanent base for Land Rover BAR (Ben Ainslie Racing).
It incorporates sailing operations, research and development, boat building, sports science and fitness facilities. Accommodation is also included for support services such as commercial, sustainability, event management, communications, marketing and PR, along with a visitors' centre showcasing innovation and technology.
With just one year to deliver the headquarters, from planning approval to handover, in June 2015, the project team were in a race themselves to meet the tight deadline. Vivienne Conway, senior architectural designer and model manager at HGP, explains: "Land Rover BAR are at the top of their game and know how to pick up a project, run with it, and get it done. The programme was always paramount and it was hammered home to us repeatedly that they had to sail out of this building by that date, there was no flexibility."
As lead consultant and architect, HGP took on the role of BIM coordinator, working with consultants, structural engineer Reuby & Stagg and MEP consultant Couch Perry Wilkes in both ArchiCAD and Revit.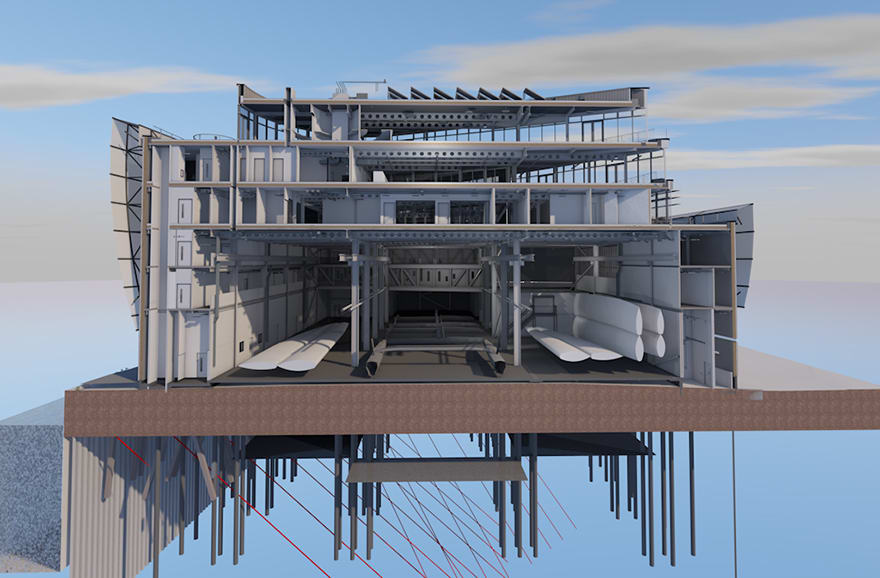 The extent of offsite manufacture relied on creating a very accurate, coordinated and clash detected model
Consultants exported IFC files of their individual authored BIM models to the Dropbox file-sharing website, where HGP picked them up to be federated in ArchiCAD. HGP exported its own architectural model, as an IFC, plus the most up to date federated model of the project, in both IFC and Graphisoft BIMx formats, for reference.
Conway comments: "In an ideal world we would have set up a complete BIM workflow schedule with our consultants, identifying the precise federation process, but we were running at breakneck speed just to get our own drawings out, let alone coordinate all the consultants', so we found the quickest method was to grab consultants' IFCs and hot link them into our ArchiCAD model. That suited the speed of the project, with people pushing out drawings and documentation almost as work was about to get underway."
In addition, HGP found federating in ArchiCAD a quick method of responding to regular design changes being requested by the client. "If it was within our ArchiCAD model we could control all the changes, then export the latest model to the consultants very quickly, highlighting any clashes we had detected using Solibri Model Viewer," she adds.
A BIMx file was also exported, from ArchiCAD, to Dropbox to enable the client to view a walkthrough model of the project on a tablet running BIMx Desktop Viewer.
Allied Developments was appointed as construction manager and did not use BIM to coordinate the construction programme and costs etc. However, all the specialist offsite contractors worked in BIM, including the steel fabricator, TA Colbourne, and the manufacturer of the ETFE atrium roof and the building's distinctive external fabric wrap, BASE Structures.
The client is currently working with the MEP consultant to tweak the detailed BIM model to as-built status
Not everyone was using recognised BIM software, so a key challenge was interpreting their data to give it interoperability to import into a federated model, says Conway: "The external wrap was designed in AutoCAD 3D, which was exported as either DXF or 3D DWG files.
"That made it difficult because HGP didn't have responsibility for their information, but we had to go through the process of file format changes, first 'quarantining' it as a separate ArchiCAD file, then converting it into an object, to reduce the amount of data being crunched, then making it into a host element in ArchiCAD that could be hot linked into our federated model."
She adds: "The whole process was a learning curve because everyone was working so fast in their own native software, so our challenge was to host it all and make sure it worked efficiently.
The extent of offsite manufacture relied on creating a very accurate, coordinated and clash detected model. Nothing on the building was measured on site, and all construction information came from the model and drawings. Most critical design decisions were made at fortnightly workshops, where consultants and specialists viewed the model together on a large screen.
"Often it's not until you see something in a 3D model, or when you can cut sections through the model and walk through it that you can see the potential clashes," says Conway. "The results were fantastic. The prefabricated curved glazing used on the front 'prow' of the building was installed in just one weekend and the fabric wrap guys carried out a quick survey after the building was completed, and found it came within very low tolerances."
The client is currently working with the MEP consultant to tweak the detailed BIM model to as-built status, populating it with relevant building component information, with a view to using it as part of its building management strategy. Model data is also being extracted in COBie, and other spreadsheet formats, suitable for use in facilities management software.
Plans are also underway to plug operational data back into the as-built model to monitor how the building is performing against how it was designed.
"During the project, we always spoke about how great it would be if the model didn't just die at the end. The whole point of BIM is go beyond the days of filing drawings away to be forgotten about, it's about helping the end user better manage and maintain their property," Conway concludes.
Land Rover BAR know how to pick up a project, run with it, and get it done. The programme was always paramount and it was hammered home to us repeatedly that they had to sail out of this building by June 2015, there was no flexibility.– Vivienne Conway, HGP Architects