Wide and varied use of BIM software from Graphisoft has played a key role in architecture practice Constructive Thinking's part in the net zero retrofitting of social housing stock for Nottingham City Council.
Client: Nottingham City Council
Architect: Constructive Thinking
Retrofit specialist: EnergieSprong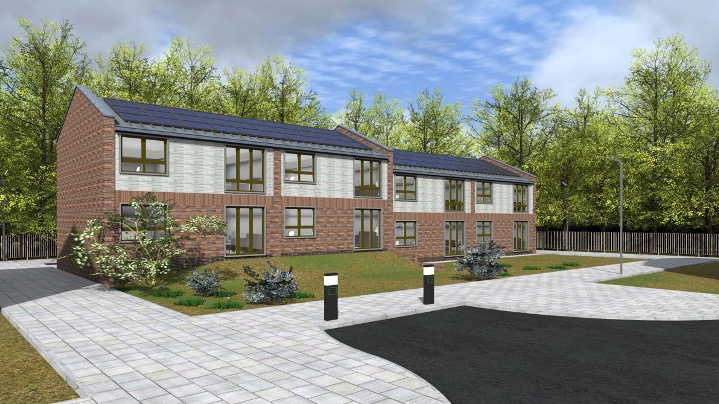 Retrofitting existing homes to make them more energy efficient has been identified as a key factor in helping the UK to meet its net zero targets by 2050. As a result, councils and social housing providers are working to identify the most efficient and effective ways to retrofit their vast and varied housing stock.
In line with the government's plans to decarbonise the UK's housing, the Department for Business, Energy and Industrial Strategy (BEIS) has released grant funding to support research into innovative solutions to tackle this challenge.
Using Graphisoft's Archicad, architecture practice Constructive Thinking has worked with a number of councils around the UK and Ireland to develop and test whole-house retrofit schemes across numerous housing projects. These were designed to efficiently scale up to improve housing standards and energy efficiency, effectively delivering much broader benefits than a reduction in carbon emissions.
Pilot projects in Ireland and on Merseyside resulted in an average 5oC increase in a typical home's internal temperature, a reduction in fuel poverty, less illness and fewer GP visits, and reduced incidence in people moving home, thereby reducing the cost of rehoming residents borne by housing providers.
In January 2020, just before the covid-19 pandemic hit and the UK went into lockdown, Constructive Thinking started work on a BEIS-funded project with Nottingham City Council and net zero retrofit specialist EnergieSprong to develop solutions for the whole-house retrofit of 96 homes.
The project involved fitting external wall insulation, installing air source heat pumps to remove the reliance on gas boilers for heating, and installing solar panels to self-generate electricity.
Jon Moorhouse, director at Constructive Thinking, takes up the story: "We work closely with the Archicad community around Europe and we had an insight into what might be coming with the pandemic from our colleagues in Italy. We worked quickly to gather enough survey data during February and March 2020 to enable us to model all the properties, just before the UK went into full lockdown."
Constructive Thinking has developed a 'Scan to BIM' methodology which is an unobtrusive way to work on retrofit projects. The team uses point cloud scanning technology that is both fast and accurate. Once the scans are complete, they are processed and dropped directly into Archicad, where full modelling can begin.
The properties refurbished for this project had been constructed from a cross-wall housing system, a form of prefabricated construction used throughout the UK during the 1950s, 60s and 70s. The properties were built from pre-cast concrete, with timber infill panels.
Once the internal and external scans and surveys had been completed, Constructive Thinking was able to model the properties using Archicad.
"Although at first glance the properties look the same, they aren't all exactly the same size. However, with the help of Archicad, we were able to fast-track the design process with a programmable library of parts and 'stretchy' parametric objects that the team could easily drag to the correct size. We couldn't have done this without Archicad," says Moorhouse.
'Retrofitting in this way provides a boost to local economies, with the opportunity to manufacture locally and to train local people to undertake the installation work.'
Jon Moorhouse, Constructive Thinking
The external insulation panels are each built up in 11 layers using the software, all created from a 'stretchy' object and designed to fit perfectly around corners, windows and doors.
Despite the covid-19 pandemic, with the help of Graphisoft's technologies, Constructive Thinking was able to work remotely and collaborate effectively. For client meetings, the team shared Archicad screens using Zoom or Teams and was able to talk through the building descriptions with groups of people involved.
Meanwhile, within Constructive Thinking, the practice uses Graphisoft's Teamwork, which enables different team members working remotely to access the same project files within Archicad simultaneously, as everything is held remotely on a server.
In addition, Constructive Thinking used Graphisoft's virtual reality software to show the client at Nottingham City Council the designs. BIMx is accessible via a desktop, tablet or mobile device, so models can easily be viewed on-site and remotely.
"With the help of BIMx, the design process is so much more immersive and responsive," says Moorhouse.
BIMx was also invaluable in explaining the designs and the process to tenants.
"When retrofitting homes, it is very important to keep tenants informed about the changes that are being made, particularly when unfamiliar products or technologies are being used. For example, with the help of BIMx, we were able to show the tenants what an air source heat pump would look like," he says.
Calculating energy performance
EcoDesignerSTAR is an add-on to Archicad that performs energy assessments and simulations such as thermal bridge calculations and building energy performance ratings to inform decision-making. Users can take multiple reports from the same model and compare changes and revisions to help inform and explain design decisions.
Moorhouse says: "Our client wanted to understand exactly what we were proposing and why. We were able to use Graphisoft's EcoDesignerSTAR for live energy modelling during project meetings to show immediately what the impact on energy performance would be if we made different changes or alterations, for example in the materials used or the thickness of insulation.
"EcoDesignerSTAR carries out these calculations in real time, and produces visual representations as well as graphs and tables, so we were able to compare and contrast different options very quickly. This not only helped to explain our designs, but also aided and speeded decision making by the client."
Once the model was complete, Constructive Thinking sent the designs to the insulation company for panel manufacture. By scanning the properties and modelling in Archicad, Constructive Thinking was able to send the exact dimensions for each panel electronically by IFC to the factory.
Four panels per house were manufactured, each made up of 11 separate layers that the factory cut to size before assembling. The panels were then delivered to the properties and installed by specialists.
With the help of 4D workflow, Constructive Thinking was also able to model what happens over time on the construction site to ensure that installation was carried out in the best order and with the least disruption to the tenants.
Following the success of the pilot at Nottingham City Council, the council has secured further funding from BEIS to retrofit more properties using the solutions and processes developed by Constructive Thinking using Archicad.
Another BEIS-funded project with Manchester City Council and housing provider One Manchester will see a further 164 homes retrofitted using a similar process to improve airtightness and thermal insulation, while keeping disruption to tenants and costs to a minimum.
Moorhouse concludes: "To have any chance of meeting our net zero targets, we need to know how we are going to retrofit properties by 2030 at the latest. Retrofitting in this way provides a boost to local economies, with the opportunity to manufacture locally and to train local people to undertake the installation work.
"As demonstrated by these projects, our solutions and systems are fully scalable and can be taken in-house by housing associations and councils throughout the UK and rolled out to other housing projects."