Client: Brunel University
Lead Contractor: Penoyre & Prasad (architect)
BIM Tools: ArchiCAD, BIMx
Penoyre & Prasad was tasked with designing a new Learning and Teaching Centre for Brunel University London, to allow it to shift away from lecture-led teaching to peer-to-peer and team-oriented learning.
While traditional lectures still have an important role to play in university education, Brunel recognised that it needed a building that would enable it to embrace new ways of teaching. However, with its traditional learning spaces centred around lecture theatres, there was little flexibility in its existing design and layout to allow for a change of teaching style. With this in mind, the university opted to build afresh.
Brunel wanted its new Learning and Teaching Centre to be a counterpoint to the Brutalist Lecture Centre that dominates the existing site. The brief was that the building should support peer-to-peer learning first and foremost, with flexibility built in for changes in teaching methods over the next 30-50 years.
Modelling a competition-winning concept
Penoyre & Prasad entered the design competition for the project, following an initial consultation process that was just three weeks long.
Michael Fostiropolous, architect at Penoyre & Prasad, says: "We used ArchiCAD from day one and it played a big part in helping us win the design competition.
"The ability to rapidly model enabled us to work through lots of ideas very quickly to come up with our winning concept. At the competition stage we made good use of Graphisoft's BIMx virtual reality viewer, too. We took an iPad into the interview and the client was amazed to see how easily we could flip from the floor plan to a 3D model and back again, focusing in on different areas.
"As we moved further through the project the scheduling and detailing tools within the software really came into their own."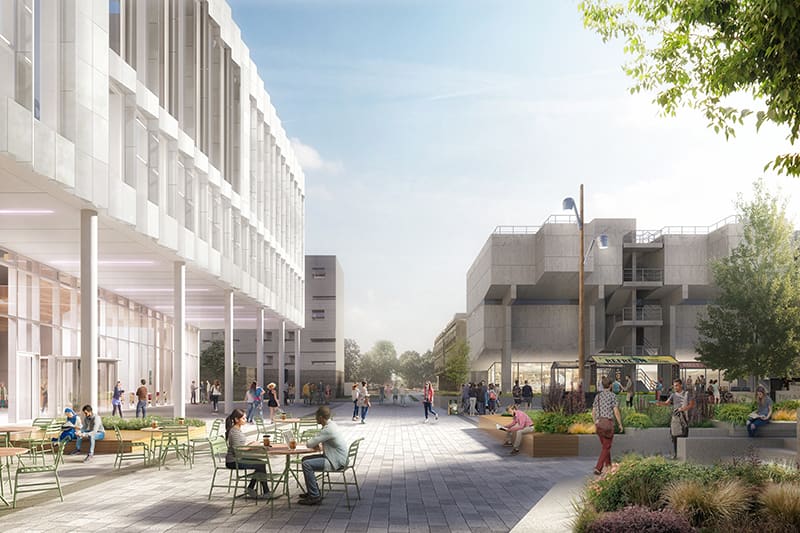 Penoyre & Prasad used ArchiCAD to design the bespoke ceramic facade panels (Penoyre & Prasad)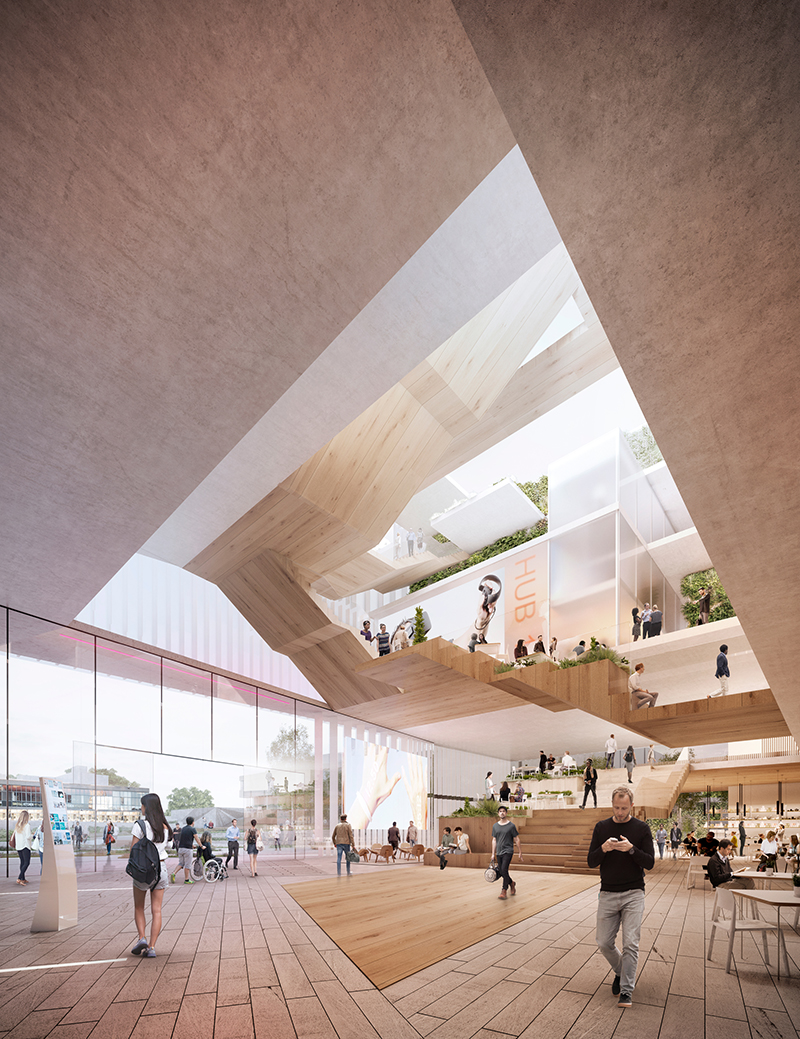 The building is designed around a central atrium and a central timber staircase (Penoyre & Prasad)
Brunel University is very focused on BIM protocols, and the employer's requirements set a target of BIM Level 2 for the new Learning and Teaching Centre.
Fostiropolous continues: "This meant a challenging and rigorous process which included creating COBie outputs for each discipline and mapping ArchiCAD objects to COBie data structure. We used Uniclass classification throughout and every pipe and structural connection has been fully modelled by our engineering colleagues at BDP."
Meeting stakeholder needs
Penoyre & Prasad undertook an intense consultation period which meant balancing many different stakeholder requirements at the university – for example, the differing needs of students and teachers.
The new building's relatively small footprint meant it needed to be built quite high, at seven storeys. As a result, and with large volumes of people coming in and out of lectures and seminars every hour, it was important to keep the circulation flowing.
To address this challenge, the building is designed around a central atrium and "living stair" – a central timber staircase that it's hoped will encourage students and staff to linger and socialise. To ensure the living stair could be accessed and enjoyed by everyone, Penoyre & Prasad worked closely with the university's accessibility team throughout the project, regularly using BIMx to explain ideas and designs.
Fostiropolous explains: "We met with the engagement committee, which represents different groups at the university, once a month. We always had a BIMx model on the projector and used it to look at the implications of that particular discussion. There was always something in the model that we could use to help people visualise what we were talking about."
The planning department was keen that the new building should not overpower the existing listed lecture block. With this in mind, Penoyre & Prasad designed the Learning and Teaching Centre to be both lightweight and transparent, in direct juxtaposition to the brutalist architecture of the lecture block.
"Once again, both BIMx and the fly-through movies produced from ArchiCAD were invaluable in helping us demonstrate to the planners that the new building would enhance, rather than overshadow the adjacent listed building," says Fostiropolous.
Artisan meets high-tech
The striking facade presented design and technical challenges and Penoyre & Prasad used ArchiCAD to design the bespoke ceramic panels. The 3D geometry of the panels was incredibly complex, but with the help of the software's slab and column elements, the architects could quickly test configurations and model all 5,455 individual panels without making the model too large.
Penoyre & Prasad converted the geometry from the model into 3D printed packages to create scale prototypes of the facade. Ceramics specialist Fettle Studio used the geometry to create CNC moulds to create the prototypes in different panel textures to allow for experimenting with glazes.
The next phase involved working with a commercial German manufacturer which was able to match the glazes and textures using a factory process. Information was shared directly with the manufacturer via IFC.
Penoyre & Prasad also produced 3D printed facade mock-ups as a tangible example for the client consultations.
BIM in construction
Once building starts, the new Learning and Teaching Centre is expected to be completed within two years, with Penoyre & Prasad involved in the construction phase to assist the client.
Fostiropolous concludes: "We will continue to use ArchiCAD and BIMx throughout the construction phase and we expect both the ArchiCAD model and BIMx to help win hearts and minds with the team and subcontractors. It makes a huge difference at site inductions for suppliers and contractors to be able to see in advance what they are creating."