Client: Quintain
Lead Contractor: Sisk
BIM Tools: BIM Level 2 including COBie data and 4D planning; and a cloud-based API between Sisk's CD
The challenge
Sisk was contracted by developer Quintain to construct a build-to-rent development with a mix of dwelling types and podium level communal gardens at Wembley Park, north London. It comprises seven blocks with between 12 and 26 floors per block, for a total of 743 flats.
Named Canada Court, the project had a value of £211m and began in 2017 with completion set for September 2020.
Sisk had been an experienced BIM operator for some time before the Canada Court project and it was keen to try a new initiative for this complex project. Working with Autodesk, it devised a system that allowed all site operatives, not just Sisk managers, to access visually all the site information on a live dashboard on their own tablets/phones.
Sisk's BIM team and Autodesk came up with a system of "digital smart containers" that are linked to a QR code. This enables site teams to access all the project information, and review quality checks and tasks for each flat, all in one place.
To achieve this, Sisk first organised focus group sessions with its digital leads and field experts, discussing the tools and solutions across the industry. This led to development of a comprehensive digital mapping solution linking project information produced by designers/suppliers in the BIM environment to smart containers in the BIM360 Field platform. These containers are associated with a QR code allowing Sisk to link an unlimited amount of information to each asset.
The new system gave specialists and other operatives access to much more information than they were used to dealing with. But Sisk's BIM managers wanted there to be an easily-accessible single source of truth because they believed it would improve efficiency and productivity.
They were right. The digital container system increased Sisk's efficiency by 35%. Overall production efficiency (ie QA checks, issues fixed by subcontractors, work approved) increased by 21.1%. And there was a 44% reduction in the amount of paper printed in Sisk's office.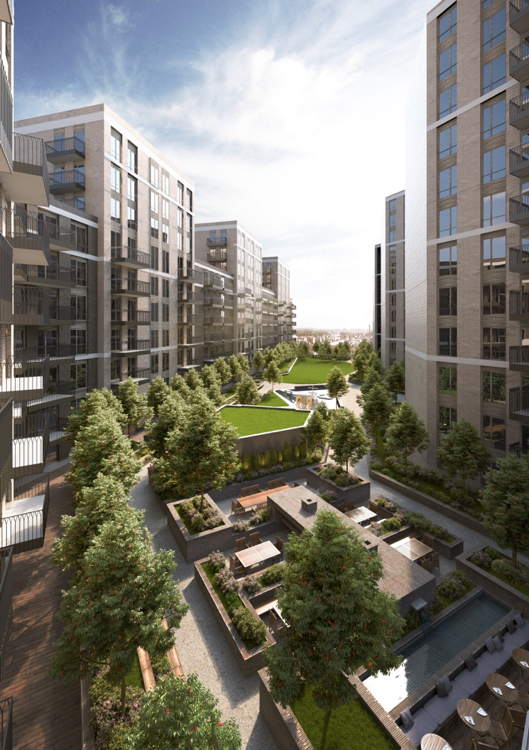 The digital container system increased Sisk's efficiency by 35% (John Sisk)
The system was easy for suppliers and specialists to understand and they got to grips with it after one-day training programme to familiarise them with procedures. Sisk continued to send out information PDFs simultaneously to start with, but this quickly proved unnecessary.
How Sisk set up the system
The system was created by assigning unique QR codes to the flats and considering each code as a "smart digital container".
The container is used for two main reasons: to retrieve the drawings associated to the relevant area of the building by scanning the QR code placed on a flat summary panel outside the flat; and to contain within it the necessary digital forms needed for QA and handover.
The digital containers assigned to each flat allow Sisk to check the following information, which is updated in real-time: when the flat was checked, and by whom; if issues were found during QA (with images and location tags attached); when action was taken or if the issue remains unresolved; and current handover stage of each flat. The live dashboards show data related to the flats as a collective or in singular elements.
With support from Autodesk, Sisk developed a cloud-based API between its CDE (Viewpoint) and BIM360. The API automatically transfers information from VFP to BIM 360 Field. This ensures information on site is up-to-date and approved.
Planning
A key benefit of the digital container is the ability to link the contractual program to the QA and handover site activities. Linking this information to the digital containers during the platform set up phase enables the system to check the actual handover date for each phase of construction against the program.
Training and upskilling the supply chain
Sisk's supply chain attended training sessions to learn how to use the new processes. They were trained in the use of the software using real-life scenarios and were asked to disperse this information amongst their colleges so the learnt skills could be spread throughout the entire supply chain.
Data capture
Data capture occurs live on site by operatives using tablets storing the required information, which are synchronised before every site visit. Using the installed software, the tasks performed by operatives can be completed digitally and automatically uploaded onto a central database (along with images taken while carrying out tasks) to be accessed by any relevant party.
Tasks performed include QAs, snagging and handover.
These tasks were previously completed using a manual paper process, which was an inefficient method with no live control over which areas had been checked.
Data management
Once data is stored on the server it is automatically analysed and converted into a live dashboard on the digital platform. The whole team has access to this data which can be edited into different layouts, dependent on what information the user wishes to investigate.
This dashboard has proved to be an invaluable tool to highlight detailed flat information or high level data (for the entire building).
The results
The use of digital smart container has generated major benefits for project delivery, notably a 35% time saving on the QA process versus traditional paper methods; a 21.1% increase in production efficiency (with a target of 35% on the rest of the project);  a 44% reduction of printed drawings, which cut the CO2 produced in one year by 145.5 kg; and 15% more efficiency of project management, as well as certainty of delivery.
Main image: John Sisk