Client: Centre for Digital Built Britain (CDBB)
BIM Tools: Bentley Systems' AssetWise
The National Infrastructure Commission is working to develop a National Digital Twin to improve decision making around plans for future infrastructure and the management of current and future infrastructure.
The twin would comprise a federation of multiple twins representing various assets and systems, rather than a single monolithic twin, brought together to generate insights at different levels of granularity.
CDBB provided funding for a pilot demonstrator project designed to road test some of the key concepts and workflows and demonstrate the potential benefits for facilities management and for wider productivity and well-being.
The project was carried out by researchers at the Institute for Manufacturing (IfM) at the University of Cambridge (where CDBB is based), Bentley Systems, Redbite, Topcon and GeoSLAM.
Bruce Hutchinson, project leader at University of Cambridge at Bentley Systems, told BIM+: "The aim was to create a research platform as an exemplar to test out some key ideas involved in digital twins, the challenges, technical stumbling blocks and development needs."
Initial work focused on the creation of a BIM model of the IfM building with a medium level of detail; a high detail context capture model of specific areas of the building; and a low detail context capture model of the West Cambridge site.
Bentley Systems provided the BIM modelling expertise and software, GeoSLAM captured scan data for the building interiors and plant room, and Topcon used drone and vehicle-based scanning and cameras to record 3D geometry and photogrammetry of West Cambridge campus.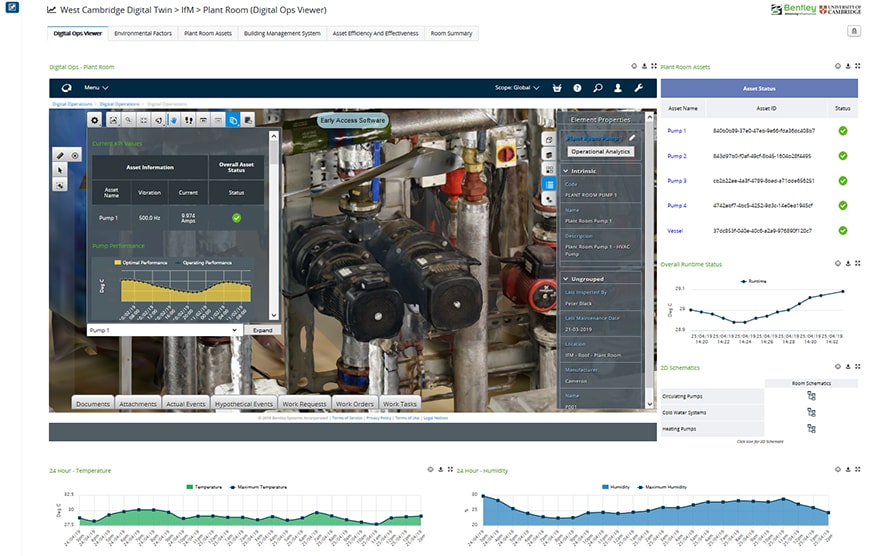 The interface can be used for general asset maintenance
An asset register with asset identification tags for critical equipment across the IfM building was established, and a network of Internet of Things sensors and devices was installed across the building to monitor and control the condition and operation of critical assets and the environment.
The second phase of the project integrated data from these various sources and pulled it together in Bentley's AssetWise platform to perform data analysis and display the results.
Data from 50 environmental sensors in the IfM building, with a granularity of one minute, were processed in Bentley's AssetWise Operational Analytics to output contextualised data as custom KPIs and dashboards tailored to different users' needs.
The digital twin combines insights at both micro and macro scale. The IfM building model focuses on intricate smaller assets and granular data from equipment and systems, such as equipment in the pump room. For example, if a user clicks on a 3D representation of a pump in the plant room they can see the "real-time" voltage and amperage, the name of the manufacturer, and other metadata useful to a technician or an engineer.
"The interface can be used for general asset maintenance, for example to check if a pump is running too close to its operating envelopes, in which case it may be necessary to send out an engineer," says Hutchinson.
At the macro end of the scale, a campus-wide model enables users to click on different assets to access asset tagging information and attribute data. Custom reports, KPIs, alarms and dashboards can be created within the various elements of AssetWise to give users a better understanding of the situation on the ground. Other project work explored how data collected through the Building Management System (BMS) could be integrated with AssetWise.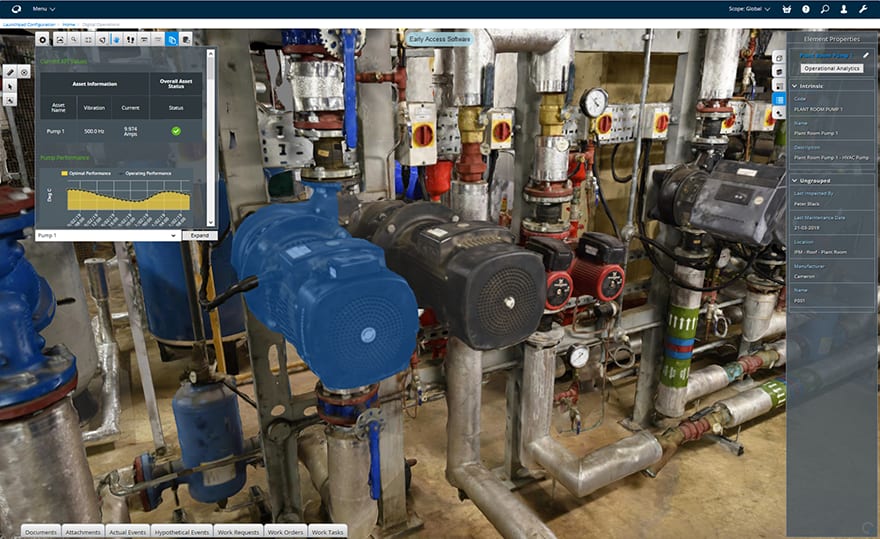 The IfM building model focuses on intricate smaller assets and granular data from equipment and systems, such as equipment in the pump room
"The hardest part was making sure that all data was readily available throughout the various products and platforms. For a national digital twin to be a success, nothing can be isolated or siloed, it must be shared around various partners and customers," adds Hutchinson. "Nobody wants to house a 50-terabyte model on a server farm somewhere. The idea was to have systems federated and connected through various APIs so they can share data." 
A virtual asset hierarchy was created to ensure that specified users had access to only relevant information. The hierarchy is automated so when new sensors are instrumented within the IfM building, the interface builds the hierarchy.
A fully operational digital twin provides various benefits, says Hutchinson. As a mirror image of its physical counterpart, FM teams are no longer constrained by the requirement to be physically present on site to interrogate an issue. "A technician at a PC in downtown Los Angeles could be looking at the same plant room and the same buildings and information as people on site in Cambridge," he says.
The project is currently in a learning phase and examining what worked, what didn't and how to move forward.
"We want to move out from the campus and integrate more buildings to really push towards a more city scale approach," says Hutchinson. "We already have one building instrumented, but we would like to see maybe 15 instrumented. There may also be an opportunity to implement deeper analysis of the data using new ideas and algorithms, machine learning and neural networking."