Client: Swan Housing
Lead Contractor: Waugh Thistleton (architect)
BIM Tools: ArchiCAD
Architect Waugh Thistleton was chosen by Swan Housing Association to deliver a 100% affordable housing scheme in East London. Regenerating a brownfield site, the development is designed in three blocks to provide 65 much-needed homes for residents in the London Borough of Tower Hamlets.
Having gained planning permission in 2017 to develop the site – and with a number of other housing developments in the pipeline – Swan took the decision to create its own modular housing factory in Basildon to build homes using volumetric cross laminated timber (CLT).
With its own factory, Swan controls its supply chain and has more influence over the construction of the affordable housing it provides. And as Waugh Thistleton has expertise in designing and building properties with CLT, there was a natural affinity between the two organisations.
The project was one of the first that Waugh Thistleton designed to stage 3 using ArchiCAD after the practice switched from Vectorworks in 2017.
Every module is manufactured offsite and completed to final fix in the factory. The modules are put together on site
Kitchens and bathrooms are already installed
Mat Smyly, architect at Waugh Thistleton, says: "It was certainly a learning curve at the time as we were working with new software. However, the benefits of using ArchiCAD were huge. For example, with the Teamwork collaboration feature, the ability to have a large team working on the project at the same time really sped up our processes.
"Creating door and area schedules was much quicker overall. Although it takes longer to input all the information in the first place, across the entire project there was a big time saving. Beyond the time savings, ArchiCAD helped us to simplify the coordination process. If you change the door size you know the door schedule is updated immediately."
Car-free design for a mixed-tenure community
The development is made up of a mix of tenures, and will provide 20 rented homes – (four social rent and 16 affordable rent) and 45 shared ownership homes. Seven of the homes will also be wheelchair accessible or adaptable.
Smyly adds: "ArchiCAD's graphical overrides were very useful as we were able to display the shared ownership properties in one colour, and affordable properties in another – that made it very easy to see straight away which was which on the plans.
"We also used graphical overrides to display the type of construction, with the elements manufactured offsite shown in green, and those elements constructed on site shown in yellow. Without ArchiCAD, we would have needed to manually assign the different colours which again would have been time-consuming."
Watts Grove is designed to be a car-free development, set within landscaped courtyard gardens to encourage people to walk rather than drive. All the apartments are designed with full-height windows and generous balconies, letting in high levels of natural light. Private front doors to ground floor flats and front gardens ensure an active street presence and the development includes a high-quality play space to benefit the wider community.
Exchanging information via IFC
Throughout the project, Waugh Thistleton exchanged information via IFC with key consultants, including the structural engineers, mechanical and electrical engineers and groundworks engineers.
Smyly explains: "It was a real bonus being able to share information in this way and very useful for clash detection. It took time for us to work out the best way to export and import data via IFC as it was the first time we were going through this process. But the Graphisoft support team was very good, especially as they can screen share to help you online."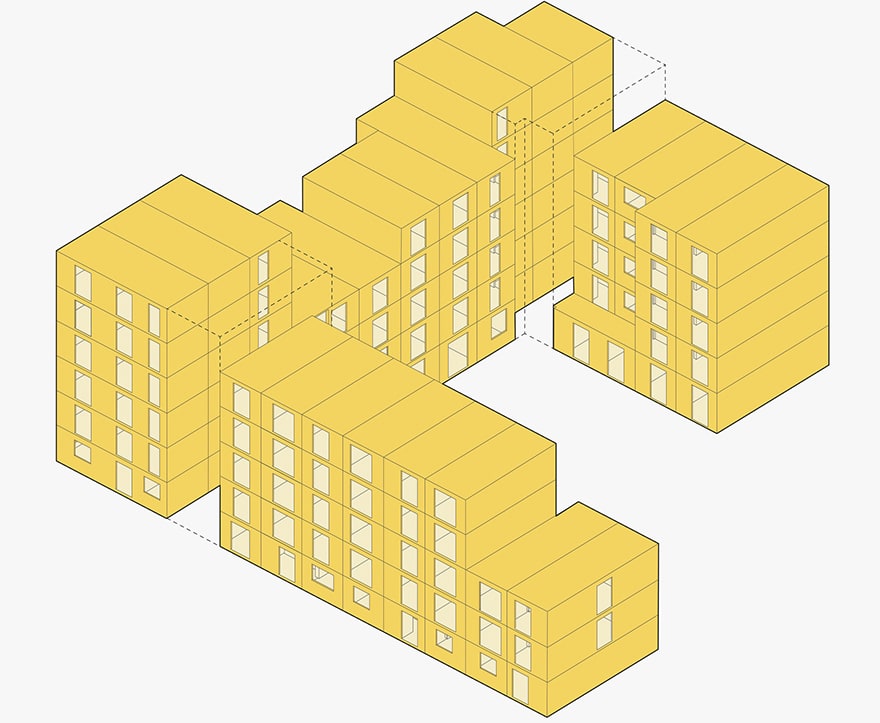 The housing scheme is made up of 151 separate volumetric modules
First block in six weeks
Groundworks on the construction site started in late 2018 and the first modules arrived on site in January 2019.
The housing scheme is made up of 151 separate volumetric modules. The CLT is provided by manufacturer Stora Enso, cut to size and then shipped to Swan's factory. Each module is designed so it can fit on the back of a lorry without the need for a police escort.
"Modular construction is a much quicker process overall as the work on site can be done in parallel with the manufacture offsite," says Smyly.
"Not only that, after the groundwork is complete the buildings are very fast to build. At Watts Grove, the seven-storey block of modules was assembled in a matter of weeks. When the modules arrived on site they were craned into place and bolted together very quickly."
Every module is manufactured offsite and completed to final fix in the factory. On arrival to site kitchens and bathrooms are already installed, electrics and plumbing are completed, and the modules are fully decorated. All that is required is to simply connect the modules together. This means that disruption for surrounding residents is dramatically reduced during the construction phase.
This modern method of construction saves considerable time on site and with repeatable elements the designs could be used as the basis for future developments, with a further time and cost saving. The first apartments will be ready for residents to move into in early 2020, with the final residents moving in at the end of the year.