Client: Tideway
Lead Contractor: FLO JV – Ferrovial Agroman UK and Laing O'Rourke Construction Lead designer: Aecom
BIM Tools: Bentley AECOsim Building Designer, Bentley ContextCapture, Bentley Navigator, Bentley ProjectWise
Tideway, the biggest infrastructure project ever undertaken by the UK water industry, is expanding London's Victorian wastewater infrastructure, dramatically improving the water quality of the River Thames and giving the city a wastewater system it can rely on for the next 100 years.
The new "super sewer", a 25km long tunnel, will intercept, store and ultimately transfer sewage waste away from the Thames. Starting in Acton, west London, the tunnel will travel through the heart of London at depths of between 30 and 60 metres, using gravity to transfer waste eastwards.
Construction of the tunnel is split into three sections. A joint venture of Ferrovial Agroman UK and Laing O'Rourke Construction (FLO) JV is responsible for delivering the central section of the route. In 2015, FLO JV appointed Aecom as lead design consultant for the 12km section of tunnel from Fulham to Bermondsey.
Across eight construction sites, the central section includes a total of 26 shafts, drop, vortex and connection shafts plus tunnel boring machine launch shafts, with depths varying between 10 and 70 metres. It is being built under London's existing underground infrastructure, deep beneath the London Underground tube lines and utilities, and will pass through a variety of ground conditions.
Setting up success
From the outset, the Aecom and FLO JV team recognised that through the practical application of BIM, digital engineering and applying the latest technologies, there are great opportunities to help improve productivity and certainty through design, construction and commissioning.
Being able to successfully integrate supplier designs, including specialist equipment designs and prefabricated elements, the FLO JV digital engineering team are able to assist each supplier through the provision of additional support and upskilling for their teams to deliver design data.
This is more than 3D models. It's about bringing together people and technology through the practical application of BIM processes to work in a collaborative way. Now in 2019, the Aecom and FLO JV teams are realising the benefits. These include model-based design reviews and visualisations to assist decision-making; delivery teams using intelligent 3D construction models for sequencing; planning, live progress reporting and for communicating their works. These methods of working facilitate the way health and safety is communicated through design into construction.
Tom Inglis, lead digital engineer at FLO JV, explains: "Digitisation has the ability to transform our industry. Working digitally and providing leaner processes and trusted information throughout the project's lifecycle, the teams are more informed and faster to react. This gives us greater levels of success in delivery."
Certainty in design and information management
A significant part of determining this success is having controlled and trusted information within a Common Data Environment (CDE). All engineering data is stored and managed within Bentley's ProjectWise, utilising BIM Level 2 workflows. ProjectWise provided 1,200 users from more than 45 stakeholders to manage more than 190,000 documents related to the project, as well as 4,500 drawings and more than 1,500 models.
This approach to data management has allowed the team to build a digital representation of the project. Approval processes are built into the system, with electronic drawings and models from all suppliers, the design team and contractor approved in ProjectWise.
Barry Jones, associate director at Aecom, says: "The level of collaboration that is being achieved on this project simply wouldn't be possible without our approach to data and information management. Everyone working on the project, including our client, suppliers and subcontractors, have access to the appropriate version of information, which they know will be the most up-to-date and accurate. With so many stakeholders working in this data environment, it is certainly one of the largest projects we've delivered in this way."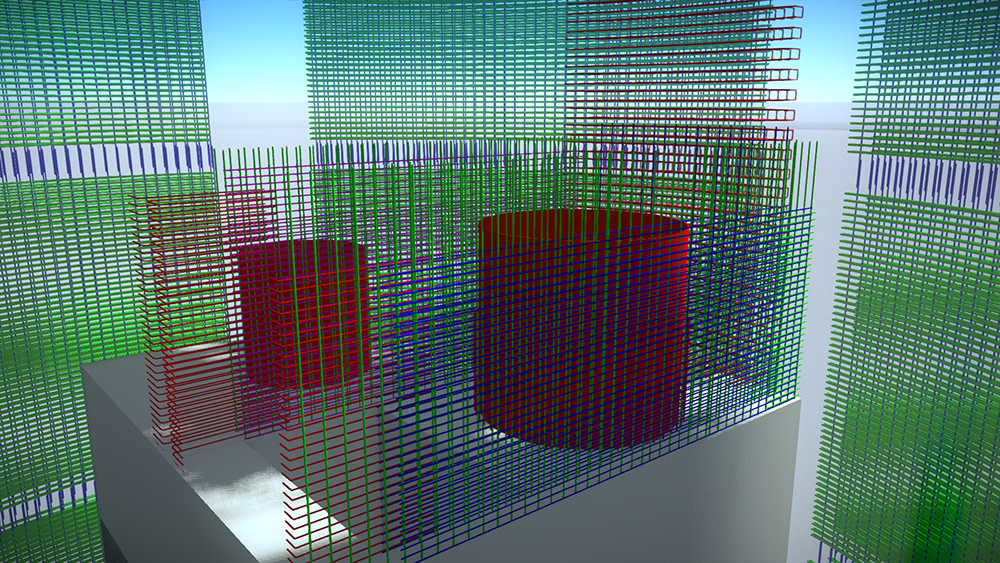 Having a digital 3D replica, the site teams are upskilled to navigate through and access the information within these models
A key advantage of the ProjectWise data management system is the ability for the design and construction teams to access and coordinate suitable design information from different stakeholders. For example, the construction teams can coordinate the required temporary works design with the proposed permanent works designs from the consultants. Reviewing the constructability of the design in this way reduced the need for managing issues on site, and ultimately ensured programme and cost certainty.
Similarly, interfaces with existing assets and as-built works were reviewed for accuracy through heat mapping (utilising laser scanning technology and 3D Reshaper analysis software) and coordinated back into ProjectWise, allowing the design team to make any necessary revisions to the permanent designs before any new construction works.
Jones explains: "This two-way advantage is helping the team eliminate potential delays in construction by allowing us to preempt and rectify any issues without interruption to the project schedule."
A key part of Aecom's integrated digital design delivery is the use of Bentley's AECOsim Building Designer for modelling and MicroStation for drawing production. Through the design phases, Bentley Navigator is used for clash detection and design reviews. In selective areas, Bentley ContextCapture is used to generate a reality 3D mesh for specific sites to highlight difficult areas related to the river wall.
"Using digital workflows, defined document coding and managed workspaces, we have created a controlled and secure environment to manage this highly complex project," says Jones. "The workflows enable rigorous and transparent control of design approvals, sign-offs and issues throughout the design and construction period and beyond."
Inglis further explains: "Given the complexities and scale of the central section, we knew that an aligned digital platform (digital engineering, information technology, business systems and information management) is crucial for us if we are to have a successful impact on delivery. Using technology and clearly defined information management processes is enabling a more effective method of working, allowing teams to work with increased certainty throughout the design, construction and in the future commissioning phases."
Digital sites and health and safety solutions
All sites have an up-to-date digital 3D "construction model". These models consist of the permanent and temporary works designs, surrounding context, site compounds and other key site constraints. Having a digital 3D replica, the site teams are upskilled to navigate through and access the information within these models. The models are further developed to run project scenarios and construction sequences, and optioneering including plant movements and safe working zones.
The cofferdam was highlighted as a key risk area for this project
A 4D construction model is created to communicate the planned versus actual progress on site. With the permanent works design being modelled as a final design of what will be in place, it is important for the FLO JV BIM team to understand with the engineering team how the sites will be built. Breaking or splitting the final design model into individual programme activities allows the planners to develop 4D simulations generated in Synchro to communicate and validate the programmes. 
Being able to provide a four-to-eight week look-ahead of construction activities as well as completed works modelled with instant data enables multiple functions to benefit from this information. Access to these models allows for accurate quantity analysis and programme development, which enables the planners and engineers to validate their understanding of the current scope of works and provides the necessary detail to plan their works.
Health and safety – the right way
Safety is at the forefront of everything. Using digital technologies and improving the accessibility of digital information, the FLO JV has been using up-to-date 360-degree photographs displayed within an in-house developed reality capture platform (RCP) as part of a site induction and reporting tool. At any chosen construction stage, the project team is able to de-risk the opportunity for accidents by highlighting key site information, safe walking routes and virtual hazards from the safety of a site office through the use of this RCP application.
Additional supporting information, when required, can be tagged to the 360 images: for example fire strategy, H&S overview, key site personnel etc. The use of a 360-degree camera allows for quick and efficient record taking meaning less time spent on site.
The team has also created a virtual reality environment for training exercises, engagements and briefings, which involved immersing participants in a simulated exercise to drive deeper understanding of key risks and improve the engagement and retention of safety critical information for temporary works.
The cofferdam was highlighted as a key risk area for this project, and one that is difficult to assess competence in such a unique working environment. Daily inspections need to be carried out to ensure that there are no signs of failure or deterioration. The delivery is part of how modern construction teams will be going to work, and FLO challenged itself to ensure that the use of virtual reality was embedded within project delivery.
VR enables training to be developed that directly relates to the real world and can simulate hazardous situations through an interactive headset in a safe environment that has none of the embodied risk of site-based learning.
In collaboration with both the temporary works coordinators and the FLO digital engineering team a detailed 3D model of the cofferdam was produced that contained several critical risks and failures that inspections should highlight. This model was then developed by in-house specialists, who added functionality into the headset to allow users to interact with the environment and indicate areas of concern.
During a typical training session, multiple users would spend time within the VR environment, and through the use of digital overlays each users' findings can be seen together. This approach enables an important collaborative aspect to the training session as users can discuss and compare their results, reinforcing key messages and driving diligence and focus.
Utilising VR gives the health and safety team enhanced ability to train and instill questioning behaviors as well as impart knowledge, done in a way that has far more impact than 2D drawings and extensive presentations. The detailed 3D model with associated 360 camera views make the virtual environment relatable and elevates the learning and engagement of individuals.
Project progress
As of July 2019, Tideway Central's Westbound tunnel boring machine (TBM), Millicent, is over half way into her 5km journey between Central's main drive site, next to Battersea Power Station, and Tideway West's Carnwath Road site in Fulham. The team's eastbound TBM, Ursula, is now nearly a 1km from the Battersea drive site, having passed the US embassy on Nine Elms Lane.
Across Tideway Central's eight construction sites, all six cofferdams have been sealed, drained and backfilled in the river. All sites are advancing with preparatory piling works, where three have started excavation of their shafts, which will redirect sewage currently discharging into the Thames deep beneath the riverbed and into the tunnel.