Client: ArRiyadh Development Authority
Lead Contractor: Zaha Hadid Architects (ZHA)
BIM Tools: Zaha BIM, Maya, Rhino, Revit
The 45,000 sq m King Abdullah Finance District (KAFD) metro station in Riyadh, Saudi Arabia, required ZHA to develop its own bespoke software to model the complex geometry. Stephen Cousins reports.
The station will serve as a key interchange between three of the city's six new metro lines, featuring six platforms over four public floors and two levels of underground parking.
The project will integrate with the local financial district and multimodal transport links, incorporating numerous pedestrian paths designed to improve circulation and a sky bridge providing access to a local monorail.
It is one of around 100 stations on the expanded Metro network being delivered to BIM Level 2. Revit and IFC BIM Models, compliant to Level of Development 350, will be handed over to the client on completion as a contractual requirement.
The facade and roof of the building feature a series of undulating waves, inspired by the complex natural patterns in sand dunes, and curved lattice screens that mimic the ancient Arabic art form of Mashrabiya. The architects describe it as "a three-dimensional lattice defined by a sequence of opposing sine waves".
The challenging geometry, with its various double curved shapes, was impossible to accurately model in Autodesk Revit, so ZHA opted to develop its own bespoke BIM software plug-ins to create it.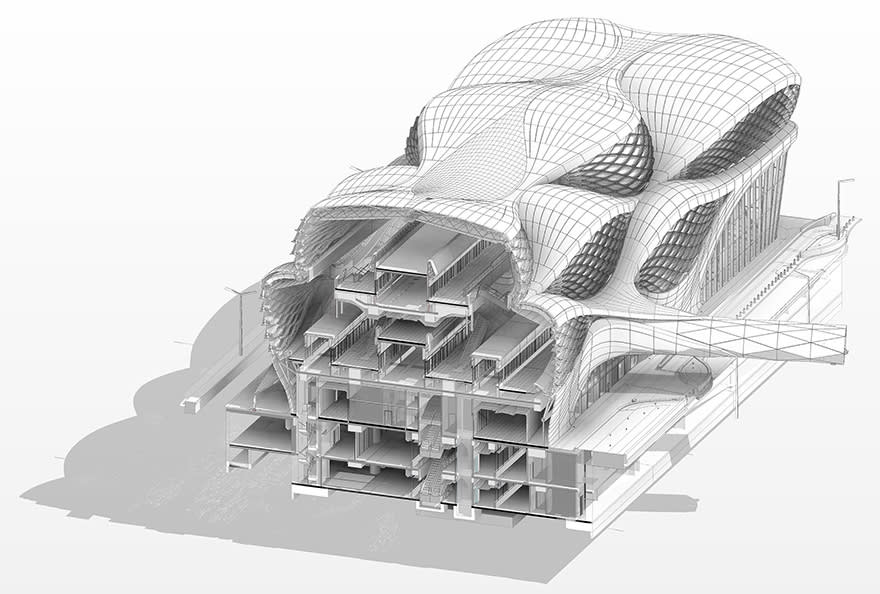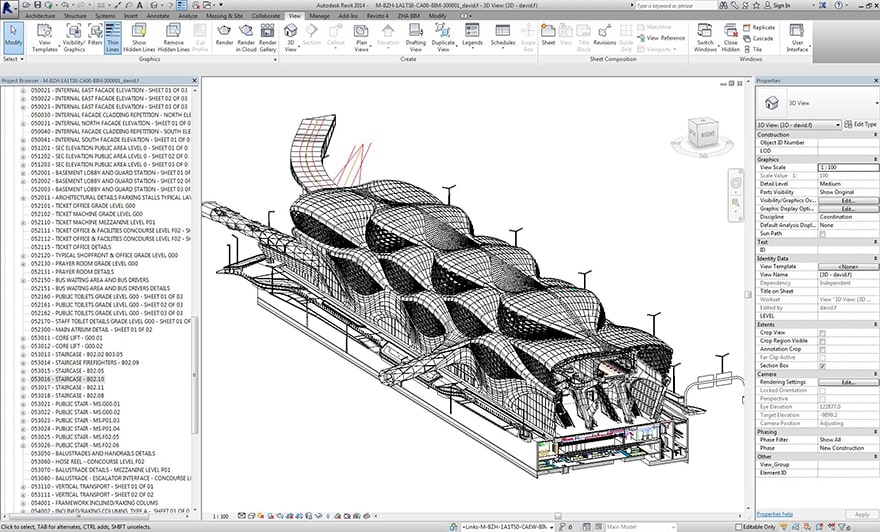 ZHA opted to develop bespoke BIM software plug-ins to create the model
The architect's design started out in the modelling software Maya, from where it was converted into low polygon meshes and imported into the CAD package Rhino, connected to the surface modeling software T-Splines.
ZHA's bespoke software, "Zaha BIM", then made the necessary changes to the data to create smooth and accurate geometry that could be displayed in Revit. The fabrication detail in the model represents all services and attached meta data required to comply with the contract.
According to Harry Ibbs, head of BIM and workflows at ZHA, few have been able to achieve the same level of advanced fluid design in a BIM environment to date. He told BIM+: "It isn't easy to design and model fluid geometry in BIM software, the geometric modelling kernels can mostly only handle simplistic forms.
"Even today, if a fluid design is developed to a fabrication level of detail, it would require a very skilled computational modeller to achieve what we have on this project in Revit. Our software makes it simple to make quick design iterations in Maya and Rhino and then bring it into a BIM-compliant environment."
The innovative workflow developed by ZHA has been described in a paper to be presented at Autodesk University in London and Los Angeles later this year by Eckart Schwerdtfeger, BIM lead at ZHA.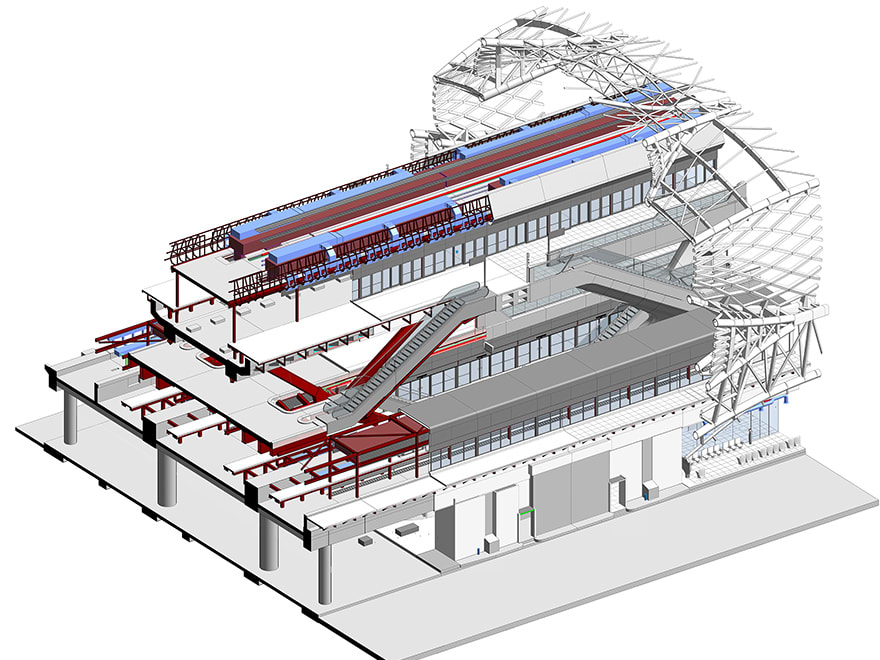 The station will feature six platforms over four public floors and two levels of underground parking
The use of BIM on KAFD was primarily driven from the construction side to save money and time on site. There was a comprehensive BIM Execution Plan and the client required data drops at specific milestones to ensure the project programme did not fall behind.
ArRiyadh Development Authority plans to use the fully coordinated model, including architecture, MEP and structures, for the building's long-term operation and use by its facilities management teams.
The project has not been all plain sailing. It took more than a year for the project team to become fully BIM-enabled and sharing information as some of the companies involved had never invested in BIM before.
The MEP contractor initially tried to model in 2D in AutoCAD, promising to produce a model at a later date, but the fluid nature of the building made that approach impossible.
"We had ducts and conduits flying out of the facade and the slab. Soon they saw it only made sense to coordinate a ZHA build in a 3D BIM environment," says Ibbs.
The initial clash detection process in Navisworks produced numerous clashes, but during the second stages of delivery this was reduced to zero at +/-0.10mm tolerance.
According to Ibbs, the key benefit of working in BIM has been reduced project risk because delivering a fully federated, coordinated model at tender stage, including MEP and structures, gave the client and contractor greater confidence in the build.
Now the project is on site, the main contractor is using 4D and 5D BIM processes to plan sequences of work and calculate the cost of materials. The project is due to complete later in 2020.