Client: Network Rail
Lead Contractor: Osborne
BIM Tools: Autodesk BIM 360 Field
The £2.5m project to reinforce an existing railway embankment, located between Haslemere and Witley stations on the South Western Trains route to Portsmouth, required installation of new piling and drainage, plus an access route for maintenance.
The relatively straightforward nature of the job, and its low risk profile, encouraged Osborne to introduce some innovation and make it the contractor's first foray into the BIM world, targeting BIM Level 1.
Dominic Lowry, technology improvement manager at Osborne told BIM+: "Rather than work in a 3D model, we developed an electronic method of recording actual construction progress against the designed 2D drawing and sharing that information in a common data environment."
The 2D CAD drawing of the project was broken down into a "timeline" based on when and where different elements of the work, such as the drainage, piling and access route construction, would be executed.
As installation progressed, the site manager and lead engineer, armed with iPads running the cloud-based collaboration software Autodesk BIM 360 Field, regularly updated the drawings, recording when elements had been installed, and any "issues" or observations related to installation, also attaching photos.
BIM 360 Field includes a document library, checklists for quality assurance/quality control, safety and commissioning and issue creation and sign-off for tracking issues such as work to complete.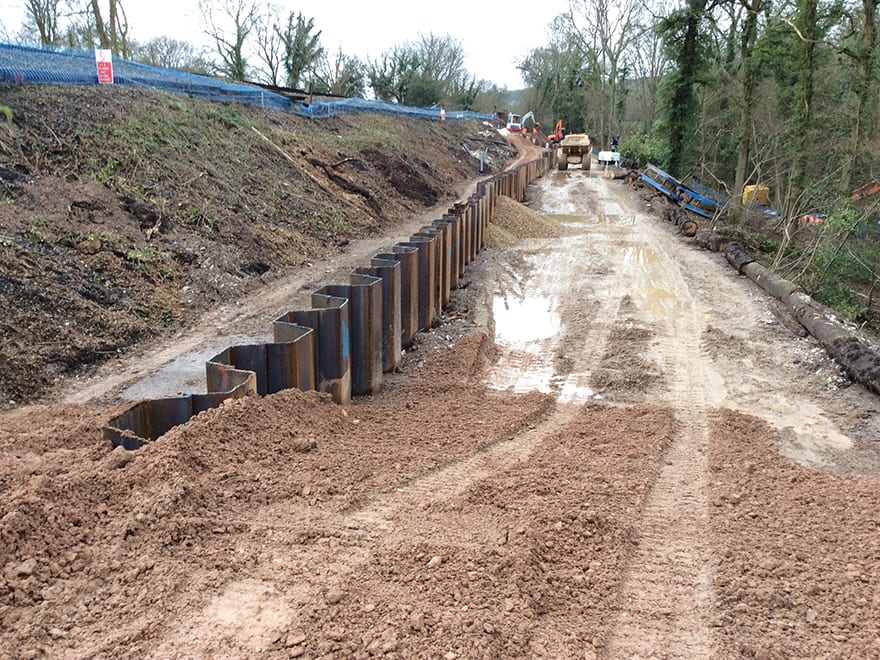 The project to reinforce the embankment between Haslemere and Witley stations required installation of new piling and drainage
In total, 106 different components were tagged with information, including drainage pipes, manholes, sheet piles, handrailing, and brickwork for access steps.
Osborne kept the BIM data in-house, and updated all the project information. However, the entire supply chain and the contractor's onsite and office-based teams were able to log in to the software at any time and view project progress.
"It was much faster than having to transfer photos or progress information via email, and responses and comments on drawings generally came back faster," says Lowry. "It meant that if the project manager needed to deal with an issue he could have all the info needed in front of him to respond to it without having to wait for photos to be taken or to visit the site in person."
In one example, the site team noticed that the design for the access stair would have finished very close to an existing fence. After uploading the relevant data and photos the designers could immediately see the problem, twist the stair 90 degrees to avoid the fence in the drawing and work on site could continue almost without interruption.
The software also enabled Osborne to provide Network Rail with precise "volume measurements" of the amount of drainage installed without having to take new measurements when construction was completed.
The Grayswood team also benefitted from having a BIM-literate construction management graduate on the job, who understood BIM terminology and processes and could help educate the rest of the team. Osborne is now planning to distill the lessons learnt at Grayswood into two new BIM Level 2 jobs for a railway embankment and a cutting for Network Rail.
The entire supply chain and the contractor's onsite and office-based teams were able to log in to the software at any time
"A key lesson is to sit down with the site team and the client to determine exactly what information everyone wants out of the process before we put a shovel in the ground," says Lowry. "If we know the required data outputs we can ensure the software is tailored to capture it at the front end and therefore data capture will be executed smoothly throughout the project."
Osborne is in discussion with Network Rail's asset managers about the type and format of data they might require post-construction, using Grayswood as an example of what is already possible.
"The beauty of using BIM 360 Field is you can transfer the data into other recognised formats, if Network Rail wants everything in an asset model using IFC data we can pull it out and hand it to them," says Lowry. "The problem is they just don't yet have any system in place yet and are in the process of deciding what information they want from contractors."
And Network Rail is not an isolated case, he says. "Today there's a lot of talk about the mandate for 2016, but there's not a massive understanding of what that means by customers and clients, and no one is coming to us with any Employer's Information Requirements detailing what they want to see and when," he concludes.
There's a lot of talk about the mandate for 2016, but there's not a massive understanding of what that means by customers and clients, and no one is coming to us with any Employer's Information Requirements detailing what they want to see and when.– Dominic Lowry, technology improvement manager, Osborne