Lead Contractor: Gammon Construction (Balfour Beatty's local joint venture with Jardine Matheson)
BIM Tools: Converge concrete strength sensors
The 23-storey LEED Platinum development will comprise a three-storey basement car park, a three-storey podium containing a shopping mall and indoor garden and 17 storeys of commercial offices.
It will feature the first ever commercial deployment of wireless concrete strength sensor technology developed by UK-based tech start-up Converge, results from which will be used to persuade the Hong Kong government to approve its ongoing use in the region.
The Converge system is based around transmitter nodes that communicate data from a set of sensors embedded in concrete over a mesh wireless network. Results are interpreted in real-time using sophisticated data analytics software to create an accurate real-time picture of the curing process and when formwork is ready to be struck.
Gammon Construction oversaw the installation of some 100 sensors into the building's core concrete walls and post-tensioned concrete slabs, data from which was recorded and compared to traditional strength testing using concrete cubes.
Andy Kwan Leung Wong, general manager of Digital G, Gammon's subsidiary responsible for digital technologies, told BIM+: "We have been watching Converge for a while, last September we ran an initial trial at one location in another commercial building and we were amazed at how the data could provide an instant measure of concrete strength, removing the need to wait for concrete cube results."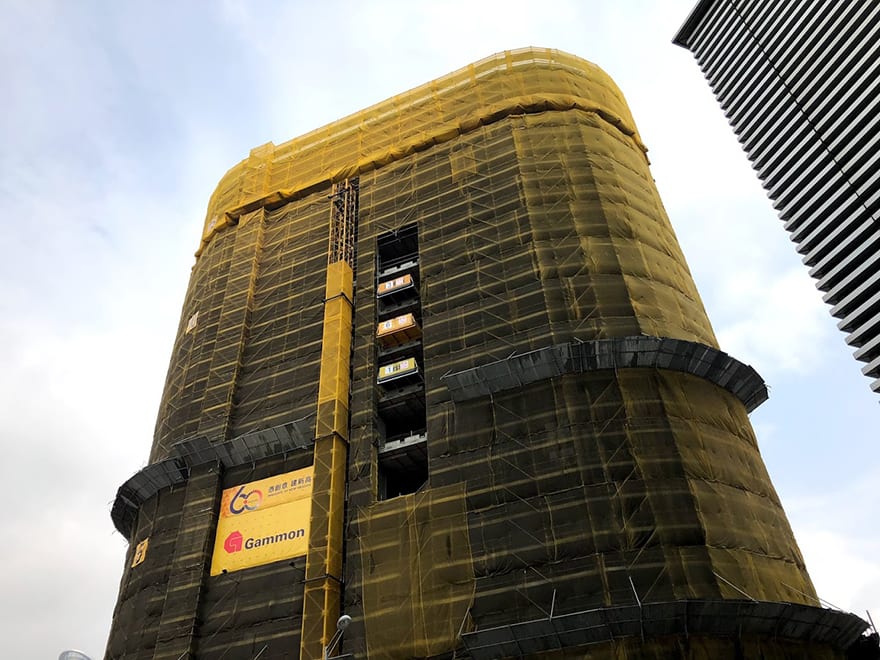 The LEED Platinum development will include 17 storeys of offices
The current project has sensors installed in storeys 16 and above. Each floor was formed from four concrete pours, with three sensors installed during each pour – two in the slab and one in the core wall.
Data from the sensors showed the concrete could reach the required strength 20 hours earlier than using the cube method, in theory reducing the five-day cycle for each floor to around four days. If the technology had been implemented across the entire block it could have saved half a month of construction time, said Wong.
However, the project team only used the data from the pilot as a reference point and instead struck formwork based on data from traditional concrete cube tests, to minimise risk.
Wong told BIM+: "Converge relies on a very different method of concrete testing which is not explicitly accepted in current Hong Kong regulations, so clients and consultants are still in a process of learning and acceptance.
Each floor was formed from four concrete pours, with three sensors installed during each pour
"We did not act on the data, but we validated it to demonstrate to the client and the Hong Kong and Singapore governments that the technology is convincing and can significantly benefit the programme. We will be using it to lobby them to adopt it into recognised building standards and regulation." 
Some lessons were learnt from the pilot, such as the need for site operatives to be more careful when working around sensors and nodes that were sometimes broken or damaged when formwork was struck. 
"As more sensors were deployed they learnt to be more careful and protect the technology and damage was less frequent," said Wong. "When I showed them data being transmitted from sensors to my smart phone they understood its importance to the project and became very excited about it, which is one indirect benefit of using such innovative digital technology."
Gammon Construction is planning to implement Converge sensors in three more projects in the near future.