Client: Beard Construction
Lead Contractor: Beard Construction
BIM Tools: Navisworks Simulate; Bentley MicroStation; Revit; Tekla
Beard Construction is a regional contractor with about 200 employees and a turnover of £88m, handling jobs in the £1m to £10m range in the south of England, many of them in the cultural and educational fields.
As tends to be the case with firms with this kind of profile, Beard has had little experience of using BIM. So, when a tenant at its Oxford office wanted a 40m extension built with a curved, glazed facade, Mark Beard FCIOB, the company's managing director, decided this was an ideal opportunity to get some practical experience of working with BIM. To find out what happened next, BIM+ talked to Martin Wareham, Beard's preconstruction manager.
Although the project itself was intended to be a learning experience for Beard's staff, the company still needed to find a "course tutor" and this led to the hiring of Clarkson Alliance, a project manager that had been awarded a grant to promote the use of BIM to SMEs in the south of England.
Wareham says: "They came in and advised us on software, and also they set out the parameters for the BIM execution plan, so they sat in on all the meetings and they gave us guidance. At the beginning of the process we were almost bystanders, but by the end we understood a lot more."
Beard produced animated videos for presentations
To complement the practical demonstration under way in their own backyard, Beard managers did a lot of background reading and online learning. Wareham also attended half a dozen meetings of the Oxford BIM hub and the Thames Valley hub in Reading, knowledge-sharing forums for a mixed group of consultants, architects and academics. Wareham says: "We had the sense that we were pushing the boundaries for firms of our size. Obviously the Kiers and Maces of this world use it on £500m skyscrapers as a matter of course, but to use it on a £700,000 project is quite unusual."
Initially, Beard employed a local architects' practice that it had worked with many times in the past. However, it had little experience of BIM and once Beard decided to use digital construction on this project it needed someone that could take care of the technical side of running the model, so it decided to add a second practice to the project team.
This larger firm acted as BIM manager, maintaining and updating the federated model and helping to deal with the problems that always seem to arise when using different software packages (in this case, the main difficulty was getting Bentley MicroStation to talk to Navisworks).
In retrospect, says Wareham, this was less than ideal. "Although they were both very good and they got on very well, it wasn't the ideal set-up to have one architect trying to interpret another's designs – we'll do that differently next time."
The construction stage after the roof has been installed
When the design work got under way, the project team would meet weekly to review progress with the help of the federated model. Wareham says: "We'd put it up on the wall and identify where there was perhaps a pipe going through a steel beam, and the design teams would go away and address each item and then send the details back to the architect."
That part of the work was within Beard's comfort zone: it had previously worked with BIM on a project for Oxford council where it had access to the Revit model, using it to detect clashes and send information to its structural steelwork fabricator.
What Wareham was really interested in was the ability to improve cost estimation and scheduling. "We wanted to get the architect to put more information into the model than it would usually so we could use it for extracting quantities and schedules for windows and doors and that sort of thing. If we get that right, our M&E subcontractor should know that rather than buying a box of 1,000 brackets, it only needs 730, so there's less waste."
In the event, the design stage took a little longer than expected, owing to the late decision to use BIM and consequent need for the two architects, and the quantities were taken in the traditional way.
But this project was essentially a dress rehearsal rather than opening night. Wareham says: "It will certainly make a difference next time. This time the design process took longer than it should, and the completion date was fixed, so we weren't able to develop the BIM side of things as much as we'd hoped. The integration of the work of the design teams worked well, as did the clash detection, but the populating of the model so that we could take off quantities and do the scheduling, that was slightly rushed."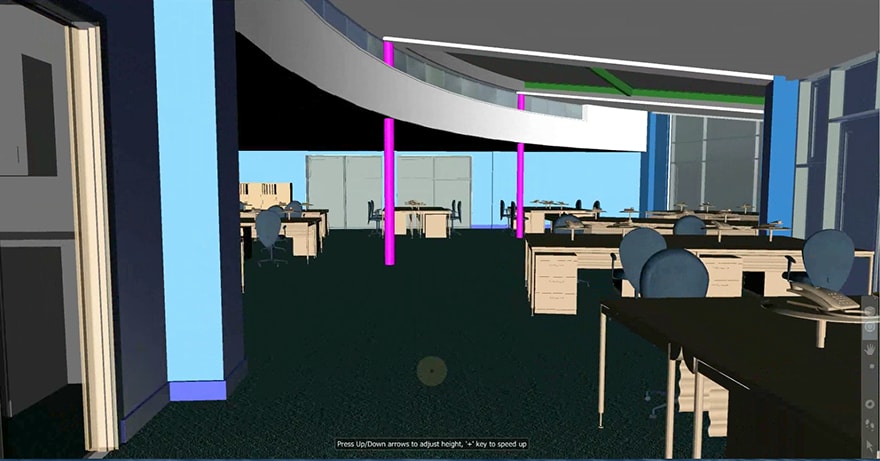 A walkthrough enabled the team to see how the project would look
The other benefits that Wareham envisages include using the visualisation to prevent late design changes, and brief subcontractors. "When we're building schools we might be putting up the ceiling when the client suddenly realises that the door is too close to the desk or the light from the window is going to shine on the whiteboard, so visualisation will help to prevent that. We can show subcontractors easily what kind of access they'll have so they know what resources to mobilise."
As Wareham says, Beard is now able to mention to prospective clients that it has carried out a BIM scheme, and that was also part of the motivation to undertake the trial. "When BIM projects trickle down to our size of scheme, we'll understand what they're looking for."
Finally, there was the ability to acquire new skills. "Dipping our toe in there and getting the software to work has been an interesting exercise," says Wareham. "My background is in site and project management, so looking at new technologies such as that has been a fascinating learning experience. You have to embrace it, and the more you do that the more you get out of it."
We had the sense that we were pushing the boundaries for firms of our size. Obviously the Kiers and Maces of this world use it on £500m skyscrapers as a matter of course, but to use it on a £700,000 project is quite unusual.– Martin Wareham, preconstruction manager, Beard Construction