In a continuing series explaining BIM concepts from first principles, Stefan Mordue, co-author of BIM for Dummies and an architect and NBS business solutions consultant, looks at COBie – which originated with the US Army Corps of Engineers.
Among the main attractions of BIM highlighted in the Government Construction Strategy 2011 was its ability to generate cost savings and deliver better value for money. One way in which this can be achieved is in having a digital information model that can be used to improve the measurement and management of the built asset.
When you consider the fact that the cost of running an asset over its useful lifecycle is much more than the cost to design and construct it, having information that can help facility managers or anyone that has the responsibility to ensure the smooth running of a facility is a good place to start.
But to do that, we need to have a means of exchanging the information.
What is COBie?
Aside from 3D native model files and reviewable pdfs, the UK government has promoted the use of COBie, or Construction Operation Building Information Exchange, as its chosen "open standard" to enable the transfer of facility management information. 
COBie's roots are within the US, having been devised by the US Army Corps of Engineers. The purpose of COBie is to capture critical information for building owners and operators to assist with the management of their assets within a facility. (There are other "ie" (information exchange) projects in various states of development).
It allows different parties to have a common structure to exchange non-graphical information about a new or existing facility, building and/or infrastructure.
COBie not only allows for a good way to manage and exchange data during the project life cycle but is also useful during the handover, maintenance and in-use phases. It is focused on "managed assets" – that is, assets which will require maintenance, regular inspection and checks and in some cases, replacement parts.
COBie is characterised by a series of related worksheets, which when combined give an overall picture of the managed assets. For example, details of equipment, such as a boiler would include information describing what type of boiler it is, when it was commissioned, but also where that boiler is located within the asset.
Who's responsible for delivery?
COBie information is produced throughout the design, construction and commissioning stages, by a number of different parties and exchanged at defined "information exchange" points. While designers provide general information such as spaces and equipment, contactors will refine this to include make and model numbers.
By exchanging information along the way, the client can make informed choices. At the handover stage, the intention of COBie is that the client can receive key information about the asset in an open format.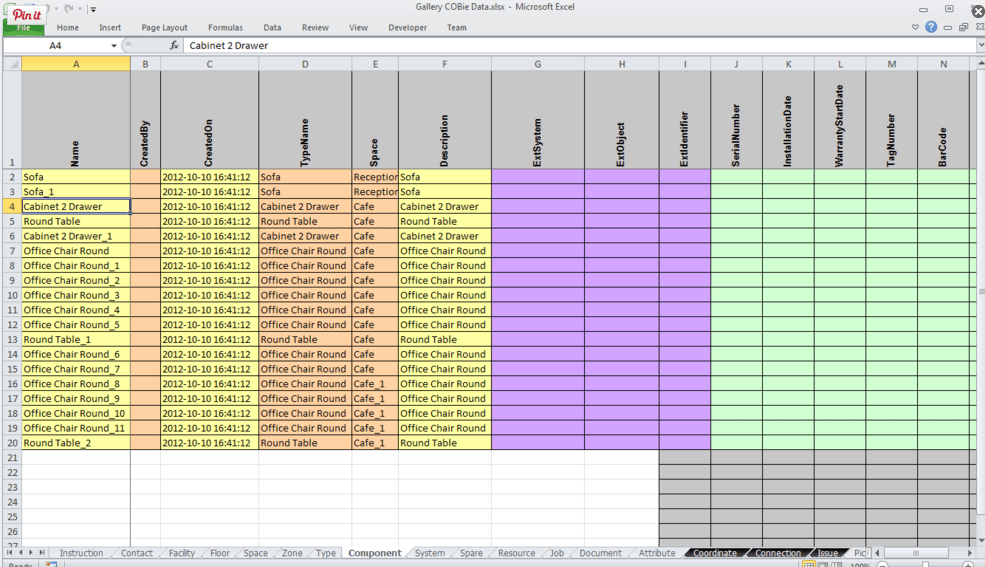 You don't need to be a programmer to interact with COBie data
Of course, similar information has always been handed over to the client in the past. COBie is only asking for the same level of information, with the difference being that it is asking for it in a construed and structured way, in an open format that we know can still be open 50 years from now.
BS 1192-4: Collaborative production of information Part 4: Fulfilling employer's information exchange requirements using COBie has been made available to industry as a free download and forms part of the suite of documents defining Level 2 BIM. Drawing on experience from government BIM trial projects such as HMYOI Cookham Wood, the document defines the methodology for transferring COBie data.
It's a spreadsheet right?
It is not that long ago that we were using 3.5-inch floppy disks, yet today you would probably struggle to find a computer that even has a floppy disk drive. When you consider that an asset such as a building may be in use for well over 50 years, and that technology advances at a lightning pace, a proprietary standard that requires, perhaps, specific media formats or software systems are unlikely to be around over the asset's expected life.
During the development of COBie, Industry Foundation Classes (IFC) was considered to be a suitable format to capture COBie requirements. COBie could be described as a subset of ISO 16739, the international data standard for open BIM, and its definition is documented and updated by the international BuildingSMART Alliance.
In an ideal world, information would flow from one "competitor" system to another, yet like the idea of a central BIM model, together with promises of level 3 BIM, this day is somewhat in the future.
COBie was developed to meet the present day's challenges so that data can be reviewed using simple software applications; you don't have to be a computer programmer to interact with it.
It can be delivered as a spreadsheet or an "XML" file (a structured file similar to HTML). Spreadsheets can be read by people but they are not exactly human friendly. Although you can fill them out manually, completing a COBie spreadsheet manually would be a huge challenge.
COBie information can be produced in a number of ways, for example it may be directly created from a BIM authoring platform, or extracted from an IFC file using an IFC to COBie translator (based on properties defined by buildingSmart) FM handover view. Sitting in the background are established translation rules that allow software developers and vendors to translate between IFC-based formats and a spreadsheet format. 
However COBie information is created, it is important to remember that the client should define its specific data requirements against the maintainable assets before the design and construction phases in order for the supply chain to deliver COBie.
BIM for Dummies, published by Wiley, and co-authored by David Philp, Stefan Mordue and Paul Swaddle, is available now via the RIBA Bookshop.
Follow the author on Twitter @StefanMordue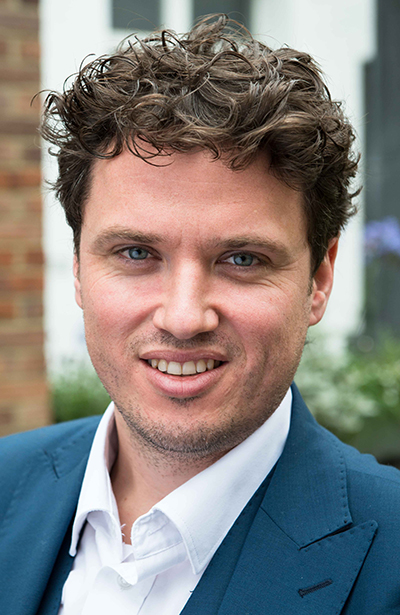 In an ideal world, information would flow from one 'competitor' system to another, yet like the idea of a central BIM model, together with promises of level 3 BIM, this day is somewhat in the future.– Stefan Mordue