Swedish-Finnish engineer AFRY turned to technology from Bentley Systems when faced with designing a complex 19km test track for truck and bus giant Scania.
With the rapid development of autonomous and electrified vehicles, Swedish truck and bus manufacturer Scania is developing a new test track in Södertälje, 40km south-west of Stockholm.
As part of its ambition to move toward more sustainable transport systems, Scania is investing approximately SEK975m (more than £76m) in the test track and updates to existing test facilities. It consists of several roads and areas designed to enable testing of heavy vehicles under various conditions. "We need to be able to simulate different traffic situations, such as busy urban environments, highway access, and hilly and/or curvy roads," says Lars Hult, senior project leader at Scania.
Scania engaged AFRY for its design and engineering expertise. Situated amid an 85ha site, the track's design includes a three-lane, high-speed Indianapolis-style oval vehicle test section, a mixed traffic area for simulating varying road conditions, a multi-function brake test area, and service areas for servicing, parking, and charging the vehicles.
The track design also had to be flexible enough to accommodate future testing scenarios.
Challenging track and terrain
The test track includes 19km of roads with more than 60 intersections and junctions. The project had to navigate complex, hilly terrain, and ground conditions consisting of organic material and clay, which constrained the track layout.
"All kinds and types of roads and areas are connected to each other and geometrically dependent within the 85ha and more than 19km of roads."
Adam Wieczorek
Adjacent existing infrastructure placed further constraints on the design, adding to the complexity. "All kinds and types of roads and areas are connected to each other and geometrically dependent within the 85ha and more than 19km of roads," reveals Adam Wieczorek, group manager at AFRY. Changing any single element would impact the layout of other track sections and existing infrastructure, making mass balancing and minimising environmental impact even more challenging.
The design and construction of the track required huge earthworks, rock cutting, and blasting.
"The project geometry and existing conditions and constraints made the project highly demanding," says Wieczorek. AFRY wanted to implement collaborative modelling in a dynamic, 3D digital environment. It therefore had to choose software capable of evaluating numerous design alternatives amid the varied terrain to avoid rework, enable change management, and ensure constructability.
AFRY also recognised the importance of communicating the design intent to the local community and stakeholders, requiring the engineer to integrate a realistic 3D visualisation of the proposed track into its digital solution.
Federated design approach
AFRY selected Bentley technology to implement a federated design approach, establishing a collaborative, model-centric, digital project context. The software also provided dynamic relationships between 3D elements, so that numerous track design alternatives could be evaluated and modified to ensure constructability.
"Bentley's OpenRoads Designer stands out in the [infrastructure software design] market and brings all these capabilities together, along with a rich CAD data interoperability," explains Wieczorek.
Having 3D models of the different track areas in multiple CAD files, with dynamic relationships maintained, streamlined workflows and analysis of multiple design options. The 3D models were crucial to information exchange. The models were imported into LumenRT to generate visual animations and live cubes to interactively review the design and perform a visual assessment of the project.
Integrating LiDAR survey data to create digital terrain models in OpenRoads provided AFRY with a better understanding of the existing ground conditions.
Based on the models, AFRY performed accurate earthworks calculations and mass balancing for every design alternative. Bentley's solution handled the voluminous project data, helped optimise road surface shaping, and automated analysis of the varying surface parameters and forces to accommodate the high vehicle speeds on the limited length of the oval track. However, while dynamic digital design and 3D deliverables were key to project success, traditional 2D models were still necessary for permitting.
OpenRoads automated not only the optioneering, but the drawing production, producing the required drawings directly from the 3D models. "All of this automation, together with dynamic [3D] relationships between elements, saved a number of working hours," Wieczorek reveals.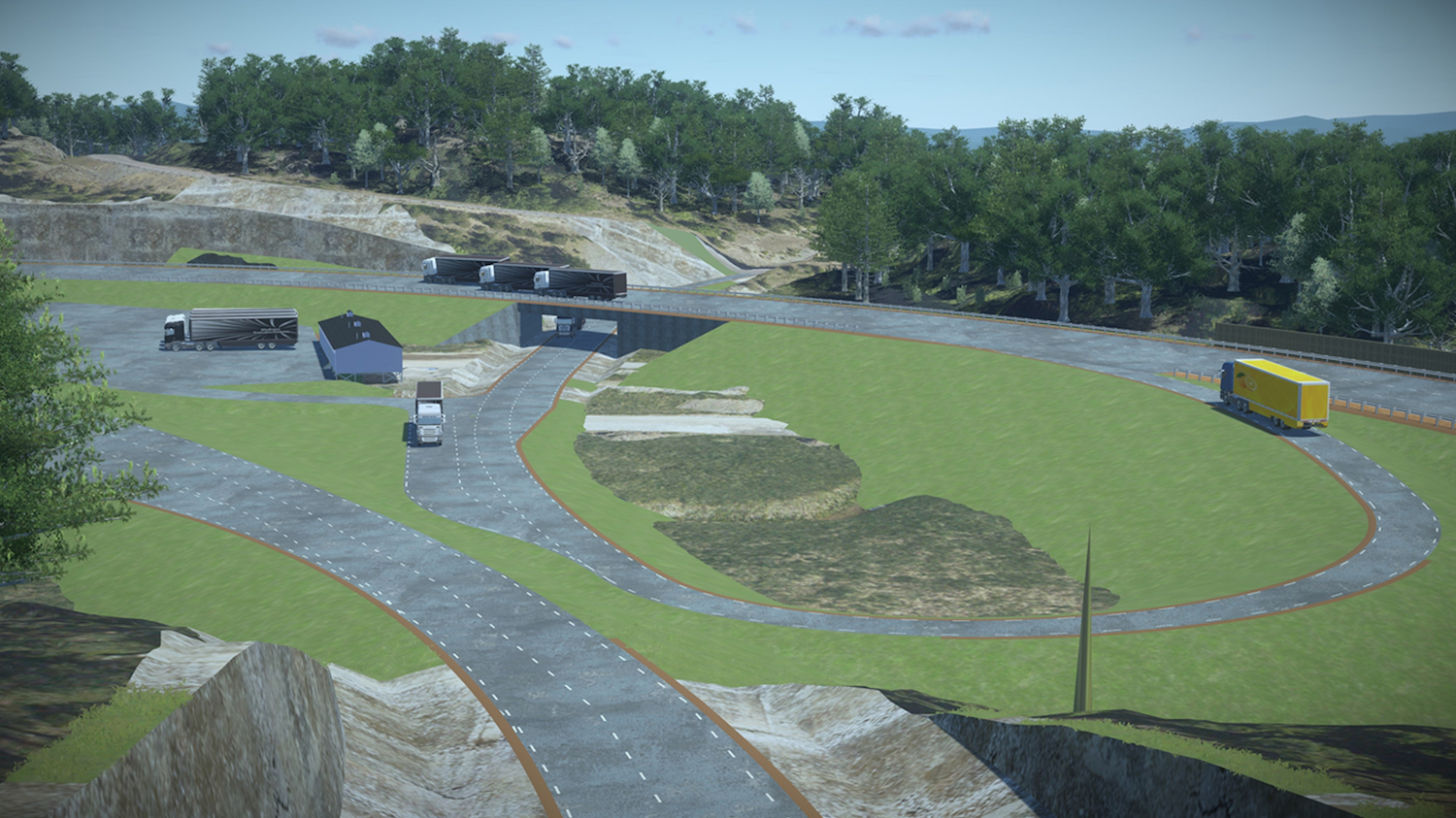 The dynamic OpenRoads environment allowed AFRY to perform optioneering and analyse multiple options to determine one with minimal impact to the environment while considering project budget at the same time. With accurate geotechnical data and LiDAR-based digital terrain models, AFRY minimised wastage and optimised mass-balancing and constructability.
Compared with updating static 3D elements, progressive digital modelling saved AFRY 30% in time evaluating alternative design solutions. The model-centric approach also reduced drawing production time by 20%, ensured full data consistency, and saved approximately 80 hours on quantities calculations by extracting bill of quantities directly from the models. AFRY delivered the project to the client on time and within budget, Wieczorek notes.