The resurgence in offsite manufacturing is changing the norms for architects as well as contractors. But are designers warming to working with factories? Will Mann finds out.
There is a perception that architects are not big fans of offsite manufacturing. One criticism is that architects resist use of factory-made components, believing they restrict creative scope, lead to homogenous buildings and prevent "good architecture". Another is that architects will default to designing for an in-situ build at planning stage, and the project then has to be redesigned so that offsite components can be used.
BIM+ put these criticisms to several architects who work in the offsite space. First up, Jaimie Johnston, director at Bryden Wood, which has produced several influential reports on use of offsite manufactured components (see p32).
"It's nonsense to say that manufacturing processes make it harder to create 'good architecture'," says Johnston. "Designers of cars or mobile phones don't think that way. Through the history of architecture, no one material automatically lends itself to good architecture. There is nothing that says an architectural masterpiece will automatically follow if a building is traditionally built."
Brendan Geraghty is director of the Geraghty Taylor practice, which has used offsite technology widely and particularly in the private rental sector (PRS), and he concedes that "some architects have a point about offsite's constraints".
But he adds: "The attitude can be: 'I don't like the rules of the game so I'm not going to play.' But architects need to get in there and use their aesthetic judgement and technical knowledge. The rules are different with offsite, undoubtedly. But that's the case with other materials. However, creative types will invariably come up with imaginative ideas when faced with constraints."
Lucy Homer, head of design at Lendlease and former associate partner at Sheppard Robson, notes that many architectural icons have been created from manufacturing processes. "The Crystal Palace was one of the first," she says. "Preston Bus Station is another, with its precast facade. The CitizenM hotel by the Tower of London uses prefabricated pods stacked one on top of the other."
"A key point here," Homer continues, "is that you need to design for offsite from concept. It gets very frustrating having the architect designing a building one way, then the main contractor comes on board and we design it all over again with our own supply chain. Buildings should be designed once. It's another reason why we need a more joined-up industry."
Offsite manufacturing and landmark architecture through the ages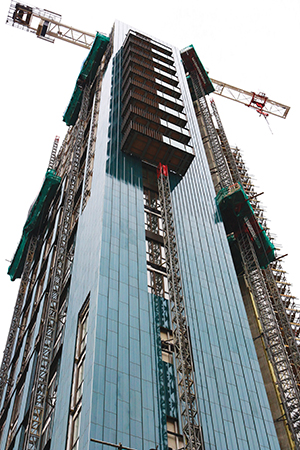 The Crystal Palace in London (top), erected in 1851 using the modular design of Sir Joseph Paxton, which was based on the dimensions of the plate glass supplied by manufacturer Chance Brothers; Preston Bus Station (centre), designed by BDP and engineered by Ove Arup, constructed in 1969 using GRP precast mouldings to achieve the signature "scallop facade"; CitizenM hotel in the City of London (bottom), designed by Sheppard Robson and completed by Balfour Beatty in 2016, using six levels of stacked structural modules; Mapleton Crescent (right), one of the UK's tallest modular schemes at 27 storeys, a Pocket Living development in south London, designed by Metropolitan Workshop and built by Tide Construction.
Johnston adds: "Generally there is a short-term view across the industry. Architects will do their bit, then contractors, then specialists. It is a massive obstacle to offsite take-up."
Geraghty points out that the planning process is "very demanding" so clients will defer putting much thought into the build until after approval.
"However, we believe that early product definition is important," he continues. "On a traditional project, you'd go to planning with the design and construction information about 35% complete. But on a project with significant offsite elements, it needs to be around 60% complete. And the offsite elements would be developed as far as RIBA stage 4A or even 4B. Architects have tended to take the view that they'll deal with those details later. But offsite elements of a project have to be digitally complete much earlier."
Client business objectives
In any case, he continues, the decision to use offsite should be determined by the wider objectives of the client. "In PRS, the drivers are getting the building completed and let, and the asset being of a high enough quality that you can sell it on to an institutional investor once a stabilised rental point is reached (typically two to three years)," Geraghty says. "So modular construction suits those business objectives. It's different in private housebuilding where sales receipts, rather than rental income, are the drivers."
The business objectives also affect choice of offsite technology. "Some work and some are rubbish in different contexts," says Geraghty. "Volumetric does suit PRS. But it needs to be at least a 200-unit model. Also, these clients are looking to build a portfolio so want standardisation across the piste. That doesn't necessarily mean the same-looking building every time, but things like H&V and bathrooms can be consistent. "
He continues: "Above five or six storeys, we would also look at SIPS, and we have also used CLT, including a nine-storey mixed-use building at Wembley for Network Housing. But CLT must be committed to from the get-go. Otherwise it has to be shoehorned in."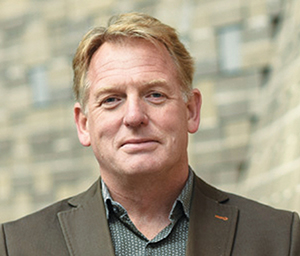 Brendan Geraghty: "Early product definition is important on an offsite project"
Leonard Design is another architect increasing its offsite workload, after bringing experience across from a Danish prefabricated housing project, where modules were fitted on top of the Kronen shopping centre in Copenhagen. 
"What we learned from Copenhagen was about designing with the build in mind," says director John Morgan. "Offsite projects work well with BIM because you can 'design with hindsight' and spot where clashes are going to come, where the M&E installations fit with the structure and the architectural detailing."
So does Leonard design for offsite components from a project's outset? "Not necessarily," answers Morgan. "But there are benefits which outweigh the disadvantages of not doing so.
"The desire for developers to use offsite has increased," he continues. "For instance, we have been working on the McArthurGlen retail development in London and the client sees obvious benefits in minimising disruption to their retail operations through the fast build that offsite methods allow."
However, cost can be prohibitive, admits Morgan. "Contractors see offsite components as a risk so price for it. And that has put off developers from using it." But as contractors establish the benefits from using offsite manufactured components, they are becoming more comfortable using them, he says.
Morgan points to the HSBC office scheme in Sheffield where Leonard is working with Bam Construct. "We are using three precast lift cores. It was more challenging to use precast than in situ but Bam is a forward-thinking contractor and recognised the benefits – chiefly speed of construction."
One of the tallest UK modular projects, the Mapleton Crescent Pocket Living scheme in south London, designed by Metropolitan Workshop and built by Tide Construction, won rare praise from The Observer's architectural critic Rowan Moore, who said it has "architectural qualities that are nothing in particular to do with the innovation in its construction".
Geraghty says: "The point about architecture quality is that – whether built traditionally or with volumetric or light gauge steel or another offsite system – the public will see the same thing. It's just different under the skin.
"Offsite is not a panacea. There will always be traditional construction and there will always be offsite in its various forms. But we need more understanding from all designers – engineers and architects – about the collaboration required for offsite projects."