A joint collaboration between Bond Bryan and Simpson Haugh has delivered a state-of-the-art city centre campus for The Manchester College and University Centre (UCEN) Manchester and digital played a central role.
City Campus Manchester combines higher and further education on a single site. It provides a centre of excellence for digital and creative subjects, including performing arts, music and media, hospitality and catering, as well as computing.
Project team
Client: The Manchester College and UCEN
Architect: Bond Bryan and Simpson Haugh
Main contractor: Willmott Dixon Construction
Structural engineer: Designed by Aecom
M&E engineer: Designed by BDP, built by Briggs & Forrester Engineering Services
The team was tasked with designing a high-quality campus with a distinctive and inspiring learning environment. The project also aimed to create a safe and welcoming, accessible place, encouraging opportunities for the wider Manchester community. The design allowed for a future second phase to create an integrated campus.
A central courtyard provides a social hub, offering a vital area for students to meet, relax and create. The courtyard also eases orientation, maintaining a visual relationship between the differing disciplines.
Inspired by classical courtyard buildings, the bespoke timber-clad atrium creates a fresh and welcoming central hub for the college. It is punctuated by the 'Jewel Box' theatre and restaurant area at its centre.
The two-tiered terrace is linked by a staircase that incorporates seating, while an overhead arrangement of north facing skylights, maximises internal daylight whilst also mitigating overheating.
Careful consideration was given to ensure a distinct identity for the Manchester College and UCEN learners. Thus separate external entrances and internal zoning of the facility were created while maintaining a connection at the core.
The external facade is inspired by Manchester's industrial heritage, with a nod towards the patterns and textures of textile weaving reflected in the brick facade. A modular pattern of windows and masonry alternate on each level, enhancing the weave appearance.
Meanwhile, full-height vertical windows offer maximum daylight penetration and extensive glazed curtain walling at the lower floors provides a 'shopfront' for the college, offering views into the building while also animating the streetscape.
The collaborative nature of the project meant that the architects, engineers and specialist consultants worked in their preferred software with everything coordinated via IFC. Designs were brought together from a combination of Archicad, Revit, Vectorworks, Navisworks and 2D files – coordinated using Solibri.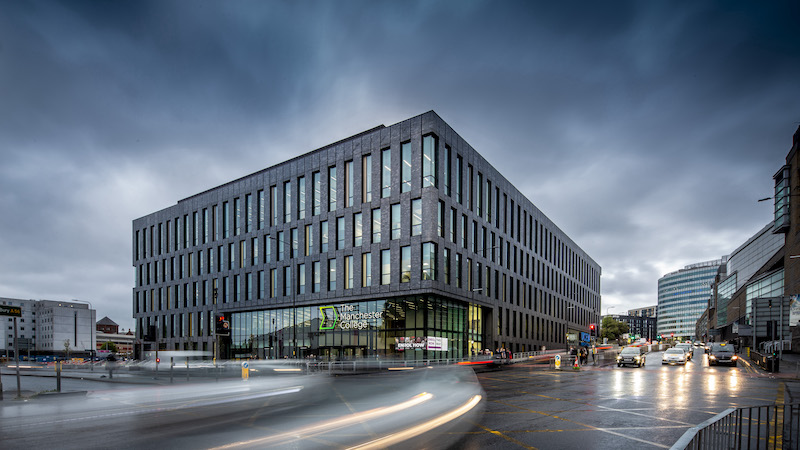 Responsible for the external design and the main atrium space, Simpson Haugh modelled in Revit. Meanwhile, Bond Bryan works in Archicad and was responsible for the internal massing of the college. From Stage 4, Bond Bryan took responsibility for the full technical designs to prepare the plans for construction.
Brad Stenson, chartered architectural technologist at Bond Bryan, explains: "When we started working together, some of the other consultants using different software were unsure of whether they would be able to coordinate with an Archicad model. But it didn't hold us back at all – everything went very smoothly.
"Many people who are used to Revit don't know how advanced Archicad is for working with other software. In fact, it's very straightforward to import IFCs directly into Archicad."
Several features within Archicad helped to speed up the technical design process and ensure accuracy within the model. For example, graphic overrides meant it was easy to distinguish between different elements of the design that looked very similar.
"A striking design feature in the internal atrium space is a timber colonnade, which is made up of multiple different columns and beams which were individually crafted," says Stenson. "We used the graphic override to colour code these, which meant we could easily see how many of each type of column or beam there was. It made it much easier for the carpenter to understand and prevented any costly mistakes."
Archicad's composite tool also saved the design team significant time. This tool enables designers to create a wall or floor slab with multiple elements such as insulation, plasterboard, lining and cladding and then apply it to multiple areas.
Stenson continues: "With the composite tool, once we've created the build, and we change one element, for example the thickness of the insulation, it automatically updates throughout the model.
"We used the curtain wall tool extensively which saved a lot of time. The design included multiple window types which we were able to label A, B, C before re-applying where needed. Some people find the curtain wall tool difficult to get to grips with, but I'd suggest persevering – it can be huge time saver and very useful."
The four-storey building encompasses many complex aspects which all needed careful coordination.
Bond Bryan used a coordination cube system, an approach developed by sister company Bond Bryan Digital, which ensures everything is contained within 3x2x1m cubes starting from the A1 coordinate. This enabled the team to double check the position of all elements to ensure 100% accuracy.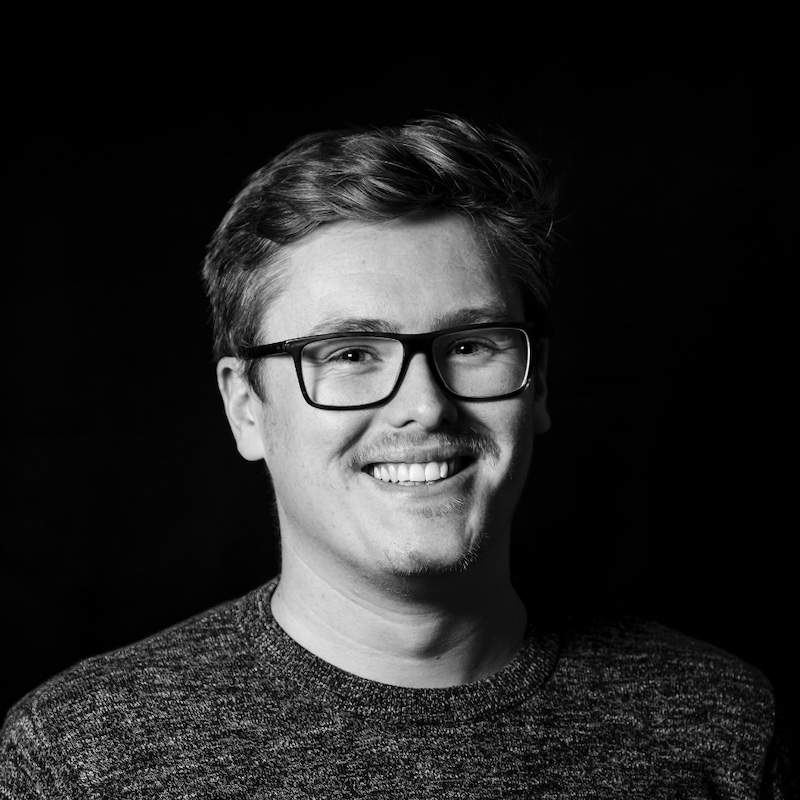 "Many people couldn't visualise the scale of the building. This virtual reality approach really helped everyone to understand how the building would look."
Brad Stenson
Incorporated in the building are TV, radio and sound studios; two professional standard theatres; commercial kitchens; and a 40-seat restaurant and bar run by hospitality and catering students. There is also a double-height art and photography studio.
The complexity meant the mechanical, electrical and plumbing (MEP) files were very large, so the team brought the information into the model for clash detection and coordination, but then removed it for ease and speed once any issues were resolved.
Using Solibri model checker, the team ran the clash detection process three or four times to eliminate any coordination issues.
VR brings designs to life
"Our clients really like Graphisoft's BIMx and often ask for BIMx files to help visualise the designs," explains Stenson. "For The Manchester College, we exported the design as a BIMx file and used a VR headset to virtually stand in the main atrium space.
"Prior to this exercise, many people couldn't visualise the scale of the building. This virtual reality approach really helped everyone to understand how the building would look."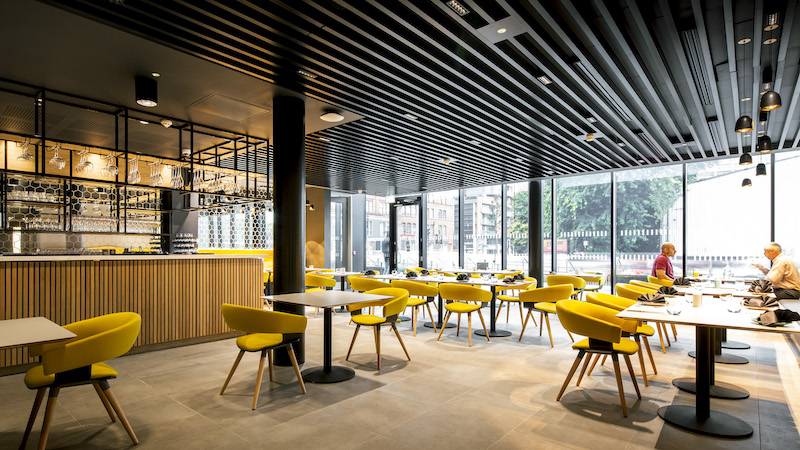 The first phase of the campus was constructed with a steel frame. Bond Bryan liaised with the steel frame manufacturer and structural engineer and sent files to the fabricator using IFC.
"We worked closely with the manufacturer and in addition to IFC, shared information via mark-ups and comments on drawings on areas such as the stairs so they could easily see the top of the steel heights," explains Stenson.
"In addition, Bond Bryan worked on the construction site one day a week throughout the build. This enabled us to oversee the work and ensure everything was built to specification. In addition, it meant any queries from the contractors could be answered straight away."
Once the building was complete, Bond Bryan handed over design information as DWGs, IFCs and the BIMx model. These files were all extracted directly from the Archicad model.
Built close to the Manchester Arena, the new campus has served as a catalyst to rejuvenate the whole surrounding area.
Stenson concludes: "This was a challenging project. However, through close collaboration with the contractor and design team, we have achieved a high-quality, beautifully detailed and functional building for the college. Moreover, we are delighted the building has been awarded BREEAM Excellent certification, reflecting our commitment to sustainable design."
With the first phase complete and open to students, Bond Bryan is now working on designs for the second phase. This will provide 50% more space again with the creation of more IT, teaching and classroom space. Construction is expected to start in September 2023.