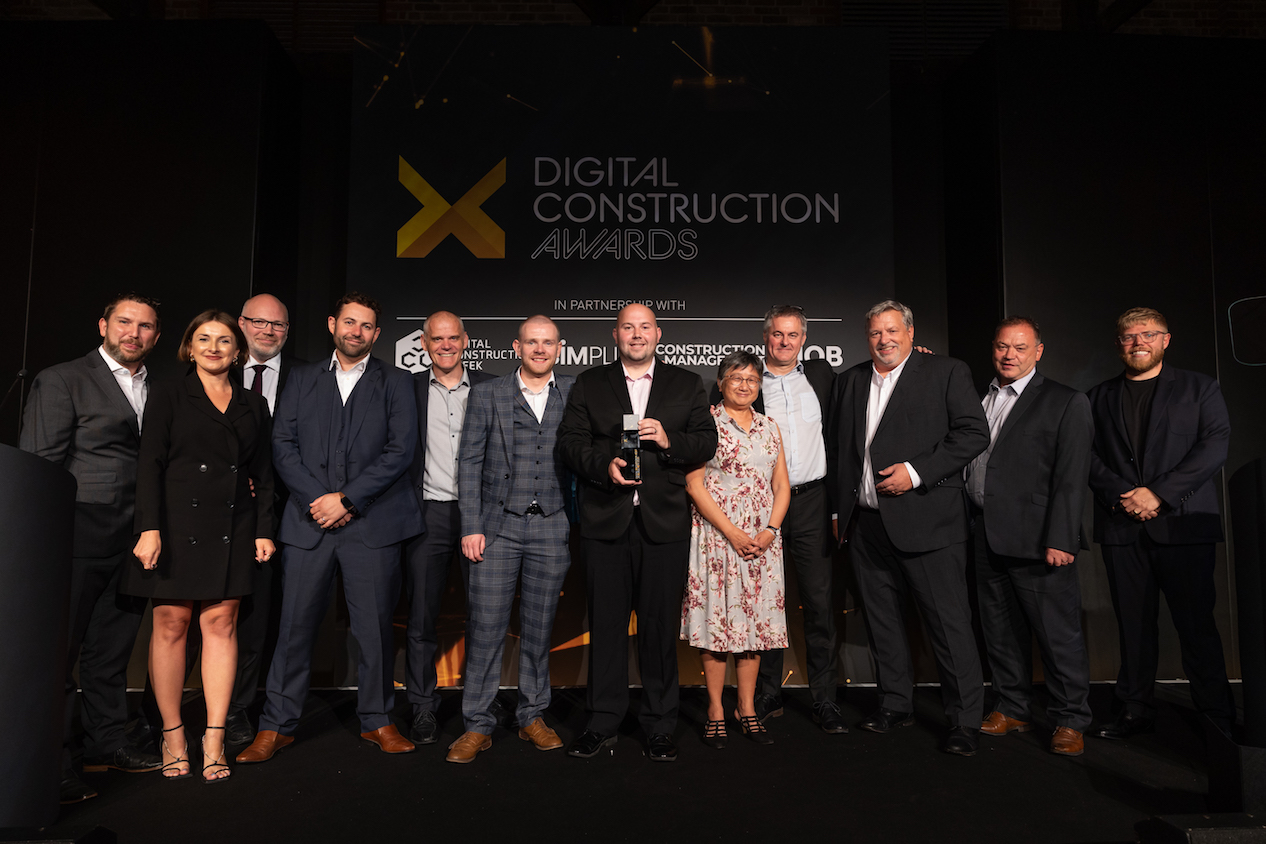 Balfour Beatty Atkins won Digital Innovation in Asset Management, sponsored by the Institute of Workplace and Facilities Management, at the Digital Construction Awards last night (4 July) for their work on the A19 Norton to Wynyard project in the North East.
Balfour Beatty Atkins (BBA) pushed new boundaries in the handover of major highway projects to the maintenance contractor through its work on the A19.
BBA used the data-rich 3D project information model developed throughout design and construction to hand over a robust and accurate digital twin. The digital twin contained all newly constructed and existing highway elements present, such as pavement, barriers, lighting and drainage – geospatially positioned to their real-world coordinates. There were 4,500-plus newly constructed or modified elements.
Category sponsor
Each element also contained all asset data required by the client and maintainer, which allowed the digital twin to form the primary maintenance and asset management record for the project. This significantly reduced the requirement for physical 2D drawings and drastically improved asset management workflows.
The entire digital twin and attached asset data was also viewable on mobile devices.
Benefits of this exercise included time saved from drawing/model production and the relevant check, review and approval process. This was estimated to have saved around 1,700 hours of project work with a fee saving of around £67,000.
'The business case was delivered with excellence, truly befitting of such industry leadership, who have clearly consulted both with their client and people, all of whom remain on the same journey of excellence'
What the judges said
As well as investing in training its own team in the use of the digital twin, BBA held a series of workshops with National Highways and the maintenance contractor to detail the benefits of a digital scheme handover. These workshops were critical in paving the way for a handover agreement document, in which National Highways and the maintainer agreed to adopt a digital handover using the digital twin as the primary as-built record for the scheme.
Atkins' Brian Russell, practice manager of the information manager's network, and Elliot Grubb, BIM development lead, said: "Innovation in asset management is a real testament of what can actually be achieved when you have data-rich models throughout design in construction to enable benefits.
"What was special about our project is that we were the only one on the shortlist using this digital model in a national highways setting."
A19 Norton to Wynyard | Atkins with Balfour Beatty and National Highways
Better building information management | Faithful + Gould with Atkins and the Government Property Agency
Building a smart estate for Manchester Foundation Trust | BIS Consult with Manchester University NHS Foundation Trust, Morta, Esri UK and Concerto
ONE Engage | ONE Creative Environments with Totus Digital
Innovating with scan to BIM to meet the Golden Thread | Orbit Housing with Parametrix
People-operated plant managed service desk | Aecom with Anglian Water and Balfour Beatty