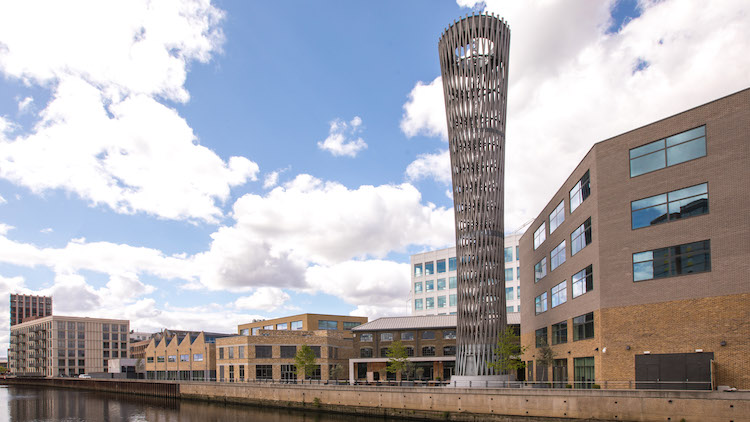 Taking a digital approach for the first time helped architecture practice Waugh Thistleton to play a significant part in the successful delivery of a brownfield development near East London's Olympic Park.
In mid-2014, architect practice Waugh Thistleton was approached by developer Vastint UK, with a brief to help develop a 26-acre brownfield site located just south of the London Olympic Park.
Sugar House Island team
Client: Vastint
Architect: Waugh Thistleton
Main contractors: Henrys Construction and then Copper Projects
Structural engineer: eHRW
Timber engineer: Eurban
Mechanical engineers: Peter Brett Associates (design stage); GBE (construction)
Planning consultant: GL Hearn
Groundworks & civils (construction): John F Hunt
Landscape architects: Planit-IE

Known as Sugar House Island, the whole site, bordered on two sides by waterways and on the third by the busy A118 into Stratford, includes a mix of commercial, residential, leisure and hotel properties. Vastint wanted to create a new urban environment on this 'island' site, and worked with masterplanner ARC-ML to strike a balance between living, working and leisure activities.
To ensure there was variety across the development, Vastint divided the site into 13 separate plots. Waugh Thistleton Architects was invited to design for the North East Quarter, the commercial quarter on the site, which was the first plot to be developed. It was seen as an important test bed for different construction techniques, using onsite and offsite methods, both traditional and modern including mass timber.
Making the case for structural timber
Waugh Thistleton was appointed from Stage 2+ outline planning stage and the practice redrew everything in Archicad at Stage 3. The work carried out by Waugh Thistleton was completed in two distinct phases and comprised five new buildings and two historic structures that were remodelled, refurbished and extended. The first phase included four new buildings that were built from concrete and steel frame.
The second phase comprised the two renovated buildings, extended and refurbished using structural timber, and a five-storey new build constructed using cross-laminated timber (CLT) for the walls and floors, and glulam for beams and columns. The development also included eight private rented homes and all the commercial and institutional buildings were fitted out to Category A standards.
A learning curve in Archicad
"This was the first time we had completed a BIM Level 2 project and setting up the BIM Execution Plan was initially time-consuming."
Chris Kempster, Waugh Thistleton
Chris Kempster, project architect at Waugh Thistleton, was one of a team of four working on the project: "This was the first time we'd used Archicad within the practice, so developing detailed designs in new software was a learning curve for us all.
"The project formed a test bed for the studio, with the original drawings created in Vectorworks before being redrawn using Archicad at Stage 3.
"The additional support we purchased from Graphisoft helped get the team up to speed quickly. After an initial week's training, someone from the Graphisoft team sat with us in our offices for one day each week. It was great to have someone on hand to offer us guidance and to talk through any questions we had.
"When we weren't in the office together, Graphisoft was on hand remotely to advise or look into a solution, often with a very quick turnaround time. Screen sharing was particularly useful at this time."
Fusing historic and modern structures
Two distinctive buildings were renovated as part of the development. The first was the old Sugar House, a five-storey masonry warehouse building, that had previously been used for gin production. The second was an old Victorian print warehouse that was retrofitted with a new internal structure, while retaining the existing Victorian facade.
"We carried out 3D surveys of both the existing buildings and hot-linked the survey information into our live Teamwork file," explains Kempster. "We then used the renovation filter within Archicad to build on the existing buildings. Knowing that the point cloud models were accurate and couldn't be tampered with gave us tremendous confidence."
Waugh Thistleton added three lightweight modern extensions to the Sugar House, manufactured offsite from CLT. These provide double-height, self-contained workspaces suitable for lightweight industrial uses such as joinery workshops. Meanwhile, the upper floors were converted into eight duplex apartments. All the internal joisted floors and partitions were also crafted from CLT.
The practice's design retained the original brick shell of the Victorian print house, but removed the roof and craned in a new panelised internal structure. The extensions were constructed from mass timber, with traditional lightweight partitions and space-saving joisted floors within the existing building supported on a steel frame.
Fitted with recording facilities and dance studios, the building boasts a modern extension, also constructed from CLT, that is connected to the original building via a double-height glazed atrium and timber bridge. The building is now the new home for music and dance collective East London Dance and UD.
Graphisoft's visualisation tool BIMx was used at the end of Stage 3 and early Stage 4 to provide the client with an interactive walk-through model of each building.
"BIMx was a great tool to be able to easily show our client how the buildings would feel spatially," says Kempster. "We also worked with an external consultant to create a site-wide fly-by model, which was displayed at the opening events and marketing suite. We exported 3D models from Archicad and dropped them into the VR model, all of which was then rendered and the flight path added. The end result gave a really exciting and immersive experience."
Setting up the BIM Execution Plan
The architects worked closely with the client, structural, civil and MEP engineers and the main contractor over the course of the project. Information exchange was coordinated via IFC on a fortnightly basis throughout stages 4 and 5. Both the contractors and the groundworks engineers were also involved in the coordination meetings.
"This was the first time we had completed a BIM Level 2 project and setting up the BIM Execution Plan was initially time-consuming," explains Kempster. "However, investing the time at the start of the project and making sure everything was set up correctly to facilitate the management and exchange of information between parties benefited us in the long run and gave us an extra level of confidence.
"Exchanging information via IFC was also new for us. It was a challenge as we were learning a new way of working and how to export the files correctly. The geo-location model was the most difficult to coordinate, but once it was all set up, it was a seamless transfer."
'Exchanging information via IFC was new for us. It was a challenge as we were learning a new way of working and how to export the files correctly'
Chris Kempster
Collaboration and coordination
The entire development of Sugar House Island has been managed in 3D. Vastint employed a BIM consultant to carry out the below-ground clash detection while the lead architects for each individual plot were tasked with completing the above-ground clash detection for their respective areas.
"We carried out the clash detection for the architectural, structural and MEP models. It was all very new to Waugh Thistleton at the time. However, it really helped, particularly with the exposed surfaces as it was so important to have everything perfectly coordinated," Kempster explains.
"The prefabricated timber needed to be spot-on and the combination of Archicad's renovation tool, the point cloud survey and clash detection meant that it was.
"This rigorous approach created quite a lot of additional work up-front, especially due to the on-project learning involved; however, it led to a very smooth and error free onsite construction thanks to the early due-diligence in coordination."
Construction during lockdown
Construction was carried out in two phases, starting on site in late 2017 and completing in late spring 2021. Waugh Thistleton remained as lead consultant and was close to the build throughout the process. During construction, the information exchange was primarily carried out using 2D drawings. However, the team also used Archicad to show the contractor certain details and interfaces and to review any unforeseen onsite clashes.
Having worked closely with timber engineer Eurban and structural engineer eHRW, Waugh Thistleton had complete confidence that the timber structures would arrive onsite and be ready to go.
"The timber frames were exceptional – they arrived on site and went up incredibly quickly," says Kempster.
With the advent of lockdown, work continued on site but restrictions meant that Waugh Thistleton could no longer travel to site. "Prior to lockdown, we were on site regularly," Kempster explains. "However, once lockdown came into force, despite the restrictions, we managed to work very efficiently with the contractors remotely. Screen sharing was a very useful tool helping us to answer the contractor's queries and solve any issues in this way."
Construction was completed in May 2021, and many of the buildings are already tenanted.