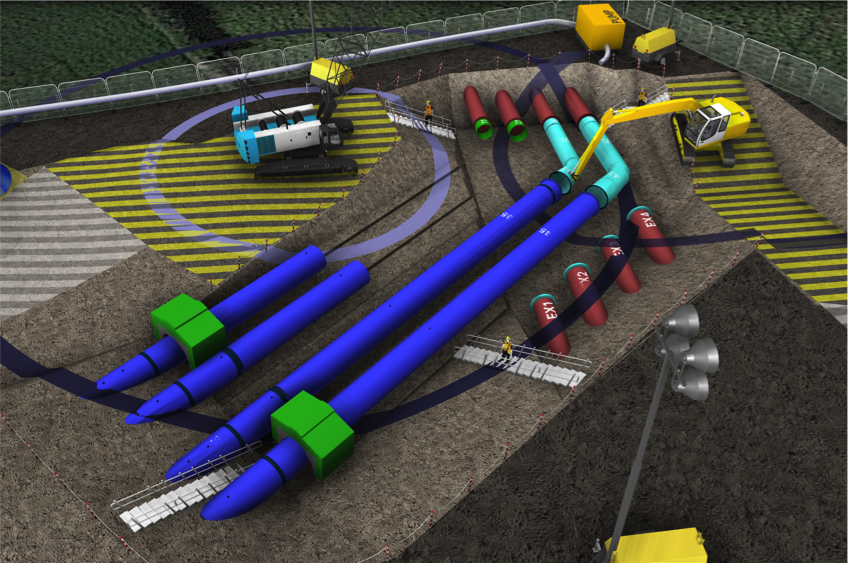 4D modelling was crucial on a major civils project for United Utilities in Cumbria, proving and improving upon a challenging construction programme that was 20 days quicker than the original plan.
Client: United Utilities
Main contractor: Mott MacDonald Bentley
4D consultant: 4D Freeform
The Haweswater Aqueduct is one of the large pipes in United Utilities' (UU) water supply network, delivering 570 million litres of water every day to 2.5 million customers in Cumbria, Lancashire and Greater Manchester. A £1bn resilience programme is overhauling the 65-year-old structure and ensuring its future.
As part of that programme, Mott MacDonald Bentley (MMB) designed and constructed a new 2.5km section for the Hallbank Tunnel in Cumbria, comprising four 1.6m diameter pipes, to replace a section of the existing aqueduct. Each pipe was made up of 200 pieces and each piece was 14m long.
After nearly two years constructing the pipelines, UU allowed a short autumn shutdown of the aqueduct for MMB to connect the new pipes at either end. At its peak, 90 engineers were working around-the-clock on socially distanced shifts. The site was handed back to UU, after just 7 days 22 hours and 46 minutes – 20 days quicker than the original plan.
And that improvement against plan couldn't have happened without the use of 4D models, created by consultant Freeform 4D.
Right time for 4D
MMB engaged Freeform 4D in December 2019, 10 months before work was due to commence on site in October 2020. The 4D models were to be used to develop the programme and logistics for the two major pipeline connections.
According to MMB design lead Declan Mawson and Freeform 4D founder James Bowles, the timing of Freeform's involvement was just about right.
Bowles tells BIM+: "4D modellers often get brought in too late. There's also a scenario of being too early, where the project team hasn't been assembled yet, and then there's the sweet spot. I think we were a little bit early."
4D modellers often get brought in too late. There's also a scenario of being too early, where the project team hasn't been assembled yet, and then there's the sweet spot.– James Bowles, Freeform 4D
Mawson disagrees: "I think we were just about on the sweet spot. We were just getting ready to place the pipe work order in January 2020. So by that point, we were thinking design freeze, we need to know where all the pipe connections are going to be, we need to know exactly how this is going to look. I think if we'd started the 4D modelling mid-January to February, we could have just missed that point of saying, actually, we just want to hold that design freeze for another couple of weeks until we've seen the lay sequence and understood the constraints."
Freeform's involvement "evolved naturally" into a five-stage process of model presentations, review and changes adopted following the review.
In the first stage from December 2019 to February 2020, MMB supplied a "well-structured" model to Freeform, according to Bowles. Revit files were supplied by MMB, which Freeform fed into Rhino before developing the 4D model in Bentley Systems' Synchro software.
Initially, Freeform used Google Streetview to conduct some virtual walk-arounds of the site, the results of which impressed Mawson: "I'd envisioned the 3D model in terms of pipes, and that was it – it was just pipes in a space. And there was no real context for it. We weren't immediately thinking about the overhead lines nearby. Once Freeform superimposed the Google Earth imagery on the model, that completely changed it, because you start thinking more logically: we're right next to that pylon, for example, and that reduced the plant size, reach and lifting capacity."
This first stage of development for Freeform saw them work with limited temporary works information and low level of detail of the construction programme (circa 100 activities). This took 25 hours.
Compare and contrast: the 4D scenario and the site reality
Driving engagement with 4D
In February 2020, Mawson staged a half-day face-to-face workshop with representatives from the project team, including subcontractors and suppliers, in order to secure their engagement with the 4D approach. He also invited an MMB director to attend as a chance to prove that 4D modelling would not be "just a cost with no benefit".
Mawson says: "We had everyone around the table and went through the sequence on the programme and gave feedback to Liam Clarke, Freeform's project manager – 'you can't do that because you will have had to do X, Y and Z beforehand, etc'. And Liam said: 'Give me 10 minutes and I'll tweak the programme.' We'd sit back down 10 minutes later and he'd play the revised animation, and we'd say 'Oh, yeah, that works. But now we need to do this, this and this.' And that was really useful. It also proved how fast changes could be made to the animation."
Indeed, engagement with the key members of the team was important throughout Freeform's involvement.
Mawson notes that the two site managers (at the northern end and southern end of the project) were at either extreme of the digital v traditional methods debate. "One was so keen on digital delivery that he wanted to do everything digitally, and other wanted paper drawings. But when we showed the first phases of the model, it galvanised everyone's engagement: 'That's really good, I can use that for briefing the team on how they're going to build this and what the sequence is.'"
Indeed, the traditionally minded site manager really engaged with the modelling process, getting into the gritty and crucial detail with Freeform's project manager of what type of plant should go where, for example.
As development work continued through the spring and early summer, one of Mawson's key learnings emerged: "The biggest thing that I learned was just how much temporary works can impact a 4D model. The difference between a 3D model with a bit of texture and a bit of context and a 4D model that fully appreciates how temporary works come into it is huge.
"In the second stage, the 4D model helped us think about the position of joints in the pipes and whether we could stagger those, and improve the last sequence so that you could have the welding habitats [safe tents for performing hot works] without clashes. I would have missed that had it just been four weeks later.
"And that's something that I've been trying to stress to my colleagues when we've talked about 4D modelling, because people say 'we don't want to get into that until we've done the design, and we want to know what we're building'. You need to bring it a bit further ahead than that, before you've got design freeze."
We are pushing 4D more and more. In the future, if I was to do any type of critical work or tightly constrained work like this, I would consider 4D a necessity.– Declan Mawson, MMB
The 4D model was not only a demonstration of the method to be followed by the project team, it also gave MMB confidence in its plan that it could then convey to the client.
Mawson says: "Initially, we had a 28-day window to do our pipe connections. We estimated that we could do it in seven to nine days, but the 4D work gave us confidence – without it, we might have come unstuck at some point."
Any entirely understandable scepticism on UU's part that MMB's planned duration was too aggressive and challenging was washed away.
Through each stage of the process, more and more detail of the programme was included in the model, including the identification of pedestrian and plant access issues, the establishment of pick points for materials and crane locations (and subsequently crane radius to check for reach), for example.
By October 2020 and the completion of the fifth stage of development (via two further, virtual workshops), Freeform had clocked up a total of 220 hours and the fourth and final revision of the model encompassed 330 activities.
Freeform's work identified a number of savings for MMB:
the benefit of switching from concurrent working to linear working; and
reduced plant specification and the removal of one crane thanks to the establishment of radius layouts and sequence review.
The cost of the modelling over the 10 months was less than one day's site running cost for MMB.
The model was also used for site inductions.
The future of 4D
Bowles muses on the future of 4D models and customers' interaction with them: "It would be nice to hand more ownership of the modelling tweaking to our customer, and there are new tools coming that will allow that on mobiles or tablets. Rather than needing Synchro on your desktop and someone with 10 years' experience of the software, I think we're getting into a world of handing something over to the customer who can then play Minecraft with it a little bit, move the equipment around for themselves."
For Mawson and MMB the future is clear-cut: "I know as a company that we are pushing 4D more and more. In the future, if I was to do any type of critical work or tightly constrained work like this, I would consider 4D a necessity."