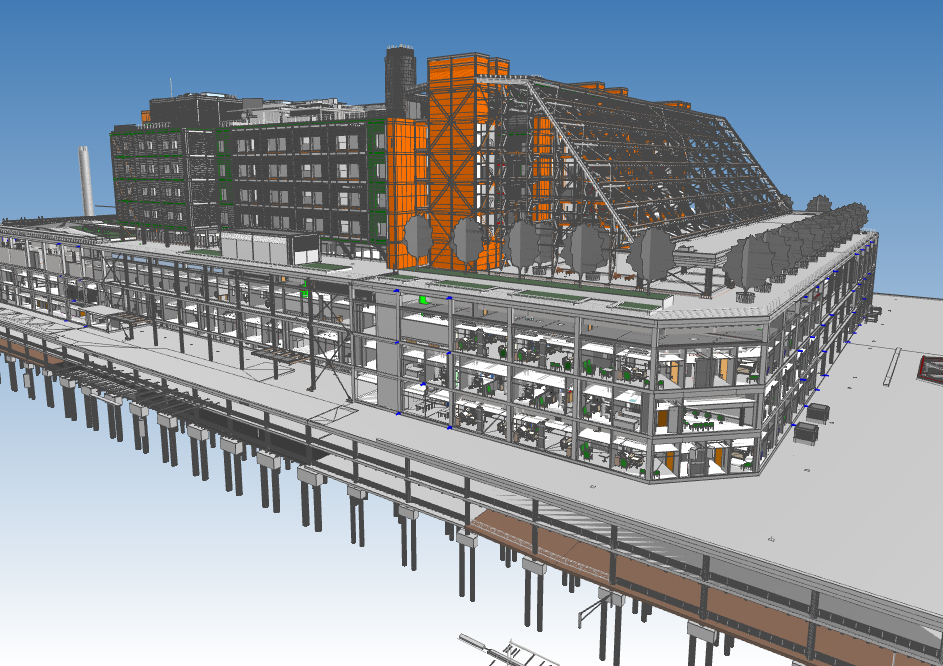 Maber Associates was brought on board as BIM manager when Balfour Beatty was appointed to finish the construction of the Midland Metropolitan University Hospital near Birmingham after the demise of PFI contractor Carillion. Denise Chevin spoke to Maber's head of BIM, Josh Chrystal, to hear how the practice refreshed the BIM strategy.
Midland Metropolitan Hospital is a new acute general hospital being built on a 6.5 ha site in Grove Lane at Smethwick near Birmingham. The new teaching hospital has 10 storeys and 80,000 sq m of floor space.
The Midland Metropolitan University Hospital 
Client: Sandwell & West Birmingham NHS Trust
Contractor: Balfour Beatty 
BIM manager: Maber Associates
BIM tools: Solibri, BIMcollab, OpenSpace, Glider BIM
It was being built by Carillion, but when the company went into liquidation in January 2018, the PFI contract was terminated, delaying the hospital's completion until summer 2022. In autumn 2019 Balfour Beatty was awarded the contract to complete the construction and it was then that the contractor appointed Maber Associates as BIM manager.
When Maber came on board the external envelope and the structure were pretty much complete, but there was a great deal of service coordination still to do, "which is a large part of why they brought us on board, to run the clash detection, and make sure that they were happy they could work with the shell that they'd been given", explains Josh Chrystal, Maber's head of BIM. 
Picking up the reins on BIM
The project was being built to what was then BIM Level 2. The first task Maber faced was to assess all the documentation – and found it to be lacking in detail in parts. "Although the BIM strategy was adequate for when it was originally authored in 2014, BIM has matured considerably since then. One of our first roles was to create a new BIM execution plan, with a fresh take on what a pragmatic BIM strategy looks like today," explains Chrystal.
"We decided to carry on the project to the old BS 1192 standards, rather than migrating it to the new ISO 19650, to have some project continuity. We didn't want to have to rename loads of drawings when we were using an existing naming protocol that was perfectly adequate.
"The main remits to our role are preparing and managing the BIM documentation, running clash detection, for which we use Solibri, and then we host the clashes on BIMcollab, which is a cloud-based platform."
Another aspect of Maber's work is collecting the COBie data. There have been two BIM experts working on the project from Maber for almost two years, working closely in collaboration with Balfour Beatty's digital team which has been crucial to the success of managing BIM on the project.
What were the main challenges for Maber?
Chrystal explains: "When we assessed the myriad of Carillion BIM documentation, there was a lot of ticking boxes, and doing BIM just for the sake of meeting requirements without clear outcomes. Our mantra as a BIM consultancy is having clear BIM outcomes that benefit the client and that the digital processes we're using to get there are connected to what's actually happening on site.
"In our first meeting to define the clash detection, we sat down with the design managers on the ground and asked them for their top five issues that they had when coordinating on site. And one that really stuck out was builder's work openings – ie where the services pass through walls and floors, which needs fire stopping, and there's lots of rules around setting out those fire stops.
"One of the rules, for example, is that first, we check where services are passing through a wall, then if a service is passing through, is that wall fire rated? And then, does it have a builder's work opening? And then if it has that, is the opening within distance of another opening? Because you can't have them within 300mm, within certain fire-rated walls. We were able to automate all these checks within a single ruleset in Solibiri. This allows us to provide fast and effective validation reports that keep up with progress on site."
"Rather than just sending Excel spreadsheets to the supply chain to fill in, we're actually using a database approach to input the data. And this is the first time we've done this."
Josh Chrystal, Maber Associates
The hospital has around 10,000 of these fire stops, says Chrystal, and this aspect made up a big part of Maber's work. "Using these automated checks provides the contractor with confidence that what has been designed can be built in accordance with the regulations," he says. A number of reports several years ago revealed that some PFI hospitals had defective fire stopping and Balfour Beatty was acutely aware of the need to get this right.
An aspect of innovation Maber brought to the project was the use of the BIMcollab cloud-based system to digitise the clash resolution process. "Using BIMcollab as a simple online platform allows us to engage more of the project team with the clash resolution process, ultimately resulting in a better outcome. Traditionally you would just get an Excel report. And if you've got 1,000 clashes, like we did, that's a very long Excel report, that no one really engages with or looks at," says Chrystal.
"The BIMcollab system also ties in with designers authoring software through various plugins, such as for Revit. When we create clash reports, they are instantly synced to BIMcollab, all of the consultants can then view, comment and resolve clashes directly in the software they are familiar with – reducing the need for complicated workflows and unnecessary meetings."
To ensure the building is built as designed, Balfour Beatty is also using the OpenSpace platform. Images of the constructed work are captured on a weekly basis by a worker walking around the site wearing a 360-video camera on their helmet. This can be compared side-by-side with previous images or the BIM model.
"This is a missing piece of the puzzle, because we were getting to the point with the clash detection where people were telling me 'we've already built this on site,' so with OpenSpace, if there's a clash we can't resolve, we can pretty much navigate to it on a web browser: it's like Google Street View for the building, you can walk around and look at how the same image has progressed over time, and see how things have been resolved."
The Trust's requirement was for COBie (maintainable asset) data to be made available directly within the BIM models for the facilities management of the hospital on handover. Engie has since been appointed as the hospital's FM provider.
"Previously under the Carillion scheme, the COBie data requirements were driven by the fact that they were constructing and operating the building, resulting in massive data requirements. We've looked at it in a more streamlined way, and worked with Engie and the trust to determine what data they actually need in the models to maintain the facility."
Chrystal explains that when COBie files are delivered there is often a dislocation between the design team's information and that of the supply chain: "For example, the architects are modelling the doors in their model, but they're not saying what manufacturer or what model number that door ultimately is. The supply chain provides you the manufacturer and model number. So the difficulty is tying all of this information together in a manageable process."
Maber has opted to use Glider BIM, which ties the two sets together in a single system. "We think that is quite an innovative approach. Rather than just sending Excel spreadsheets to the supply chain to fill in, we're actually using a database approach to input the data. And this is the first time we've done this," Chrystal says.
All of the COBie data is put back into the Revit and IFC models, which are sent to the trust. Engie will then use a CAFM system where they will be able to see the 3D model and COBie data at the same time. "This provides the onsite FM team with the capability to have all relevant maintenance data at their fingertips," he says.
Chrystal says that the digital success of the project so far has been down to the collaborative approach between all involved parties: "As much as we can guide the project by providing pragmatic BIM advice and documentation, the whole process is underpinned by working as a team. Whether that's Balfour Beatty's innovative approaches to engaging site operatives through digital models, or the project team holding regular BIM catch-up sessions to talk openly through issues.
"From a COBie deliverable perspective, the task has been made easier by the fact that the Trust appointed Engie early on and have been happy for them to engage with us directly. This ensures that all outputs are designed to meet the client needs, pressure tested and validated before we get to handover.
"Since this project's BIM journey began in 2014, information management and digital construction processes have come a long way, aided by the adoption of the ISO 19650 standards. But we've developed a toolkit here, in terms of our process for running clash detection, validating COBie data and delivering BIM tailored to a client's needs, that we hope to use on other projects.
"BIM delivers the most value for end users when it's fully considered at a project's inception. We're hoping to get involved with the NHS improvement teams to share our experiences and help define their BIM requirements at an early stage before it gets to a point where BIM is seen as a struggle rather than an opportunity for success," Chrystal concludes.