Client: Total Learning Research Institute
Lead Contractor: KieranTimberlake (Lead designer)
BIM Tools: Autodesk Revit, 3ds Max Interactive
A BIM model of a theoretical base on Mars, developed to teach the art of facilities management to US middle and high school students, was taken into virtual reality to enable users to act out different scenarios immersively.
The BIM model formed a key part of the Mars Facility Ops Challenge, a STEM learning initiative conceived by the US National Institute of Building Sciences (NIBS), in partnership with the Total Learning Research Institute and the National Aeronautics and Space Administration (NASA) to encourage students to enter the building sciences.
It allows students to act as facility managers responsible for maintaining the base, tackling building systems issues as they arise and developing teamwork skills.
A team led by KieranTimberlake, construction firm Gilbane and MEP consulting engineer Travis Alderson Associates created the detailed federated model of the base in Revit, which includes a mission control block, dining and recreation spaces, workshops, sleeping pods and even a garage for Mars rovers.
The structures were developed to reflect the latest scientific knowledge of the planet's environment, with input from a former NASA scientist.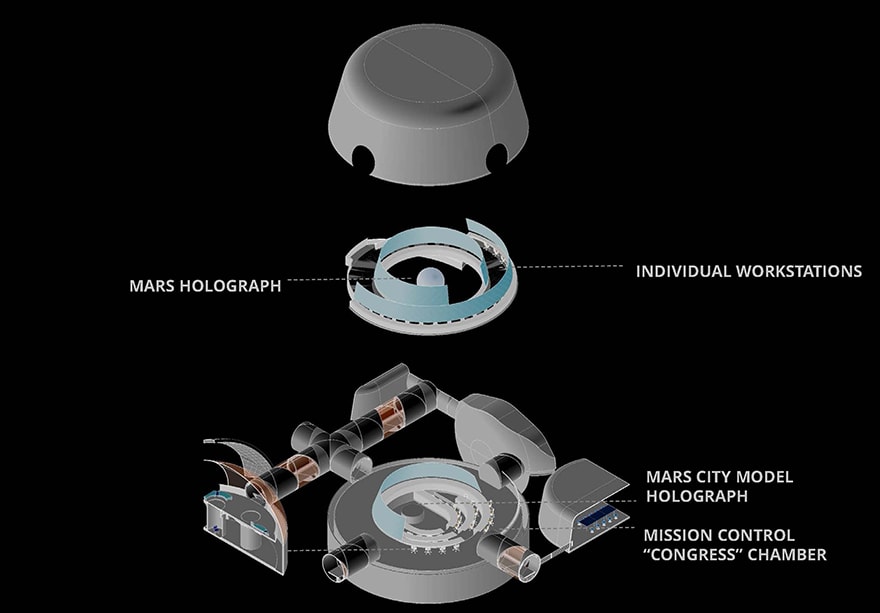 BIM models include a mission control block, dining and recreation spaces, workshops and sleeping pods
Efrie Escott, architect and researcher at KieranTimberlake, told BIM+: "The structures have a far higher level of realism than was actually necessary for the application, spaces feature rounded corners to withstand internal air pressure, we downsized truss members to reflect the lower level of gravity, air locks provide system redundancy and removable panels throughout base to enable easy access to systems."
The team considered the construction process and technology that may be available in 2030 or 2040 when a Mars base could conceivably be established. When transporting materials vast distances through space, every ounce is expensive, some lightweight inflatable structures could be shipped out, others would need to be 3D printed in-situ using regolith, or Moon dust and rock.
The design was thought through with the same rigour as a project on Earth, says Fátima Olivieri, associate at KieranTimberlake: "We did not want to dumb it down for the users, we had regular client and consultant meetings – development of the model took six to eight months."
The Revit model was built in conjunction with a robust COBie database intended to permit access information embedded in the model and simulate pre-programmed facilities management scenarios. The model and the COBie data were visualised by students in the web-based maintenance management platform WebTMA.
Phase 2 of the project saw the BIM model transferred into a VR environment to give students a more engaging and interactive medium to understand FM issues on a Mars base. The environment was developed in Autodesk Stingray, now known as 3ds Max Interactive, and experienced using Oculus Rift goggles.
Phase 2 of the project saw the BIM model transferred into a VR environment
Based on feedback from students, the system was subsequently enhanced to improve graphics and movement and to run FM scenarios developed by NIBS, NASA and the International Facilities Management Association.
The scenarios range from routine maintenance to life-threatening emergencies, explains Escott: "The low priority scenario is to maintain PV cells which need to be cleaned due to amount of dust in the Mars environment, a more dire situation involves an air leak within a pressure value on one of the habitation modules.
"A heads up display in the field of view streams important facilities data and make it possible to look at systems in different levels of resolution highlighting any issues."
The system enables students to assign virtual work orders and prioritise tasks, the use of a hand-held controller for navigation was intended to reflect youngsters' growing familiarity with gaming.
Olivieri comments: "Students today engage in gaming from a very early age, which is now translating into many professions. For example, NASA and the US Air Force are now modifying their simulations to make them feel more like a gaming experience."
One unexpected by-product of this was the fact that students were able to move around the model much faster than expected and, as a result, often got lost inside the building. Additional orientation and signage, and a tracking app in the mobile heads up display, were added to improve their orientation.
So, if astronauts do eventually live on Mars, will BIM play a key role in designing and maintaining their habitats? Olivieri thinks it will: "The team behind the International Space Station already knows exactly what is happening at every location, wall and hatch in real-time, which is critical to safety and to life itself.
"The Mars environment is even more critical because we know even less about the planet than space. BIM makes it possible to create a virtual simulation of that environment and test out different ideas and scenarios before we go there."