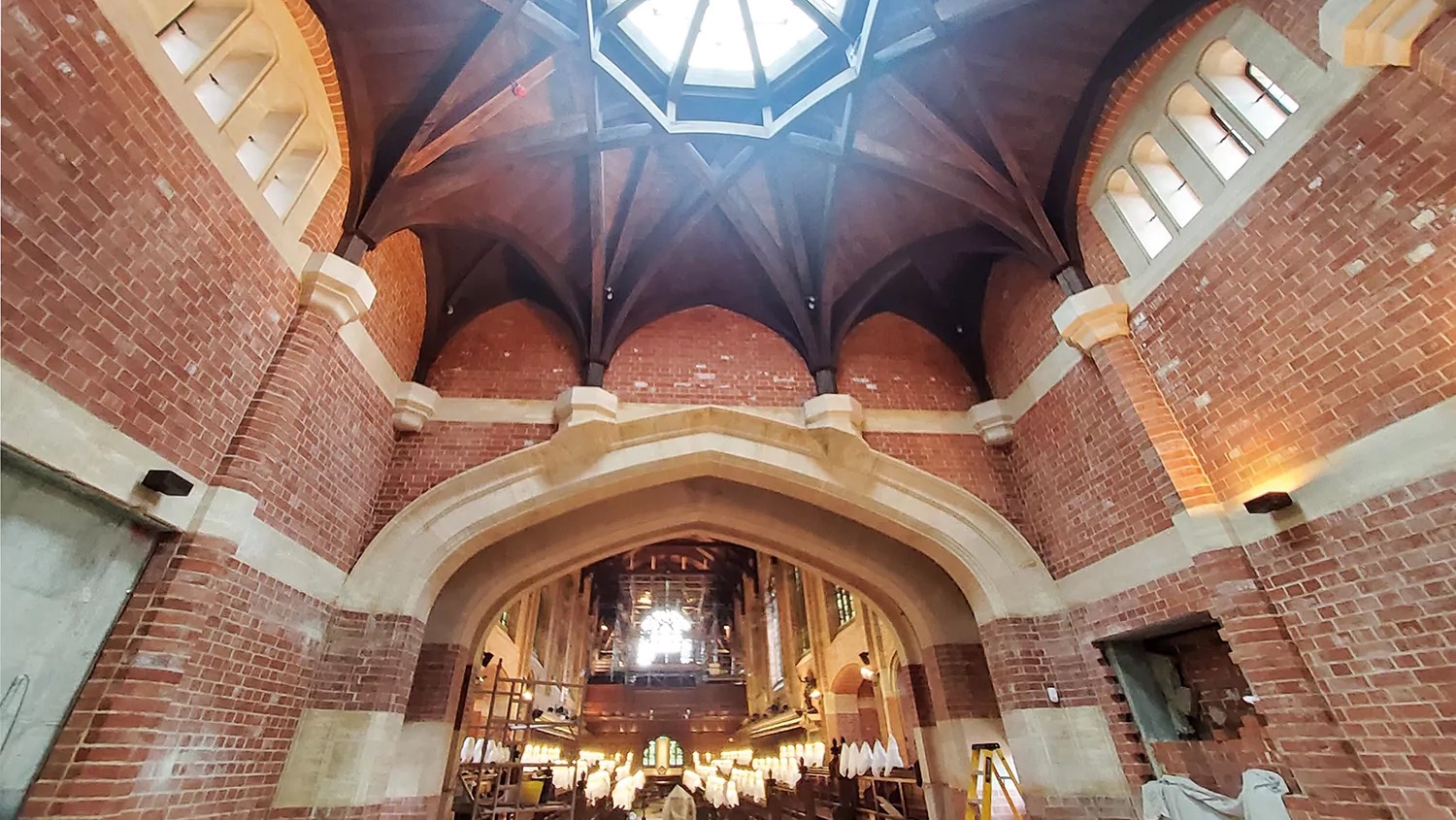 How do you sequence complex works to be carried out by multiple specialist contractors when restoring a Grade II-listed chapel – and the client significantly changes the planned works once underway? Beard Construction faced that very challenge on its £4.2m contract to extend and reorder St Peter's College Chapel at Radley College in Abingdon, Oxfordshire.
Taylor has been a member of Beard's team for 25 years. After joining the company as a carpenter in 1997, he worked through the ranks to construction manager. Today, he oversees most of the projects delivered from Beard's Oxford office.
For the past 10 years, Beard Construction has been delivering programmes in Powerproject. It switched from Microsoft Projects after finding that Powerproject was more cost-effective and offered a better user interface. It's no surprise then that Powerproject played a key role in the work Beard carried out on the chapel.
Beard Construction project team
Client: Radley College
Architect: Purcell
Main contractor: Beard Construction
Quantity surveyor: Ridge and Partners
Taylor says: "I used Powerproject to resource the Radley College Chapel project, so we knew exactly what labour levels we needed. The design was completely bespoke, so quality was the most important factor. The new part of the building needed to look like it had always been there."
Attention to detail was critical when delivering the chapel extension. The marble floor, constructed from handmade bricks slotted between stone arches, needed to align perfectly with the walls. These arches had to align with an intricate timber ceiling and glass lantern, surrounded by handmade lead tiles.
In addition to detailed brick and stonework, the sanctuary extension featured a new octagonal roof manufactured offsite.
Collaborating at tender stage
"We could pull out programme packages for each contractor so they could see their individual workload – or we could pull joint packages for several contractors to show how their tasks fit together."
Bill Taylor
Early on, Taylor decided to work with a masonry contractor that could manage the programme's brickwork and stonework requirements together. He collaborated with the contractor during the tender process, sequencing their needs in Powerproject. He then planned the work of other contractors around their schedule.
"We could pull out programme packages for each contractor so they could see their individual workload," he explains. "Or we could pull joint packages for several contractors to show how their tasks fit together. This high-level coordination between trades helped us immensely."
The project required both rigid planning and flexible delivery, as Beard had to contend with a number of 'moving parts'. For example, during the works, the college continued to use the chapel as a focal point of daily school life, which limited when loud or disruptive activities could take place.
Taylor also conducted value-engineering exercises that modified some of the construction processes. For example, the initial design used a traditional brick vault structure for the archway linking the chapel to the extension. However, Taylor's review of this process revealed there would not be enough space to fit the keystone.
Taylor introduced a lightweight brick-slip system supported by a secondary steel frame. This frame reduced the load weight bearing on the archway and improved buildability, while reducing construction costs by £200,000.
"The project was divided into four phases, and Powerproject enabled us to refine each stage in real-time," reveals Taylor. "For example, we evolved stage four design and engineering requirements during stage three works. Furthermore, Powerproject allowed us to see the effect of these changes on the overall programme."
The team held weekly site meetings throughout the project, pulling contractor information from Powerproject to compare progress with the original programme baseline. This information was critical to coordinating on-site activities with offsite procurements, such as manufacturing the sanctuary's timber octagonal roof.
In addition to internal design changes, external factors also impacted the delivery of the Chapel. For example, when the pandemic hit in 2020, Taylor resequenced the entire programme to outline what his team could deliver under restricted working conditions and with material supply delays. He also used Powerproject to update project delivery forecasts and inform subcontractors when they would be due back on site.
"Powerproject allowed us to plan what works we could still complete and predict where we would be down on labour and materials to move operations around," he says. "The software also allowed us to show this information to Radley College, so they could see we were working around pandemic restrictions."
With schooling moved online, Radley College brought forward plans to extend the existing chapel's gallery and replace the organ, which had been scheduled to take place once the chapel had been extended. As a result, Beard needed to resequence works to enable these additional activities, especially as the organ had to be installed in a dust-free environment.
"The extra work added complexity, but with Powerproject we could work closely with the school's other contractors to accommodate their needs," Taylor says. "We could also show the school that we'd programmed our plans around their new requirements."
Ultimately a combination of innovative thinking, specialist contractors and a tight but adaptable schedule enabled Beard to complete the works on the 112-week schedule.
Taylor concludes: "Quality of work was really important to us, and the results speak for themselves. People stand in the new sanctuary and tell us it looks like it's always been there, which is the best comment we could hope for. The standard of planning and communication we achieved through Powerproject was key to the successful delivery of this job."