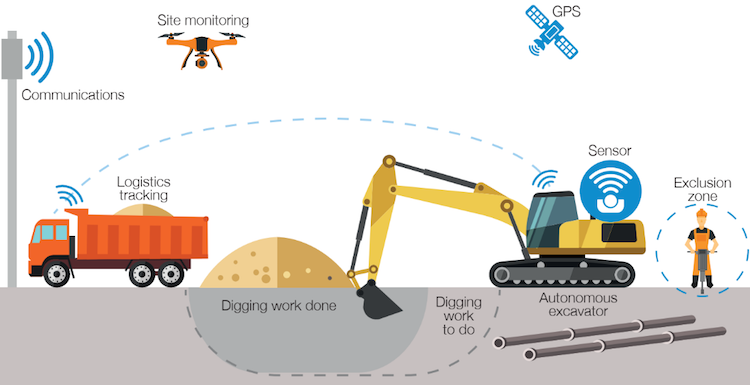 National Highways is set to unveil a new industry-wide scoring system for connected and autonomous plant (CAP).
The CAP system will score machinery according to its level of connectedness (construction plant that is connected to its environment through sensors or wireless transfer of data to a remote operator) and the level of automation in movement and operation, and will allow plant specifiers and users to compare different types of machinery to suit different tasks
According to National Highways, the CAP levels will establish a common language and a framework to enable connected and autonomous plant to be specified and deployed on all construction schemes: clients can communicate clear expectations to suppliers, and manufacturers can describe the capability of their products using the same language.
The CAP system will be launched at the Futureworx event next week (30-31 March).
The system is the latest development in the CAP Roadmap (launched in June 2020) that identified challenges and workstreams to support a goal of making automation business as usual in construction by 2035.
The roadmap and the CAP levels have been developed in collaboration with TRL, the Infrastructure Industry Innovation Partnership, Costain and more than 75 industry stakeholders.
National Highways head of innovation Annette Pass said: "Connected and autonomous plant offers a real opportunity to revolutionise the construction sector by making work safer, quicker and brings significant benefits for the environment.
"CAP has the potential to improve productivity by more than £200bn by 2040 in the construction sector and we are committed to making it standard industry practice. By establishing more collaborative relationships with innovators and academics, we hope to continue to lead in this field."