NG Bailey is nearing completion of its MEP work on the University of Manchester's biggest ever construction project. The size and scope of the project has presented a serious BIM challenge for the specialist. 
Client: University of Manchester
Main contractor: Balfour Beatty
MEP contractor: NG Bailey 
It was clear from the outset that BIM was going to play an important role on the £287m Manchester Engineering Campus Development (MECD), and particularly for the building services.
NG Bailey was appointed by Balfour Beatty, on behalf of the University of Manchester, to provide MEP services across the MECD, which will be the biggest home for engineering at any UK university, and is the largest construction project the university has undertaken.
Once complete, the MECD will become home to four of the University's engineering schools and two research institutes from the Faculty of Engineering and Physical Sciences. The scheme spans eight floors with a total area of 76,000 sq m, equivalent to 11 football pitches, suitable to accommodate 7,800 students and staff from across the University.
Martin Hardman, divisional digital engineering manager at NG Bailey, explains the company's approach: "Considering the size of the project, we wanted to create a BIM approach that allowed for the optimal levels of collaboration. Therefore, we decided to take a cloud-based approach through the use of Autodesk 360 design for our BIM models, which meant that all relevant parties could work together seamlessly to bring the project to life."
The University expressed a desire to obtain a BIM model and associated data for the project to align with its FM strategy.
The buildings themselves are highly technical, with many specialist services required throughout. BIM also provided a way for NG Bailey and Balfour Beatty to demonstrate how services would be installed safely and maintained easily.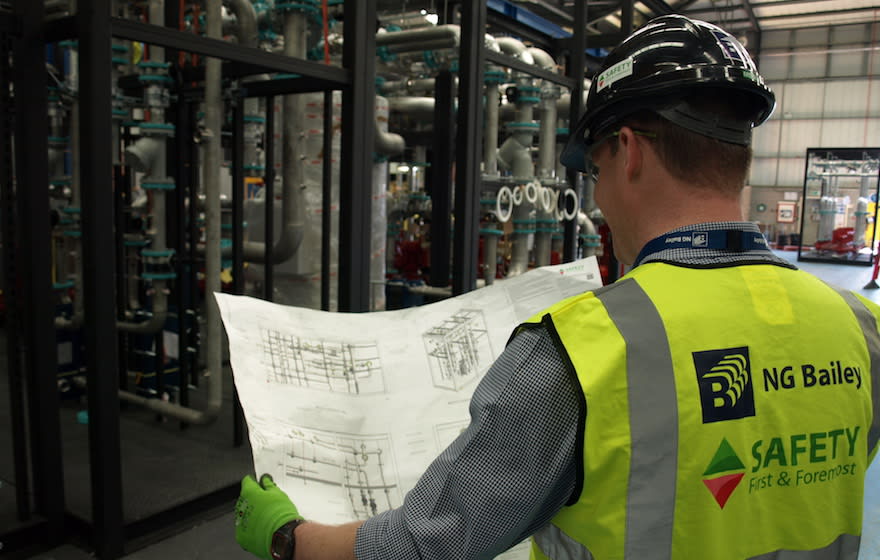 Reviewing the University of Manchester plans
Ensuring safety first and foremost
One of the principal areas of the project to benefit from the adoption of BIM was health and safety. A critical component of any building design today, following the Grenfell tragedy, is fire safety.
Hardman explains: "In order to address the challenge of ensuring fire safety, we developed a bespoke builders' work plug-in within Revit. This contains a library of spacing rules that have been developed based on manufacturer-specific tested and approved fire-stopping solutions for a whole range of services. Working collaboratively with other project stakeholders, this approach was applied across all relevant disciplines, such as door jam details."
Applying an adaptable approach
NG Bailey had to ensure that the central BIM model remained a manageable size to ensure all teams could access it when necessary.
Hardman says: "We had a large NG Bailey team working across the project from the start, with more than 300 engineers and 38 dedicated BIM operatives working at the peak of activity. This meant that we had to carefully consider the size of our central model. We strive to keep these to a maximum of 500MB. Working on files under this size ensures that those working within the model environment experience no lag when syncing.
"In order to achieve this on such a momentous project, we worked with Balfour Beatty and BDP to split the model down to align with the multiple practical completion handovers. This ensured that BIM productivity was kept to an acceptable level, but also ensured our stakeholders were supported when they needed to access our MEP models."
If the model hadn't been broken down as per NG Bailey's recommendations, the current combined MEP model size would have been 10.27GB, which would have been far too large. 
A typical project can see around 3,000 MEP drawings produced, whereas MECD was estimated to require around 32,000 MEP and offsite manufacturing drawings due to its size, all of which required approval from Suitably Qualified Experienced Persons (SQEP). To manage the feedback provided to NG Bailey's BIM team, the specialist developed IssuePlot, a cloud-based system with a Revit plug-in that captures internal approval and comments from specialists.
Hardman explains: "As part of IssuePlot, each drawing under a project has a 'drawing timeline'. This timeline retains every comment along with approval from SQEP managers and displays all this information in a clear and concise manner. All in all, IssuePlot has meant an abundance of time is saved during the lifetime of a project and we now use it across all of our projects."
An NG Bailey BIM technician at work
The story so far
Hardman comments: "We've been continuing work throughout lockdown on this significant project and we are progressing well. The current emphasis for the team is working towards project completion, and the BIM team is focussing on populating all of the asset data within the model as we fast approach our final digital handover.
"BIM is an incredibly important part of our approach at NG Bailey and we have really seen the tangible benefits of implementing it across a range of different projects. One thing that is for certain is that MECD revolutionised the way we approach BIM, causing us to rethink traditional approaches to model development, which will have a positive knock-on effect across many future projects."