Client: Ministry of Justice
Lead Contractor: Kier Construction
BIM Tools: Autodesk Revit, Navisworks, Clearbox BIMXtra
The £185m new build prison, near Wolverhampton, is privately operated by G4S on behalf of HM Prison Service. Built in 2009-12, it functioned as an early proving-ground for BIM software and processes for the Ministry of Justice (MoJ).
The development is located alongside the existing HMP Featherstone prison and comprises a self-contained Category B Prison and a Young Offender's Institute, providing 1,605 cells, new accommodation units and other support facilities, spread across 17 separate buildings. It includes three new car parks, access roads and 5,000 metres of permanent security fencing.
The project was won, in 2009, by a consortium headed up by Kier, with Pick Everard acting as lead designer responsible for the architecture, structural engineering and civils and for coordinating the digital design in BIM.
Pick Everard had recently made a commitment to working in Revit and used the software to model all the architecture and structure, working closely with building services consultant WSP, which also modelled in Revit.
"It was before the term BIM was in common use and we had to push the boundaries of the technology to enable effective coordination and collaboration," says David Nisbet, partner at Pick Everard.
"An initial challenge was encouraging the companies involved to share their proprietary design information. BIM requires collaboration, but there is a danger that, when sharing models, one firm could cause damage to another's model. BIM requires a respect for other organisations' information. Nowadays there is more of an audit trail identifying the 'author', ie draughtsman producing the model, with tags for all the digital families or items they create." 
Clash detection exercises were carried out in Navisworks and used throughout construction to demonstrate to the MoJ's technical advisers, and Faithful + Gould's project management team, that the scheme was being delivered in line with the design.
However, the software's sensitivity tolerances needed refining to the realities of construction, says Nisbet: "Our initial clash detection on the main gatehouse entry building revealed over 100 clashes, which was quite concerning. We realised that Navisworks worked to an absolute, rather than constructional tolerance between different elements, but by programming additional parameters into Kier's software [a fledgling version of BIMXtra used to host the fully federated model] and defining more acceptable tolerances between elements, such as walls or intersecting drainage lines, the process became more effective."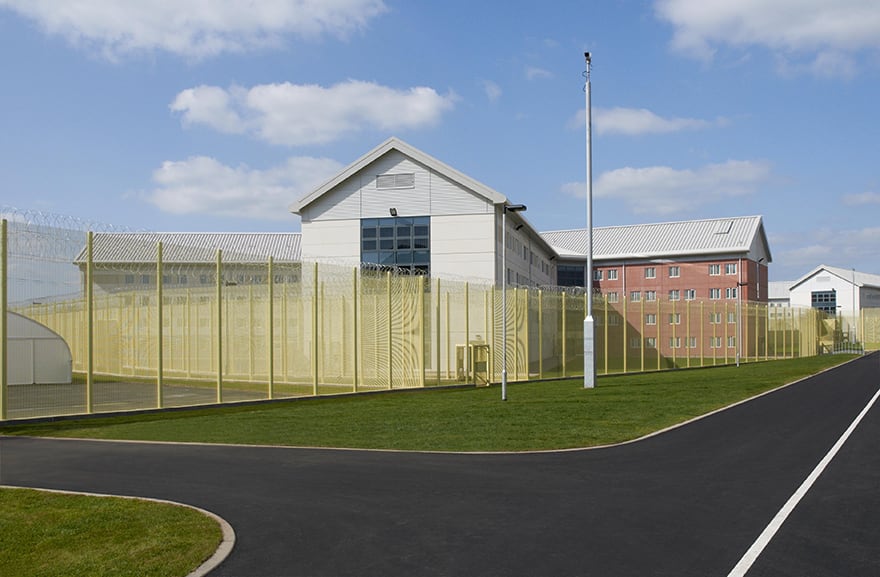 A major feature of the project was the extent to which off-site prefabrication and modularisation was used.
A subsequent clash detection exercise uncovered just two critical clashes that the designers were able to resolve before going to site. The team's ability to identify potential clashes in the software improved throughout the project, says Nisbet, as subsequent prison buildings were designed and detailed. 
BIMXtra was used by Kier to programme build sequences for each work package, as well as demonstrate to the client their ability to coordinate construction delivery.
The contractor exported videos from the model showing construction sequences superimposed with temporary works, delivery routes, holding areas for delivery vehicles, access arrangements for staff and more. The approach was quite revolutionary at the time, says Nisbet.
A major feature of the project was the extent to which off-site prefabrication and modularisation was used. Building services contractor Balfour Beatty modularised all the M&E installations, including plant rooms, full-height service risers incorporating drainage, water, heating and cooling systems, and a complete energy centre, which were manufactured offsite, delivered and craned into position.
Balfour modelled the M&E in Revit, based on WSP's original model, the 3D information was used, in combination with standard 2D drawings, to manufacture the modules in the factory.
"Modelling in Revit, and coordinating in Navisworks, gave us the confidence that the modules would slot into place when brought to site. The riser frames installed in the 13 house blocks had just 20mm clearance, but they all fitted perfectly," says Nisbet.
HMP Oakwood involved the production of more than 10,000 drawings, requiring a strict process to manage any revisions and resulting variations. Revit was used for automatic design scheduling, producing a new schedule when any changes were made, for example to the number of doors or items within doors, highlighting any differences from the previous revision. The schedules were sent to Kier, which added in pricing columns, enabling the fast and accurate calculation of variational changes.
"This practice is more commonplace now," says Nisbet. "After Oakwood, our quantity surveyors started using Vico software, which plugs into Revit to produce schedules and generates bills of quantities and pricing information. It also includes clash detection so a surveyor can challenge an architect or engineer if any issues are revealed."
The use of BIM, in combination with pre-fabrication and lean programming techniques, which minimised the time required for every work activity, meant Kier was able to hand the project over three months early.
The MoJ required Pick Everard to hand over a series of asset schedules at the end of the project, comprising lists of building services equipment, such as plant, air handling units, pumps, fans and fixtures and fittings, all of which were asset tagged within the model. 
Many of the lessons learned at Oakwood have been incorporated into the MoJ's brief for a £250m new "super" prison being built in Wrexham, north Wales, where Level 2 BIM requirements include a detailed BIM Execution Plan and COBie data drops at various stages.
"The MoJ is a very proactive client and already pushing beyond what most people think of as Level 2 BIM, with very detailed and onerous requirements," concludes Nisbet.
Modelling in Revit, and coordinating in Navisworks, gave us the confidence that the modules would slot into place when brought to site. The riser frames installed in the 13 house blocks had just 20mm clearance, but they all fitted perfectly.– David Nisbet, partner at Pick Everard