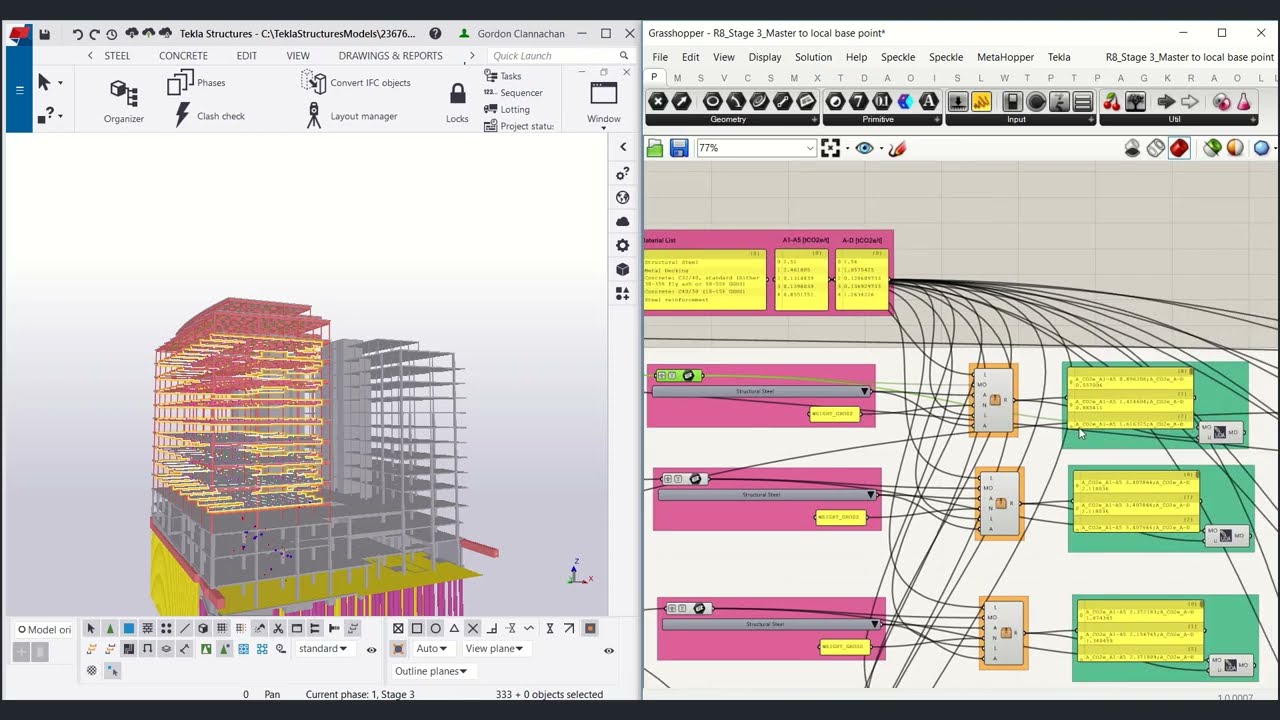 Parametric design can offer many benefits to engineers, helping to design the optimised, greener and beautiful structures of the future. And yet, widespread adoption still remains to be achieved within the construction and engineering industries. Here, Jamie Howarth, business development manager for engineering & construction at Trimble, explores further.
What is parametric design?
Parametric design (or generative design, computational design and algorithmic design, as it can also be known) is guided by a set of interconnected variables, functions and rules. These same parameters then generate or control the design output into a parametric BIM tool. By combining BIM with parametric design, engineers can transform the way they model, assess and analyse their structures. This benefits not only their business and its processes, but also the service to clients.
Despite these very real advantages, and while more engineers are starting to explore and develop the value that such a way of working can offer, parametric design still has a relatively low adoption rate among civil and structural engineers.
Automation is perhaps the key benefit of adopting parametric design, providing huge productivity and efficiency improvements. This is especially the case when it comes to repetitive tasks and helping to simplify the change management process. Last-minute changes, whether coming from the client or architect, have the potential to drastically slow down a project's process. Even if the initial requested change was just to one structural component, it can also affect many other related components. This results in a long, intricate and repetitive rectification process.
"Automation is perhaps the key benefit of adopting parametric design, providing huge productivity and efficiency improvements."
Jamie Howarth
In comparison, when using a parametric design input and output tool, all components are already intrinsically linked. With all parameters, inputs and outputs interconnected and data relationships maintained, changing a single variable automatically adjusts all associated components in line with the new inputted data.
Of course, this isn't entirely an unfamiliar concept, with some 3D modelling software products (such as Tekla Structures) already having inherent parametric capabilities. For example, making a change to the fabrication-ready model can automatically be reflected in the associated drawings. But with parametric design tools, such as Grasshopper, this is further enhanced. A change to one variable results in the overall model and all connected drawings being updated automatically. 
Facilitating the geometrically complex
As well as saving time on the repetitive, parametric design also signals a shift to more creative engineering, facilitating the complex and the architecturally challenging.
Used correctly, it can allow digital software to drive geometry creation and modelling for structurally complex buildings and structures. Ones that would have been incredibly challenging – if not impossible – to model and analyse manually.
As well as allowing engineers more time to be creative and push the boundaries of structural design, parametric design enables otherwise challenging structures to be modelled at a far faster rate.
Santiago International Airport in Chile is one example. It took the engineering team six months using Tekla Structures to manually model the soffits and new, curvilinear roofing system for the first terminal building. The decision was then made to trial the Grasshopper-Tekla Structures live link for work on the next terminal building. The soffits and roofing system were successfully modelled in just a week. This process was then further built upon, with the same roof system for Terminal Four modelled in 26 hours. A huge time saving!
Parametric design also offers an opportunity to transform the structural design and analysis process through automation. By using input and output programming tools to set the required parameters and live link with a suitable structural analysis BIM software (such as Tekla Structural Designer), the algorithmic script can run various design iterations at high speed. As a result, engineers can more quickly move to identify the most efficient and optimised design strategy.
As well as facilitating the complex, parametric design could also hold the key to helping us engineer and build greener structures. The knock-on effect of greater efficiency levels is more time available for engineers to run sensitivity studies on optimal and sustainable designs, helping to reduce overall material embodied carbon tonnages. Embodied carbon is becoming a key and influential factor when making design decisions, on par with cost, time and quality.
Arup's use of parametric modelling – specifically the Tekla-Grasshopper live link – on King's Cross R8 (one of the final development projects in London's central neighbourhood) is a great example of the power of parametric design.
Parametric design was at the heart of the project's workflows, pushing or pulling data and geometry to and from Tekla Structures to improve the efficiency of everyday tasks. For example, engineers created a script that automated the calculation of the loads on the concrete columns and walls. This helped to further optimise the design and reduce the amount of concrete in the building's foundations.
"Parametric design also offers an opportunity to transform the structural design and analysis process through automation."
Jamie Howarth
Arup also used the Tekla-Grasshopper integration to develop its own scripts for calculating the embodied carbon footprint of all structural elements. The Tekla Organizer tool was then used to set up templates to export the embodied carbon of every element by material, and for different embodied-carbon stages. These calculations were reported against targets that have been set for 2030 and beyond.
As with any technology, BIM is ever-changing. While 3D modelling is fast becoming the norm for the construction and engineering sectors, there are further tools and workflows emerging, such as parametric design, that can help to push the capabilities and value enabled by BIM to the next level. In fact, parametric design could be a key enabler of Design for Manufacture and Assembly and offsite construction, with powerful digital tools and investment required at the early design stage phase if the onsite delivery benefits are to be realised, without issue.
However, despite all of this, the adoption rate of parametric design still remains relatively low. There could be numerous reasons for this, including fears that it is too complicated to learn and will require significant investment in time and resources. This does not have to be the case, with many 'easy wins' available to get you started, including simple example scripts available for both Tekla Structural Design and Tekla Structures, found in Tekla Warehouse.