Client: Royal National Lifeboat Institution
Lead Contractor: Leadbitter
BIM Tools: Autodesk Revit, Navisworks
The Royal National Lifeboat Institute has a considerable construction programme, building or upgrading lifeboat stations around the coast at a rate of 12-14 a year. But its major current project is the £17m All-Weather Lifeboat Centre in Poole, Dorset, which brings together a production facility for a new generation of Shannon class all-weather lifeboats and maintenance and refit facilities for its existing Severn class fleet. Contractor Leadbitter is currently on site with completion due in early 2015, although the facility will not be fully operational until 2017. 
Built on an exposed harbourside site, the ALC will have two main building areas connected by a central courtyard. In Building A, composite hulls will be cast in huge moulds, then sprayed and painted in a special booth fitted with an extraction system, then the boats will be transferred to Building B where the engines and wheel houses will be installed.
A mezzanine walkway runs along both sides of the boat hall at a height of 3m, allowing engineers and technicians to walk straight onto the deck level of Severn class lifeboats for maintenance work. There will also be a viewing gallery and "visitor experience" suite with full height windows looking out over one of the build halls.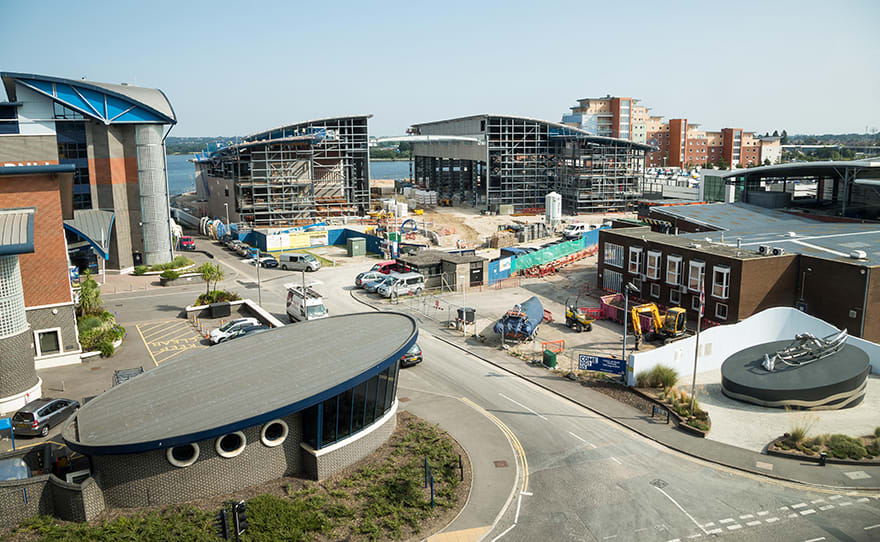 The new All-Weather Lifeboat Centre will have two main building areas connected by a central courtyard
Previously, the work would have been carried out on a number of commercial boatyards around the country, and the decision to build one facility for the entire country reflects some uncomfortable trends. "The main reason is strategic – the maritime industry in the UK is on the decline, and we couldn't guarantee there would be a resource there in the future for us," says Chris Refoy, construction manager with RNLI Estates.
The ALC is also the first project the RNLI has undertaken using BIM, which was introduced to the project by lead designer and consulting engineer Ramboll. Refoy explains that designing the project in BIM – with architectural design by Ellis Belk Associates – helped address three key challenges: producing a design that was reconfigurable and efficient, producing visualisations that would engage RNLI's teams and external stakeholders, and planning the installation of M&E equipment into the building.
The RNLI has chosen not to bring in an external BIM manager, viewing itself as a sufficiently experienced client to manage the BIM process with Ramboll's input. But implementing BIM during the construction phase was challenging, Refoy concedes, with members of the team initially concerned that it would generate more work and layers of process.
"It's all the common issues you read about: the issue of interoperability, the ownership of the model. When you have a multi-faceted team including sub-contractors, you need a strategy to ensure everyone is using the BIM model you want them to, not just a version at tender stage," he says.
He continues: "It's a very fast-track project, if we were on a more traditional timescale it would have been easier to do BIM. But overall it's been a positive process, extremely useful, and RNLI has already introduced it on another project." 
The RNLI is also looking to BIM to deliver efficiencies in the FM and facilities side. Leadbitter has been contracted to deliver an FM model of the completed project and, with the RNLI, is currently reviewing the FM software platforms available in the market to select the best BIM-FM interface.