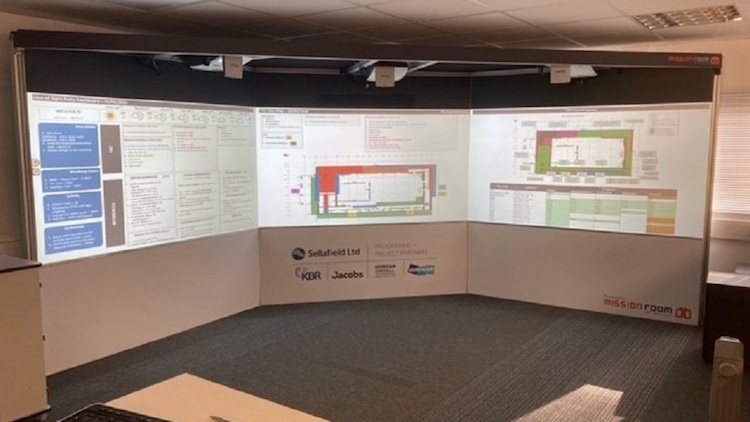 Staff working on the construction of Sellafield Product and Residue Store Retreatment Plant are benefiting from Mission Room's BIM cave.
While an immersive BIM cave has been used on the project before, it was based offsite: now there is one on the construction site of the new facility.
Steve Harnwell, head of Sellafield Product and Residue Store Retreatment Plant at Sellafield, said: "The BIM cave allows 3D modelling and 4D planning to be executed 'live' on the site and enhances the project's daily 'line of sight' planning by allowing people to visualise the plan and interfaces.
"This leading step is already resolving interface clashes and provides a better understanding for our workforce and supply chain. This is another advancement for deployment of BIM on Sellafield projects."
Louis Twentyman, an engineering intern working on the project who has been using the BIM cave for the past few weeks, said: "The BIM cave allows us to interrogate the design and look for potential conflicts, safety issues and scope review. It's also a great visualisation tool for the team on site, as we can now work with them to catch issues with the design and show it on a larger scale rather than a single computer screen.
"It's early days for the room itself, but the BIM model has allowed us to bring forward the construction of the services building by at least 10 months already.
"The room should allow us to avoid additional cost and delays by basically seeing into the future before it happens, to catch potential clashes and safety issues as well as develop new systems to complete the work.
"Hopefully the ideas we have planned will allow us to save more time and costs. It's had an enthusiastic reception and lots of ideas put forward on how to use it, we're excited for what the future holds."