John Corbett
John Corbett, sales director UK at EnOcean, outlines how modern methods of construction and smart technologies can revolutionise the building process and the way we live.
Rising populations and changing demographics have created housing shortages across the world. The UK faces a shortfall of four million homes, meaning that around 340,000 new homes need to be built every year until 2031 to meet current and future demand, according to research conducted by Heriot Watt University for the National Housing Federation and homeless charity Crisis. Worse, the homes that are built will need to meet demand for home automation and ever-increasing environmental constraints.
Traditional building techniques are unlikely to meet this demand. They are relatively costly and too slow to complete whilst meeting the necessary regulations. Moreover, quality and capacity are limited by the shortage of traditional building skills. The only solution is modular housing based on factory automation principles. It's a solution that dovetails perfectly with home automation using wire- and battery-free energy harvesting controls and sensors.
The modular solution
Modular buildings are based on a combination of building technologies known as Modern Methods of Construction (MMC). Typical elements include the use of panellised systems and volumetric elements such as roof and floor cassettes, pre-cast concrete foundation assemblies, pre-formed wiring looms, mechanical engineering composites along with innovative techniques such as tunnel form or thin-joint block work.
Already popular in Europe, the UK is using MMC to build prefabricated homes following the opening of several factories to build fully fitted homes in modular format, which can be loaded on to lorries for delivery across the country. This onsite assembly allows houses to be completed in days instead of months, and at significantly lower cost.
Factories with outputs up to 5,000 houses a year are set to make a significant impact, potentially launching their owners into the top echelon of volume housebuilders nationwide. What's more, these new technologies promise homes built to higher standards than those using traditional methods. Energy bills could be half those of a conventional home due to better insulation.
Modular houses are supplied fitted with kitchens and bathrooms, and for electrical requirements, power and lighting come already installed via modular power cabling and wireless controls together with the increasingly important networking and telecoms infrastructure.
Modular building could revolutionise the housing industry
With origins in commercial electrical and industrial installations, structured cabling and modular wiring ensure that electrical installations are undertaken efficiently and in the least possible time. With technology constantly changing, such ready-made installations are adaptable and offer a high degree of flexibility.
Experience from industrial and commercial building shows that traditional fixed installations are labour intensive, offer little in flexibility and remain costly. However, modular wiring and IDC systems prefabricated offsite, coupled to wireless controllers and sensors, enable a complete installation to be implemented at low cost. These are proven technologies and processes, which are now filtering down from commercial premises to the home.
Total modular wiring CAD design support can be provided, with all the power cabling  pre-wired in the ceiling or wall space. The installation process for energy harvesting wireless devices makes it a simple process as switch drops and associated conduit drops are not required.
There is no need to coordinate the switch position with the wall studwork and less time is spent during electrical first fix feeding cables through a closed wall. There is also a reduction in the level of interfaces and task dependencies between trades on site. Typically, the drywall contractor cuts a hole in the plasterboard, installs the back box and conduit before the electricians can complete the first fix.
This is no longer required and the drywall installation can be completed faster. Energy harvesting wireless sensors, switches and controls can be placed anywhere in the building, even in areas that are difficult to access. Installed once, there are no requirements for maintaining the devices, for example changing dead batteries. Thanks to the energy harvesting principle, the switches and sensors are powered solely by their surrounding environment. In addition, this flexibility and reliability allows the system to be expanded any time.
Modular construction techniques enable a variety of house types, serving the needs of modern living through flexible layouts coupled with a variety of external finishes. Typical portfolios provide a three-bedroom family home and a spacious two-bedroom home on the same 40.5 sq m footprint.
But these are not "identikit" homes, like those of older "prefabs". By offering a range of both traditional and contemporary external finishes available with rooflines to suit the local vernacular, they are being used alongside traditional developments as well as across entire sites. The same kind of customisation and personalisation is available for home technologies as well.
Automation built-in
Affordable and sustainable smart homes are more than boxes to live in. A combination of innovative product technology and good design puts the focus back on safety, security, comfort and the lifestyle needs of the owner. A common requirement is to place lighting switches and dimmers where it is most convenient. Powered by the kinetic energy harvested from the switch operation itself, these can be placed anywhere.
They don't need to be wired-in, instead sending a wireless signal to the receiver in or near the light or din rail fitting. Furthermore, there is no need to use batteries – and no need to replace them – saving all the inconvenience and environmental harm that battery replacement can cause.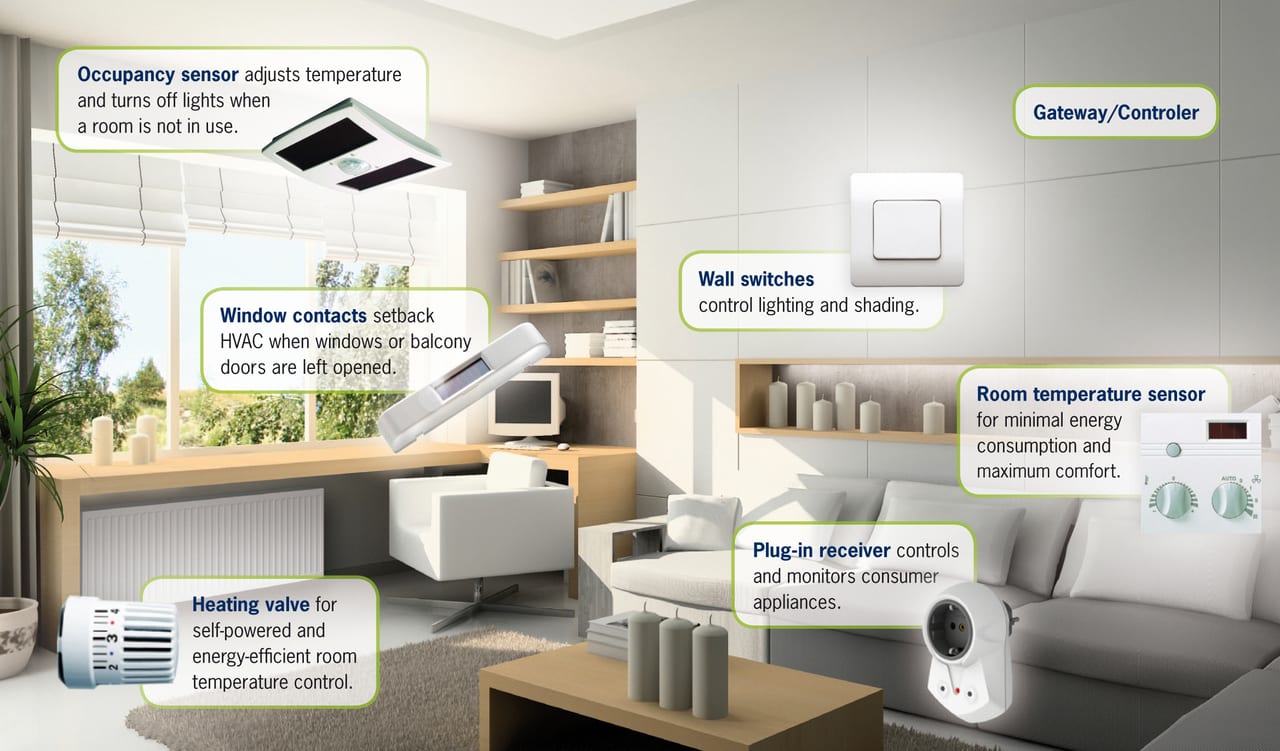 How smart homes can operate to reduce energy consumption (www.enocean.com)
Such devices enable a wide range of applications. Lighting and home entertainment are obvious candidates for battery-free switches. As well as controlling light levels and colour, self-powered switches can also be used for controlling volume of sound systems or window shading. A key application for smart homes is an "all off/all on" switch which allows turning off/on all non-essential electrical consumables when leaving the home or getting back.
Energy harvesting technology also enables other applications based on solar-powered sensors. For example, self-powered occupancy sensors can link wirelessly to intruder alarms; in addition, they can switch the lighting and heating off when nobody is around. Similar capabilities are available by equipping windows with contact sensors powered by light. Safety and security can also be extended, for example using light-powered CO₂ sensors or flood detection with solar-powered or kinetic sensors.
Another energy source is temperature differences between heating radiators and their environment. This kind of energy harvesting enables, for example, self-powered heating valves to communicate wirelessly with a room thermostat or a smart home box for heating control according to the specific situation.
The EnOcean energy harvesting wireless technology is already proven in around a million buildings worldwide, from factories to offices and multi-occupancy buildings as well as smart homes. Most energy harvesting sensors, switches and other self-powered devices communicate over distances of up to 30 metres in buildings, with short encrypted messages sent via the international EnOcean wireless standard (ISO/IEC 14543-3-1X) in sub-1 GHz.
There are also self-powered devices integrating EnOcean's energy harvesting technology which communicate directly with lights via Bluetooth or Zigbee. This enables green, battery-free switches and solar-powered sensors to be used to flexibly control additional applications such as LED lights or loudspeakers.
From smart homes to intelligent ones
Now that energy harvesting wireless sensors can gather data in the home, it is not a great leap to communicate the information, aggregate it and perform useful analysis. Bringing data together via the Internet of Things (IoT) enables a holistic approach, using artificial intelligence (AI) to track patterns of occupancy and activities in the modular home.
An obvious application is the analysis of energy consumption. Currently it is possible to discern patterns of activity linked to energy use; and this information can be delivered via an app providing advice to help owners reduce their consumption still further.
Going forward, the combination of IoT and AI could bring in a huge array of data into the equation. Geographic data, weather and climate information are among the factors that, along with patterns of activity, water and energy consumption, will be immensely useful for planners, housing organisations and builders. This also assists progress towards building cognitive homes.
Towards the cognitive home
Cognitive buildings represent the next generation of sustainable building systems. Intelligent buildings will soon be able to integrate IoT devices on their own, generate vast amounts of data and use them to optimize the building. This gives an entirely new dimension to services and business models. It is particularly relevant to the UK's ageing population, as these smart technologies can revolutionise the way older people and their families live at home. It promises transformative benefits to health and wellness.
Key elements of the cognitive home include smart non-intrusive, secure connections with friends, family, GPs, nurses and carers, all involved in looking after the residents. Conditions such as dementia would be addressed through 'sensory-loss' technologies based on patterns of activity and behaviour. And technology based on IoT connected battery-free sensors will help prevent incidents in the home such as cookers left on, overflowing baths and people becoming confused about their whereabouts.
With exciting technologies like energy harvesting wireless devices, modern factory-built homes are set not only to meet housebuilding targets but improve our way of living in them as well.
Top image: ArchitectureVIZ/Dreamstime.com