Client: King Mohammed VI
Lead Contractor: Zaha Hadid Architects (lead designer)
BIM Tools: Rhino, Revit, ZHA BIM
Positioned on the west bank of the Bouregreg River, between the ancient cities of Rabat (Morocco's political capital) and Salé, the 27,000 sq m Grand Theatre de Rabat will feature a 1,800-seat theatre, and 7,000 capacity open air amphitheatre plus a restaurant.
The huge white edifice is characterised by fluid lines, inspired by the river, and interiors that reflect traditional Moroccan muqarnas architecture.
The project started out in traditional 2D format, but during the detailed design stage, in 2014, the local architect, Cabinet Omar Alaoui, recognised that the complex geometry of ZHA's design would require deeper coordination in 3D.
The team had to work fast to devise a BIM workflow using Revit and LOD (Level of Detail) 200, roughly equivalent to BIM Level 1, to be used post-tender to produce all the construction documentation.
However, the move proved problematic as the construction industry in Algiers at the time was not familiar with BIM and the consultants for MEP and structures did not have departments with the necessary skills.
Harry Ibbs, head of BIM & workflows at ZHA, tells BIM+: "As with many BIM projects, the construction contract contradicted the actual BIM workflow. The supply chain was contracted to provide traditional 2D deliverables, using AutoCAD and DWG file outputs, but the complexity of the geometry demanded they work in 3D BIM."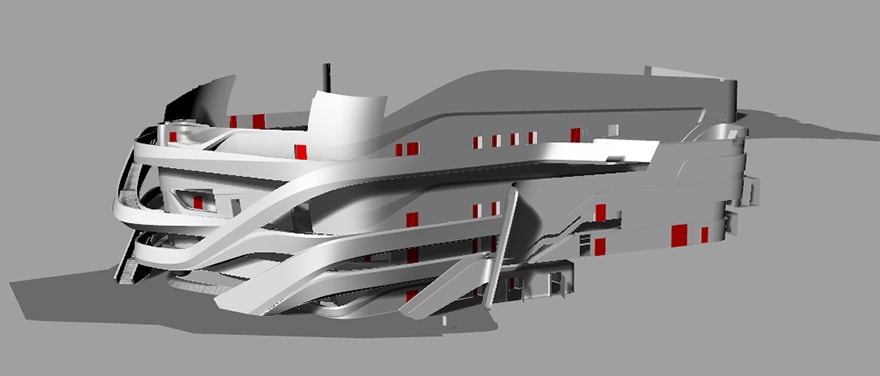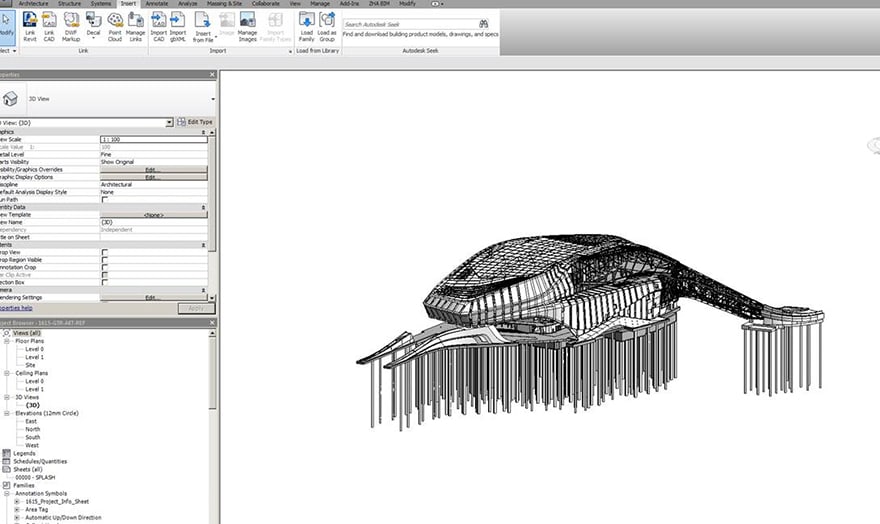 Local consultants and contractors are now working entirely in BIM and Revit, producing fully coordinated models with clash detection
Various issues came about as a result, he adds: "The local firms were trying to extract DWG files from Revit, but the files were too heavy and the software kept crashing, they didn't understand the need to produce clash detection reports. Some companies remained reliant on old DWGs – although they looked coordinated in plan and in section, in reality they were not."
In 2016 it became apparent that the local architects' drawings being output were inadequate. To prevent risk, construction was phased and ZHA was contracted, for an additional sum of works, to assist the local team to develop the project in a full BIM environment to help mitigate construction clashes on site. The environment was developed to meet LOD 350 and local French CAD standards.
"When we inherited the original BIM model, the MEP and structure was pushing through the interior facade and the external envelope, doors were going through floors, it just wasn't buildable without a deeper level of 3D coordination," says Ibbs.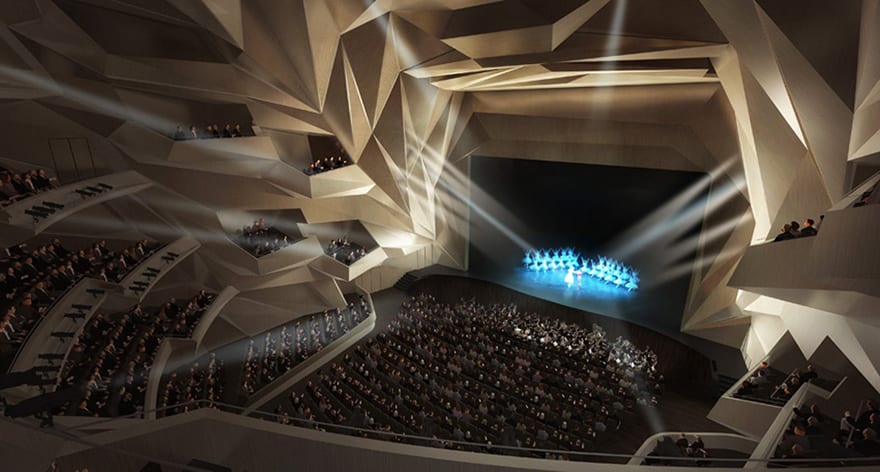 Grand Theatre de Rabat will feature a 1,800-seat theatre
With the onsite excavation and foundations already complete, there was an intensive effort to create a fully coordinated model, including architecture, MEP and structures, to enable work above ground to begin again.
ZHA set up a dedicated BIM group, and a Rhino group, that worked side by side in live workshops to resolve the geometry. The bespoke Revit plug-in, ZHA BIM, was used to automatically extract the original geometry from Rhino and Maya and make it possible to attach attribute information and specifications to the 3D components.
"The process enabled us to achieve full coordination and rationalisation of the design, resolving the complex double curved surfaces into facets and changing materials to reduce costs. The software helped us simultaneously visualise a lovely piece of architecture and made it a contractor's dream to work with," says Ibbs.
Ultimately, the effort paid off, as work progresses on site the local consultants and contractors are now working entirely in BIM and Revit, producing fully coordinated models with clash detection. The project is due to complete in 2020.
"The building is flying up," says Ibbs. "We knew the model was necessary to save the client and contractor money, without it it could have been a case of drilling through concrete walls and floors to make the structure and MEP work."