A BIM collaboration shows how high-quality sustainable housing can be created on a budget within rural areas, and prevent first-time buyers from being priced out of their local communities.
Designed by PMR Architecture, Lower Woodland Barns is a development of two sustainable, low-cost and high-quality homes built on the site of a former agricultural barn in South Devon.
Collaboration between the design team, the client and the local authority resulted in a cost-efficient project that not only provided homes to a high quality and environmental standard, but contributed to the local architecture and landscape.
Creative approach to a familiar problem
The client wanted new homes for his children and grandchildren who were being priced out of the local area by the popularity of South Devon for holiday lets and second homes.
Lower Woodland Barns project
Client: Private client
Architect: PMR Architecture
Structural engineer: TWP Engineering
Contractor: Self-build
Timber frame supplier: Timber PAK SW
Cladding subcontractor: Western Counties Roofing
His aim was to provide a space for the young grandchildren to play and grow within the countryside, to a very keen budget and to a high environmentally efficient standard.
The site was originally occupied by a gigantic agricultural barn constructed from steel and concrete. Planning permission had previously been obtained for a barn conversion. But it soon became apparent that the existing huge, cold and characterless structure would not make the ideal home for two growing families – and an alternative approach was sought.
Collaborative design references rural environment
To secure planning permission for a barn conversion, typically the existing barn structure must remain unchanged. However, there is a mechanism within planning policy, known as 'betterment', which allows a project that improves upon the barn as long as it provides a benefit to the local landscape and character.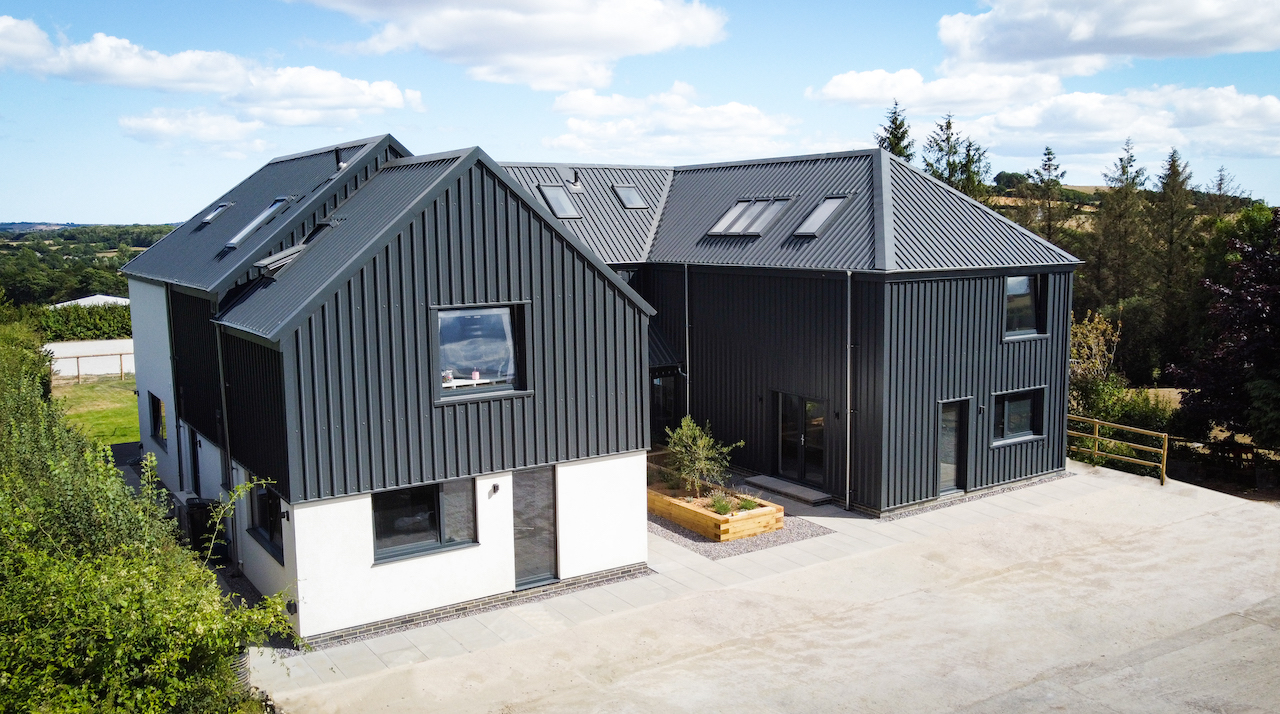 A previous attempt to gain planning permission for a new barn-like structure via this route had been refused. PMR was subsequently commissioned to create a new design that would be acceptable to the council.
With feedback from the rejected planning application and working with the local authority's planning officer and landscape officer, PMR created a design inspired by traditional buildings, forms and materials.
Shaun Davey, architect at PMR, explains: "Archicad was absolutely integral to this process. Meetings were held remotely due to covid restrictions and we used Archicad as the basis of our design discussions with the planners.
"During the online meetings, we shared screens and made changes to the Archicad model in real-time and in 3D. For example, we added more metal cladding, changed the hipped roof design and altered the size and shape of the windows to better reflect the look of a traditional barn.
"Ultimately, we were able to create a design that contributed to the local character of the area and provided a benefit to the landscape far above that of the original barn conversion."
References to the original agricultural barn are visible in the choice of the corrugated metal cladding. The stepped roof references a traditional barn that has been slowly extended over the centuries. Meanwhile, contemporary glazing brings elements of a modern architectural house and provides bright interiors.
BIM aids design and visualisation process
PMR used the 'align view' feature in Archicad to match the 3D model view with a photograph and overhead drone image. This enabled the team to show the planners and client how the homes would be seen within the landscape.
Davey explains: "When we change something on the plan, it's instantly viewable in 3D and vice versa and we can show our clients how the building works as a whole.
"This is so much better than having lots of drawings, separate models or different software. BIM brings so many benefits. While there is a little more work to do up-front, the benefits outweigh the costs in the longer-term when it comes to the time-savings and helping with the design process."
A low-cost and rapid construction
To achieve a high-quality project on such a tight budget, the client took on the role of main contractor himself. Meanwhile, the client's son built the foundations, substructure and drainage.
Davey continues: "Archicad enabled us to work closely with the client and his son to explain the project in detail. Moreover, its combination of 3D and 2D information helped them to explain the project to their subcontractors and ultimately build more efficiently.
"Archicad also helped us to get the right information to the right people for construction. For example, it is easy to turn walls in the model into composite walls, to show the full build-up. This speeds up the process of turning completed planning and design drawings into construction drawings.
"Many small, picturesque villages are given over to well-heeled individuals living in large and expensive houses while young families are priced out of their local villages."
Shaun Davey, PMR Architecture
"If one thing is changed in the design, for example the specification of the timber frame was altered, this can all be updated in the model at the click of the button, saving time and cost."
The homes were built with prefabricated timber frame panels, reducing both cost and carbon footprint. The bespoke panels were delivered to site on a lorry and quickly slotted into place. This approach not only saved time, but also resulted in properties with very high levels of air tightness and insulation.
Photovoltaic panels are installed across a large area of the roof as the properties have south, east and west elevations, so could benefit from the full scope of the sun. The combination of this and a very high-performing fabric drastically reduces the energy use of the two homes.
Meanwhile, nothing was wasted as the original barn was reused. It was taken down, sold to a local farmer and reconstructed on a site a couple of miles away.
A blueprint for future projects
Davey concludes: "While as an industry we typically put a lot of work into solving housing issues within urban areas, many small, picturesque villages are given over to well-heeled individuals living in large and expensive houses while young families are priced out of their local villages.
"Projects like this show that high-quality housing can be created on a budget within rural areas to enable first-time buyers to remain part of their local communities."